Pacific West
The
Pacific West
of
Panama
includes all of
Chiriqui
Province,
Herrera
Province and
Los Santos
Province, and the southern portion of
Veraguas
Province.
Cities
– Second largest city in Panama; Los Olas has a nice beach community, and for the best beaches, you can head out to the sparkling Gulf of Chiriqui.
– 51 km from David, the main jumping off point for the islands in the Gulf of Chiriquí, including Boca Brava and Isla Palenque. Long a little fishing village, it moves to a slow tempo, housing tourists and big game fishermen in a few quaint.
– Touristic epicenter of this region (in the Mountain Highlands near David) with some of the best coffee in the world (including numerous tours), and lots of activities like hiking (Quetzal Trail and Volcan Baru), rock climbing, bird watching, horseback riding, and rafting.
– Near Volcán on the northern side of the Volcan Baru National Park, convenient start or end of the Quetzal Trail.
Other destinations
Villages and smaller places
– Remote, magnificent beach, luxuriant vegetation, beginners surfing.
– 20 min north of David, not as developed as Boquete. The first European immigrants to arrive in Panama, in the early 1900s, thought that Volcan resembled their alpine setting back home, and many settled here. Great for the western trial to the volcano, starting from Paso Ancho just north of Volcán.
National parks
Volcan Barú National ParkPanama's highest peak at 3,475 m. Can be climbed without guide. Has the popular Quetzal Trail at its northern slopes.

Parque Nacional Marino Golfo de ChiriquíHas some of the best whale watching and snorkelling in the region. Also includes one of the most famous big game fishing areas, Hannibal Banks.

Coiba National Marine ParkThe Galapagos Islands of Central America and a World Heritage Site—rare species, superb diving, and great snorkling.
Islands
There are dozens of islands in this Gulf. Along with the islands of Coiba National Park there is also Islas Secas, Isla Ladrones, Islas Paridas, Isla Boca Brava, Isla Palenque and Montuoso. Montuoso is the farthest island from Panama in this gulf.
– Right across from Boca Chica, with resorts and beaches.
– 10 min by boat from Boca Chica, with a deserted beach. Many people come here during the day and enjoy the beach and the calm waters.
– Jungle trails, mangroves, pristine beaches, bird-watching, whale watching, closest to the Hannibal Bank.
– Farthest island from Panama in this gulf. During certain seasons, you can even spot Galapagos seals on Montuoso.
– A resort and nature reserve. Connected to Boca Brava by a sand bridge.
– Great for diving and snorkelling.
– Resort and diving.
Understand
Chiriquí Province lies in the southwestern part of
Panamá
with its capital in
David
. Chiricanos are like the Texans of Panamá, and are loud, outgoing, and very proud of their province. However, they really seem to have something to be proud of. Chiriquí arguably has the friendliest people and the best landscape in Panamá.
Offering the most varied scenery in this already diverse country, Chiriquí has an array of plant and animal species inhabiting the different ecosystems. Chiriquí's topography ranges from the tallest mountain in the country,
Volcan Baru
in the highlands, to the more than 30 small islands in the archipelagos of the Gulf of Chiriquí near the coastal town of
Boca Chica
, known for its world-class sport fishing.
Climate
Less than 9 degrees north of the equator,
Panamá
's temperatures are fairly consistent year round, with daytime temperatures in the 90s (°F) and nighttimes around , although the Chiriquí highlands get considerably cooler in the mountains. Like most of Panamá, Chiriquí's lowlands have a rainy season from May through November and a dry season from December through April. During most of the rainy season, mornings and early afternoons are usually sunny while late afternoons and evenings have intermittent rainfall. Unlike most of the Caribbean, Mexico, and other Central American countries, Panamá does not experience hurricanes. The most popular time to travel to Panamá is December through March, when lack of humidity and nearly zero percent chance of rain make it ideal for travelers.
Talk
Nearly a third of Panamá residents speak English, partially due to the many North American expatriates living there and the growing tourism sector, but an attempt at communication in the country's native Spanish is always appreciated.
Get in
Fairly easy to get to from
Panamá City
. The most recommended form of travel is a 50 minute flight through Aeroperlas or Air Panamá who offer daily flights to
David
(
DAV
) from Panamá's Albrook Regional Airport. Also at the airport is the Albrook Bus Terminal where you can catch a bus to David leaving every 30 minutes. Or you can opt for a day's car ride from Panamá City via the Interamerican Highway touring small cities and villages along the way.
If traveling to Panamá from Costa Rica, there are direct flights from San José to David or Panamá City. Air Panamá serves the Chiriquí area with flights every Monday, Wednesday, and Friday.
Construction is in progress to expand David's airport into a larger international facility with direct regular flights from the U.S. and Canada. The international airport, which receives up to 1800 passengers per week, has regular flights to Costa Rica and charter flights from the US. Expansion will soon allow for increased international traffic and larger aircraft.

Get around
Although David is not particularly interesting, it is a convenient transport hub for destinations in this region and you might want to go forth and back between this city by bus. There is also a pretty cheap luggage storage at the David bus terminal.
Several well known rental car agencies are present within
David
, making it easy to find transportation for a trip. Rental cars may not be taken across the Costa Rican border. For travel within David, there are also plenty of taxis for easy transportation throughout the sprawling city.
Because of the area's growing tourism, Chiriquí's physical, economic, and social infrastructures have vastly improved. Roads are being improved, new high quality health care facilities being built, and major retailers are coming to the area. Much of this activity is centered in
David
; improvements include David's airport,
Enrique Malek International Airport
, whose incipient acceptance of direct international flights should mark the tipping point for the area in terms of tourism and development.
Volcan Cerro Punto: $1.35
See
The Chiriquí Lowlands
The
Gulf of Chiriquí
, much of Panamá's best, numerous archipelagos star the gulf with islands and reefs, including Central America's largest island, Coiba Island, right inside
Coiba National Marine Park
. And right next to it the
Parque Nacional Marino Golfo de Chiriquí
.
The whole are is home to the richest mangroves and rarest pelagic marine species in the world. It has a reputation as a world-class
sport fishing
destination, as evidenced by
Saltwater Fisherman Magazine
, which named it the best place in the world for catching the
Black Marlin
in their April 2009 issue. The Gulf of Chiriquí is so large and species-rich some consider it a small sea. Well known among insiders for its
boating
,
sport fishing
,
surfing
,
scuba diving
and
snorkelling
opportunities, the unspoiled and largely undiscovered coastal and marine environments in the area rival the best on the Pacific coasts of Central America and
Mexico
.
The Chiriquí Highlands
There is plenty of beautiful places to be had in the rolling mountains of Chiriquí's highlands.
Boquete
, a hot spot for nature-lovers ecotourism destination.
Volcan Barú
, the jagged, lush green mountains of Chiriquí rise to the top of Volcan Barú, Panamá's largest volcano. With over 900 species of birds in Panamá it is no surprise that avid bird watchers too visit yearly to spot the ever elusive
Resplendent Quetzal
and other of Panamá's beautiful avian species. The mountain is also the only place in the world to catch a glimpse of both the Atlantic and Pacific Ocean at the same time, although clear days can be difficult to come by.
La Amistad International Park
, near
Cerro Punta
, about 72 km outside of David and 13 km north of
Volcan Barú
, this park is actually shared and jointly managed with neighboring
Costa Rica
. While the majority of the Panamanian side of the park is in
Bocas Del Toro
, the small percentage that is in the Chiriquí Province is more easily accessible. La Amistad is home to the majority of endangered animals that call Panamá home. In 1990 UNESCO named the park a World Heritage Site noticing that it is one of the most bio-diverse regions in the Americas. There are good hiking trails around the park for all ranges of ability. Entrance to the park costs $5 for foreigners, and it is open from 7:45AM-4PM.
Do
In the following some specific destinations that can be reach conveniently from
Boquete
,
David
, or
Boca Chica
.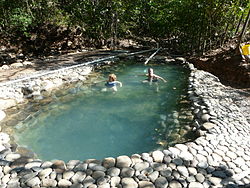 Hot Springs CalderaEven though the volcano has been dormant for over 600 years, there are still thermal springs bubbling up around it. These hot and bubbly mineral water are right next to the Caldera River. Take a dip in both hot and cold. From the bus stop in Caldera it's about 1 hr walk to the hot springs. After crossing the bridge the signage is clear. Tourists that book a tour with a tour operator in town are taken to the hot springs with some daily departures for fun evenings soaking in hot water and sharing stories over the sunset. If you take a taxi or tour, make sure to tell them to take you to the hot springs left, not the commercial ones another 3 km to the right, which apparently charges $5. However, check out the ratings online, for the one that suits you better. There are also the just nearby in Caldera, which you might want to checkout.
The region has several other areas with active springs. In Volcan, on the northern side of the Volcan Baru, about 30 min from town, there are several springs. However, due to the mineral content, there is a slight sulphur smell.
Cangilones de GualacaThis is an interesting geological formation and stream great for swimming, jumping from a 5 m cliff or just chilling in the shades. Bring your goggles, sunscreen, water and food.
Macho de Monte CanyonAn impressive canyon good for swimming and chilling with a bear. Get off at the Cuesta de Piedra junction between David and Volcan ($2.45) and head east. The canyon is 3 km from the highway underneath the third bridge along the way. Go up the river on its left side for about 300 m to access the canyon from its north. Note, to go down the canyon, you need something waterproof to protect you stuff, especially your camera, because the canyon can only be accessed via the waterfall. Best to leave most stuff in your accommodation.
General
Boquete is well known for adventure travel, which includes white-water rafting, zip lining, ATV and jeep tours, cloud forest trekking, horseback riding, rock climbing and deep water soloing. It is a key reason that this fairly small town, is growing in popularity for European, American, Latino, and Asian travelers.
Beaches – Less than an hour's drive outside of David, if you know where to go. The islands that can be reach from Boca Chica have miles of white, beige or volcanic zebra-striped beaches. Many of these islands are uninhabited and full of wildlife. The gulf there is known for world-class sportfishing and has been well known by expats and backpackers for years.
Surfing – The best area for surfing in this region is the Morro Negrito area. Some say it has the best surfing in Panama. There is a Big Island, with smaller waves, and a Little Island with big waves.
Sport fishing – The Gulf of Chiriqui boasts some of the best sport fishing in the world. Species include yellow fin tuna, black marlin, blue marlin, roosterfish, pacific sailfish, dorado, amberjack, red snapper, wahoo, and many more. Because of the abundance of fish in the Gulf, there are also a lot of boat charters, and places to stay. Try the upscale- Propiedad de Paradise Fishing Lodge on Isla Paridas. If you are wanting to fish offshore near Hannibal Bank or Isla Montuosa they have a lodge overlooking the Pacific right in front of Isla Gamez. Or one of the other islands filled with wildlife and special eco- (Cala Mia) or upscale- (the soon to be built resort at Isla Palenque) accommodations. The main departure points for excellent fishing are the port of Pedregal and the fishing town of Boca Chica. From there boat to the many uninhabited islands dotting this pristine Gulf.
Boating – Since the Gulf of Chiriqui is loaded with fish and wildlife, there are also many small and large boat charters to cruise you around. If you are not in to fishing, but you are more of an explorer, the boats will take you to the islands, for swimming, snorkeling, or just wildlife exploration.
River Rafting – World-class white water rafting can be found on the Chagres River, 1 to 2 hours from Panama City; in the Chiriqui Province, on the Rio Chiriqui Viejo; and the Rio Grande, Cocle Province. There is usually enough water to paddle year around. However, the highest water level is in November, at the end of the rainy season, and the lowest water level is in May, at the end of the dry season. Class I to Class V rapids can be found in Panama. The classes are based upon Panamanian classifications. During the rainy season, the Panama class III's are easily comparable to U.S. class IVs.
Birding – See the Resplendent Quetzal and other birds of Panama. Guides, maps and tours available.
Ocean kayaking – Chiriqui's protected gulf are ideal for fast, long distance, ocean kayaking.
Eat
Panamánian cuisine is a mix of several cultures. With Afro-Caribbean, French and Spanish influences, the dishes take on a complete life of their own. In the larger cities you can find all types of cuisine ranging from authentic Panamánian to sushi. Outside of David and Boquete, the selection is largely Panamánian with bountiful seafood and beef due to the abundance of cattle farms and the fantastic fishing in the area. Most dishes are served with coconut rice and beans and a type of squash or other native vegetable.