Padang
Padang
is the capital city of
West Sumatra
,
Indonesia
.
Understand
Padang, the capital of the province of West Sumatra, is mostly used by tourists as an access point to
Bungus Bay
, the surfing sites of the
Mentawai Islands
, the inland hills of
Bukittinggi
, and the
Kerinci Seblat National Park
.
The city is very pleasant with a nice promenade along the beach, distinctive Padang architecture and wonderfully friendly people. The city is also the home of the delicious Padang food and the town is stuffed with restaurants and street stalls. The locally available guidebook 'Sozzie Sumatra' can be referred to on arrival for upcoming local events and a current 'what to do' section.
Get in
By plane
Minangkabau International AirportThe main gateway to West Sumatra, with frequent flights to destinations throughout Sumatra and Java (such as Garuda-Indonesia, Sriwijaya Air, Lion Air, Citilink, and Wings Air), and to Kuala Lumpur (AirAsia). Direct flights to and from Padang are available from: Jakarta, Batam, Medan, Bandung, Surabaya, Bengkulu and International from Kuala Lumpur.
From the airport, the cheapest way to get into the city is by Minangkabau Express Airport Train, for a fare of Rp 10,000 per person (2018), departs only every 2 to 2.5 hours, due to the single-track railway operation.
Damri
bus also connects the airport with the city for a fare of Rp 25,000 per person (2017). Its route passes by the major hotels in Padang. The first bus departs the city at 04:30 and the last bus, 18:00. The trip takes 45 minutes.
Taxis and rental cars are also available at the airport.
By train
Rail transport to Padang are limited, the only passenger trains running is a service from
Pariaman
and
Padang Panjang
several times per day. This connection can be quite useful if traveling from Jakarta overland. The main station is , located just off Jl. Dalam Gadung road.
By bus
There are many luxury buses from Java to Padang, mostly from Jakarta and Bandung. In Fasting and Ied Holiday Season 2019, the bus passengers (booked and sold) are increase by 70 percent compare to last year due to expensive flight tickets. The flight ticket price is more than 3 times of bus ticket price.
Get around
Crazily-decorated angkots run along the two main roads. Prices for a trip are approximately Rp 2,000. You can get
taxis
from the Minangkabau International Airport to town for less than Rp 50,000 if you speak the language.
If you are obviously foreign, Minang people are well known to be good business people and are quite skilled at making you pay a few extra thousand rupiahs. But don't bother squabbling over 50 cents here or there.
There are several alternatives that you can choose for transportation in Padang, such as
bus kota
(for city bus transportation),
angkutan kota
(for transportation in the city), taxi, and car rental. Most public transportation is not safe and clean by international standards. During rush hour, the buses are overcrowded. Be careful with your valuables, although pickpocketing is very rare.
If you're looking to spend a few days in Padang, car rental is the preferred way to go around. All car rentals include the driver, who can also act as your guide. It's not recommended for tourists to self-drive, because road signs are not followed by the locals and courtesy while driving is virtually nonexistent in Indonesia.
If you need a taxi, Argo, Blue Bird Taxi and Grab Taxi apps can be downloaded for free. Fill the departure and arrival points and Google Maps will show the map and the taxis and also estimate the cost in a range. Taxis arrive within 5 minutes after being summoned. Only qualified taxis and qualified drivers can join the apps. The service is available in Bukittinggi and Payakumbuh as well.
phone: +62 751 445655

Padang and Bukittinggi car rental services.

CV Budi Jaya

phone: +62 751-841939, +62 751 7892205, +62 751 7850275

address: Jl. Aur Duri Indah XVI No. 1

Car rental: Innova, Avanza, Kijang, Panther, Xenia, APV, Altis, tour bus.

phone: +62 8 1166 8389

They provide cars for rent and tout their experience, cheap price and good service.
See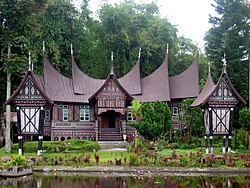 phone: +62 751 31523

address: Jl Diponegoro

State-run museum exploring regional history & culture in a traditional spire-roofed building.
Taman Budaya (Cultural Park)

Pantai Air ManisIt is most famed for Batu Malin Kundang (Stone of Malin Kundang), a stone shaped like a prostrating man. According to local legend, this stone is Malin Kundang, the ungrateful son who disowned his poor mother after coming home as a rich man from his travels. His mother cursed him into stone, as well as the remains of his ship, which can also be seen near his stone. There is a tidal island from the beach here, with nice clean (by Indonesian standards) water and sand.

Grand Mosque of West Sumatra

address: Jl Khatib Sulaiman

A new modern large mosque that is built with Minangkabau architecture.

The Great Mosque of Ganting

address: Jl Ganting

It is the oldest mosque in Padang and one of the oldest in Indonesia.
Pantai Padang (Padang Beach). You can ride the bendi (a horse-drawn carriage) along the beach, and stop by the rows of shops to eat some rujak as you watch the waves.

Siti Nurbaya Bridgea beautiful bridge especially at night. Siti Nurbaya is the eponymous character in a classical literary novel.

You go down the south of Teluk Bayur, up and through steep hills (don't try to take a bus, there is an that goes all the way).
Do
Relaxing is the main thing to do here. This is a mainly administrative city. Honestly, there isn't too much to do downtown. But if you go uptown, some interesting spots await to be explored. These include
Sikuai Island
,
Lubuk Minturun river
(a 'natural jacuzzi') and
Bungus Bay
(crystal water river), all in southern Padang.
Pool/Billiard is a popular sport to play and there are a few places dotted around.
The nightlife is relatively dull because Padang is a minor city and a rather devout Muslim community. Bars are available at some hotels but don't expect alcohol.
If you can find your way down to Chinatown and get some
kripik Padang
(crackers, available in two flavours: spicy and sweet), that could be a good idea, too. In Chinatown, you also can explore the mixture of Minang-Chinese food.
dMess

address: Jl Thamrin No 5

A spacious pool hall with 21 international standard tables
Surfing
Pantai Air Manis (Sweet Water Beach) This a very good surf spot fort beginners with a beach break and not to big waves. It is working during low season, too, but waves can be inconsistent.
A few options for renting surfboards along the beach. Price around Rp 50,000/per board/per day
Direction: Angkot from the market to the beach, fare Rp 5000, last trip at 17:00.
Buy
There are a lot of stores on the side of the road, much like anywhere else in Indonesia. There are two malls, Minang Plaza, which is smaller and better for your more supermarket and basic clothing needs. There is a bit of Western Food at Plaza Andalas in the form of Papa Ron's Pizza.
Shopping at Andalas is a little bit better, but at this point in time, the malls are more downscale, mainly local products and local shops. No big retailers here. Brand names aren't really easy to find. You could find a few surfing items at Andalas plaza - but that's about it.
There is a Gramedia across the road from Andalas Plaza also.
Ramayana

address: Jl Pemuda

Shopping district, locally famous. Great bargains can be picked up here.

Basko Grand Mall

address: Jl Prof Dr Hamka

KFC, Pizza Hut, J.CO, Bread Talk, Matahari, Solaria, Foodmart, etc.
Eat
Padang is famed throughout Indonesia for spicy
Padang food
(
masakan Padang
). Ordering at a Padang restaurant couldn't be easier: just sit down at a table, and watch the dishes pile up. Eat what you like, as you'll only pay for dishes you've actually consumed. Famous dishes include:
rendang sapi, spicy curried beef cooked until the sauce is dry.
soto padang, crispy beef in spicy soup
ayam pop, fried chicken that has been cooked in broth of coconut juice
sate, beef satay in curry sauce, served with ketupat (rice dumplings)
Padang dishes can use rather unusual ingredients though, including internal organs like hearts, lungs and even brains. All Padang dishes are Halal, due to the Islamic roots of Minang people.
Lamun Ombak

address: Jl Khatib Sulaiman

Padang foods.

phone: +62 751 447774

address: Jl. Rasuna Said No 81A

Padang foods. A national chain restaurant.
Along Jl. A Yani, you can find a few international fast food chain restaurants, including
Pizza Hut
,
KFC
, and
McDonald's
.
Some local Westerner-friendly restaurants:
Safari. Café serving Western and Indonesian foods. Has a plasma television for watching soccer. Quite a nice little place to go if you long for a steak or a serve of crinkle cut fries.

Waroenk Kito

address: Jl Thamrin No 3

Asian foods. The menu is intensive. Has indoor and outdoor seatings.
Local delicacies
Rohana Kudus

phone: +62 751-23386

address: Jl. Rohana Kudus No. 74

One of the favorite places to buy snacks to bring home as gifts, including the snack the area is famed for, Kripik Balado or Kripik Sanjay.
Drink
The only real bars you will find are at the major hotels. This is a very Islamic community and therefore the influence of alcohol is minimal. That being said, beer is for sale at the major supermarkets, Suzuya, etc. Bintang is about all you will find. If you are feeling game, the traditional market could be something you might want to visit, as hard liquor such as Johnny Walker may be available there.
Hard liquor is also available at several warungs (small shops on the side of the road) and it is quite easy to obtain cheap vodka, whisky or rum. The going rate for a 250ml bottle of spirits is Rp 23,000.
The best nightclubs in Padang are Hotel Pangeran Beach, Rocky Hotel, Ambacang hotel (the newest hotel) and Queen.

Sleep
There are many type of accommodations that can be chosen by people if they are in Padang. Such as:
phone: +62 751 89118

address: Jl. Purus IV No. 8

A walking distance to the beach

phone: +62 751 35600 - 33741

address: Jl. Gereja No. 34

Large hotel with a convention center.
Budget
phone: +62 751 26321

address: Jl. Bandar Pulau Karam No. 10-D

Homey, have good facilities; Dormitory(backpackers), Single or double room and family room; hot and cold water, hot spot internet,nice lobby, kitchen facilities, international TV channels, Location :City center, near the beach and a shopping center.

Hotel Bintang

phone: +62 751-39616

address: Jln. Bandar Pulau Karam 29

Fan room with own bathroom. Free wifi.

Garuda Hotel

phone: +62-751-27143

address: Jl Permindo no 4

Fan single/double rooms with own bathroom. Free breakfast.

phone: +62 81374006060

address: Jl Batang Arau No 88 B/5

Grace Homestay is a homestay for backpackers the air in Grace Homestay more fresh than the other place because there is a hill Gunung Padang in front of Grace Homestay. There clean and familiar Homestay during you stay in Padang.

Wisma Mutiara

address: Jalan Pulau Karam 149

Nice little hotel in the western part of town. It is very clean and a nice breakfast is included. Staff is very helpful and friendly.

Brigitte's House

phone: +62 81374257162

address: Jl Kampung Sebelah I No 14D

It has airy dorm beds & private rooms with breakfast included & free WiFi. You can also rent their motorbike for Rp 60,000 per day. Run by Ms Brigitte, a Batak gal & assisted by Mr Julian, the Aussie Indonesian-speaking handyman. Located not far from the Airport Damri bus route to the city & walking distance to Padang beach.

Natures InnFamily-run home stay, clean and modern, dorms and double rooms, bed linen provided, shared bathrooms with seat toilets and showers, hot and cold water showers, free WiFi, fans and air-con.

Yani's Homestay Backpacker

phone: +62 852-63801686 (mobile)

address: Jl Nipah no.1

Dorm beds. Fan/A/C single/double rooms. Shared bathroom free wifi.

New House Padang Guest house

phone: +62-751-25982

address: JL Hos Cokroaminotono no 104

3/4 bed dorm. free wifi. single/double rooms.

Riverside Hostel

phone: +62-751-8956623

address: JL Batang Arau no 66c

5-bed dorm and double rooms. Free wifi. Free breakfast. Cable TV. Hot water showers.
Pantai Air Manis
Adi's guesthouse

phone: +62 82170017779

Family-run home stay, clean and simple, 2 rooms with bathrooms and fan. Located on the beach, it is a small restaurant and meeting place for the local surfing community. They usually serve fried rice, fried noodles and noodle soup (mix rebus), but if the food is included with your room, you will have the chance to try the wonderful curries of Adi. Adi is very reliable and helpful.
Stay safe
Padang lies right on a fault line and is frequently hit by earthquakes. The last one, in September 2009, killed over 1,100 people, and destroyed many buildings.

Go next