Paducah
Paducah
is a small city on the Ohio River about midway between
St. Louis
,
Missouri
and
Nashville
,
Tennessee
. The county seat of McCracken County and the largest city in the Jackson Purchase area of
western
Kentucky, Paducah has a booming riverfront restaurant trade and arts scene in part driven by the city's artist relocation program which offers interest-free housing loans and other subsidies for established artists willing to relocate. Paducah is the hometown of humorist Irvin Cobb and former Vice President Alben Barkley (with President Harry S. Truman).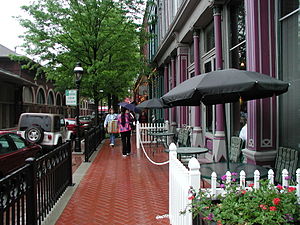 Get in
By car
Most visitors will arrive by car: Interstate Highway 24 describes a semi-circle around Paducah from the northwest where it crosses the Ohio River into
Southern Illinois
to the southeast where it meets Interstate 69 at Gilbertsville, near
Kentucky Lake
. You could also reach Paducah from the east or the west using U.S. Highway 60. Travelers coming from the south or southwest on the Purchase Parkway (which will soon become part of I-69) should take Exit 25 (U.S. Highway 45) on the north side of Mayfield and turn left (north on 45); from there, Paducah is about a half-hour drive along a four-lane highway.
By plane
Barkley Regional AirportThere are a few commercial flights per day with United Express from Cape Girardeau and Chicago–O'Hare
Most locals however prefer to fly out of
Nashville
International Airport (BNA).
By bus
Greyhound
offers plenty of bus services, there are daily departures from
Memphis
,
Nashville
and
St. Louis
. is on 2719 Irvin Cobb Dr, south of the city.
By boat
Where the Tennessee River meets the Ohio River, just upstream from where the Ohio meets the Mississippi. River boats, like the Delta Queen(no longer in service), often stopped at the riverfront in Paducah.
Get around
Paducah is served by a limited network of buses,
Paducah Area Transit System
has three lines with departures every hour during daytime.
Districts
Market District. Revitalized starting in the early 1990s, Paducah's riverfront downtown boasts a charming restaurants, shops, museums and an active farmer's market. A particularly unique offering is that of the mural-covered Ohio River flood walls, which are well worth an afternoon of your time and make for a pleasant stroll.
Lowertown Arts District. The centerpiece of Paducah's Artist Relocation Program, Lowertown plays host to a dozen or so art galleries of varying reputation, one of the most friendly coffee houses ever and a fine-dining fusion style restaurant. How could you go wrong? In general the feel of the neighborhood is reminiscent of New Orleans' Garden District, at least before Hurricane Katrina. If you make art yourself, the city might even be willing to buy you a house here.
See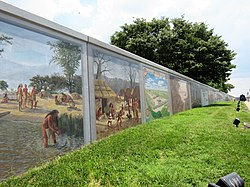 Flood wall muralsEnjoy the larger than life murals created by Robert Dafford on the flood wall as you walk down scenic 2nd street near the river.

Luther F. Carson Performing Arts CenterBroadway musicals, plays, musical groups, and more.

Maiden Alley CinemaAward-winning films every weekend.

Museum of the American Quilter's Society

Paducah Symphony OrchestraThe Orchestra-in-Residence at the Luther F. Carson Center.

phone: +1 270-575-9958

address: 117 S Water St

Whitehaven. Historic home and state welcome center. At I-24 Exit 7 (Lone Oak Road). Many local high schoolers have their prom photos taken here, so it gets very busy on those nights.

William Clark Market House Museum

Yeiser Art Center

address: 200 Broadway

phone: +1 270 442-8856

address: 215 Jefferson
Do
Cardinal Lanes

phone: +1 270-443-6441

address: 816 Joe Clifton Dr

Bowling.
Land Between the Lakes. Outdoor recreation area.

Riverport Lanes

phone: +1 270-444-7817

address: 3465 Wayne Sullivan Dr

Bowling.
Events
Quilt Show. APRIL: Visitors from around the world come to Paducah to see the AQS Quilt Show & Contest. And shop and visit with each other.
Dogwood Trail. APRIL: Usually around the same time as the Quilt Show, the city marks out a driving tour of the city, where the blooming dogwood trees are illuminated.
LowerTown Fine Art & Music Festival. MAY: May 26–28, 2006. All day event, art, music, food vendors and dancing in the streets. Live jazz, blues, salsa & zydeco music. Around 7th & Monroe.
OMGCon. JUNE: June 8–10. Annual weekend long Anime and Manga Convention first held in 2006.
Summer Festival. JULY: July 26–29, 2006. 2005 was the first year for the Sand in the City sand "castle" building competition. Fireworks, hot air ballons, music, fun.
River's Edge Film Festival. AUGUST: First-class international film festival, held at Maiden Alley Cinema .
Barbeque on the River. SEPTEMBER: The downtown parking lot, between the Floodwall Murals and 2nd Street, is filled with vendors selling BBQ of course, but also cheesecake-on-a-stick, deep fried oreos, local treat Dippin' Dots, baked goods, and more. Live music on the stage at the floodwall. A friendly rivalry continues between many of the yearly competitors for the top prizes. A craft fair is usually held simultaneously along the edges of the Quilt Museum.
August 8th Black Family Celebration-August the 8th was the day that the word had reached Paducah Slaves that Slavery had been abolished by the signing of the Emanicipation Proclamation by Abraham Lincoln. Black people from around the country come to Paducah to celebrate this event which includes open markets/street vendors/good food/music/African dance and other events including your "neighborhood block party" at the Community Center on 7th Street.
Buy
(NOTE: on the Second Saturday of every month, most lowertown galleries remain open until 8PM.)
520 Studio Gallery, 520 Madison, 270-575-4595. Tu-Sa 11-5.

Agape Sudio & Sign Art

phone: +1 270-443-6780

address: 322 N. 8th St

AIR Studios, 621-629 Madison.

Aphrodite Gallery

phone: +1 270-444-6871

address: 503 N. 7th St

Aspire Arts

phone: +1 541-806-2506

address: 611 N. 6th St

Wed-Sun 12PM 5PM.

phone: +1 270-442-4482

Open by appointment only for graphic design, illustration, web design.

Brokenstone Press and Gallery

phone: +1 270-815-4538

address: 612 N. 6th St

Bryerpatch Studio

phone: +1 270-444-8040

address: 502 N. 5th St

phone: +1 270-908-0755

address: 517 N. 8th St

Studios of Stefanie Graves (watercolor) and David Lucht (batik painting).

Dixie Leather Works

phone: +1 270-442-1058

address: 306 N. 7th St

phone: +1 270-444-2020

address: 803 Madison

Heart of Healing Gallery

phone: +1 270-442-2324

address: 233 N. 7th St

Judeens Studio and Gallery

phone: +1 270-444-9525

address: 720 Harrison St

Leaping Trout Studio, 723 Madison. 270-441-7050. Tu-Sa 12PM-5PM.

Mentor House Gallery

phone: +1 270-442-1635

address: 332 N. 6th St

Nancy Calcutt Studio, 521 Madison, 270-415-9041.

Pinecone Gallery

phone: +1 270 443-1433

address: 421 N. 7th St

phone: +1 270 442-5280

address: 333 N. 9th St

The gallery showcases the paintings of owner Karen Utz. Along with Utz's work, the gallery features the work of many talented fine American craft artists.

Stornoway House Gallery

phone: +1 270-444-9446

address: 513 N. 6th St

phone: +1 270 217-4748

address: 415 N. 7th St

Offering physical therapy, Pilates and massage, by appointment.

phone: +1 270-442-1087

address: 418 N. 7th St

The working studio of Paul Lorenz. The studio features oil paintings and Bauhaus inspired drawings.

Studio Miska

phone: +1 270-442-5266

address: 627 Madison St

The Egg and I

phone: +1 270-443-6323

address: 335 N. 6th St

Working Artist Studio

phone: +1 270-441-7844

address: 303 N. 8th St
Downtown
(NOTE: Downtown After Dinner program runs Saturday nights April–October, and most businesses remain open late. Broadway is usually blocked off from the riverfront to 7th Street (cross streets remain open) to allow a street-fair like atmosphere complete with live musical performances. Antique cars are often displayed on Broadway between the riverfront and 2nd Street, and along 2nd Street.)
Allen Music, 215 Kentucky, 270-442-8900.

BeBe's Artisan Market

phone: +1 270-443-5848

address: 107 S. 2nd St

Carol's Custom Framing & Gifts

phone: +1 270-575-3556

address: 409 Broadway

phone: +1 270-443-9420

address: 115 S. 2nd St

Crash Comics, 130 Broadway, +1 270-442-7348.
Creatures of Habit, 406 Broadway, +1 270-442-2923. Costume rental.
Gallery 600, 600 Broadway, +1 270-442-1985.

phone: +1 270-443-0019

address: 219 Broadway

J. Elaines & Candy Boutique, 405 Broadway. +1 270-442-2828.

King's Quilting Studio

phone: +1 270-444-7577

address: 119 N. 4th St

Market@315, 315 Broadway. Numerous booths with a little bit of everything.
Mr Penguin, 303 Broadway, +1 270-444-6520. Formal wear and rentals.
PAPA - Paducah Area Painters Alliance, 124 Broadway, +1 270-575-3544.
Peppermills, (Market House Square). Kitchen things and coffee.

phone: +1 270-444-6115

2nd & Broadway.

phone: +1 270-441-7007

address: 112 Maiden Alley
Antiques
American Harvest Antiques

phone: +1 270 442-4852

address: 632 N. 6th St

Anthony Barnes Antiques & Collectibles

phone: +1 270 442-1891

address: 111 S. 2nd St

Courtyard Antiques, 319 Broadway. +1 270 442-1921.
Jeremiah's Antique Mall, 3rd & Broadway.
Just English Antiques, 212 Broadway.

Marshall's Antiques

phone: +1 270 442-0024

address: 113 N. 2nd St
Other Shopping
Kentucky Oaks Mall. Hinkleville Road (Hwy 60), at I-24 Exit 4. Just because Paducah is relatively small doesn't mean the shopping is small-time—this is the second-largest mall in the state by retail area. Department stores include Dillard's (two separate stores, one with women's and children's clothing and the other featuring men's clothing and home furnishings) and JCPenney, with deep-discounter Burlington occupying most of a space recently vacated by Sears. Another space vacated when Elder-Beerman went belly-up is being redeveloped. Two "big box" retailers, Best Buy (electronics and appliances) and Dick's Sporting Goods, are also located in the mall. Open Mon-Sat 10-9, Sun noon-6. Shopping hours are extended by one hour in the weeks leading up to Christmas.
Mall Area. There are many stores near the mall. Sam's Club, Hobby Lobby, Bed Bath & Beyond, Old Navy, David's Bridal, Toys R Us, Jewelry & Handbag Warehouse, Shoe Carnival, and Gander Mountain (hunting, fishing, and outdoors supplies) are located on the same side of US 60 as the mall. On the other side of US 60 are Walmart, The Home Depot, Lowe's, Books A Million, PetSmart, Catherine's Plus Sizes, and TJ Maxx.
Olivet Church Road Crossing. New shopping area just past the mall on US 60. Includes Kohl's; Michael's Crafts; Bed, Bath & Beyond; Kirklands; and Sprint Nextel.
Southside. There are several shops near the southside Walmart, including Big Lots and Trees 'n' Trends.
Eat
Alberti's Ice Cream

phone: +1 270-442-0055

address: 121 S. 3rd St

Chongs. There are several locations of this local Chinese restaurant in town. The nicest is by the mall, and the one on Jackson Street has a buffet.
Cynthia's, 125 Market House Square, +1 270-443-3319.
d Starnes BBQ, 108 Broadway, +1 270-442-2122.

Di Fratelli Ristorante

phone: +1 270-442-7054

address: 211 Broadway St

Gold Rush Corner Cafe, 4th & Broadway., +1 270-443-4422
Flamingo Row, At I-24 Exit 4, behind Home Depot. The fillymingo stuffed breads are a must-try.
Ice Cream Factory at Riverplace, 116 Broadway, +1 270-443-0084. Homemade waffle cones.

Italian Village Pizza

phone: +1 270-442-9500

address: 125 S. 3rd St

Kirchhoff's Bakery, Deli & Market, 116 Market House Square, +1 270-442-7117. If you've never been to Kirchhoff's, get a sandwich (and a cookie) just make sure to sample something from their bakery, which has been family owned since 1873.
KY Oaks Mall. Restaurants include Pasta House Factory, Chic-Fil-A, Dippin Dots, and an excellent soup,sub,and coffee shop call Tuscany - it has the best subs around.
Mall Area, Exit 4 off I-24. Numerous chain restaurants including Raffertys, O'Charleys, McDonald's, Bob Evans, Outback, Burger King, Applebees, Texas Roadhouse, Arby's, TGI Friday's, Hardee's, Taco Bell, Backyard Burgers, Steak N Shake, Wendy's, Chuck E Cheese, Logan's Steakhouse, Fazoli's, Olive Garden, Pizza Hut, Captain D's, Red Lobster, and Los Amigos (be sure to try the cheese dip).
Max's Brick Oven Café, 112 Market House Sq., +1 270-575-3473. Sometimes it can be hard to find good bread in small-town America. That's why it can be such a thrill to find a place like Max's.
Parcell's Deli & Grill, 2201 Broadway (In the Ritz), +1 270.575-3354.

Tribeca Mexican Cuisine

phone: +1 270-444-3960

address: 127 S. 2nd St

Backwoods BBQ

phone: +1 270 441-7427

address: 5172 Hinkleville Rd

Family restaurant with BBQ Pork, Ribs, Chicke Ribs, Pork, Custom Cooking & Catering, Chicken & More, Weddings, Special Occasions, Family Reunions, Company Picnics, Award Winning BBQ, Backwoods has it all. First, the pulled pork is prepared just right, not drowned in sauce to mask the flavor. It is slightly smokey, very tender, and juicy. The ribs are fantastic. The meat literally falls off the bone and they use a special dry rub that has an exceptional flavor.
Drink
phone: +1 270 443-7760

address: 320 North 6th St.

Coffee and tea, bubble tea, indoor/outdoor seating.

phone: +1 270-442-2041

address: 119 Market House Square

address: 301 N 4th St
Sleep
phone: +1 270-366-9058

address: 127 1/2 Market House Square

127 Market House Square.
Duck Creek Campground, (60 sites) 2540 John Puryear Dr. Exit 11 off I-24, +1 270-415-0404. Game room, water, sewer, store, primitive camping.
Executive Inn Paducah Riverfront, One Executive Blvd, +1 270-443-8000 or +1 800-866-3636.
Fern Lake Campground, (60 sites) 5535 Cairo Rd. Exit 3 off I-24. Water, sewer, and dump station. 30 & 50 amp, paved & gravel interior roads, some shade, 30 pull-throughs, bath house and laundry facility. +1 270-444-7939

Fisher Mansion Bed & Breakfast

phone: +1 270-443-0716

address: 901 Jefferson St

Restored Queen Anne with nice antique furnishing.
Fox Briar Inn at RiverPlace, 100 C Broadway, +1 270-443-7004 or +1 877-FOX-INN1. Distinguished by jacuuzis in some of the rooms, a kitchen for guest use and nice river views.

Paducah Harbor Plaza Bed & Breakfast

phone: +1 800-719-7799

address: 117 N 2nd St

Just blocks from the Ohio river; renovated.
Connect
By phone
Most telephone numbers in Paducah, as well as the Purchase area, consist of +1 270 plus a seven-digit number, but the entire region is now served by an overlay complex of two area codes, with +1 364 being the second. A local or in-state telephone call now requires all 10 digits of the local number be dialed (omitting just the leading +1 from a local landline call).
Signage on many established businesses may still display the original seven-digit numbers; dial 270 before these if no area code is indicated.

Go next