Pago Pago
Pago Pago
is the capital city of
American Samoa
. In the
Samoan
language it is pronounced "Pahngo-Pahngo".
Get in
By plane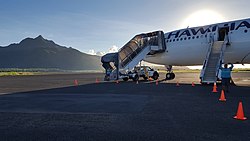 Pago Pago International AirportThe small terminal is in the process of expanding and taxis are always available when exiting the building. There does not seem to be a lot of air traffic, except for flights to/from Hawaii and neighboring islands of Manu'a and the independent country of (Western) Samoa. The cost of a taxi ride from Tafuna to Pago Pago is usually $15-$20, and $1.00 on a aiga bus. Most hotels on the island offer pick-up and shuttle service if arranged in advance.
See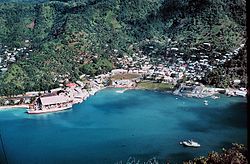 Jean P. Haydon MuseumA museum that showcases Samoan history, culture, and nature, it's a great place to learn about the island and become acquainted with the local culture before venturing out to other destinations. The museum features many cultural artifacts, such as clothing, art, weaponry, pottery, and tattooing. There are also artifacts from WWII. Exhibits about the island itself, including the types of plants and animals are also on display. The museum is named after the wife of the founder, who collected many of the artifacts on display in the museum.
Do
Ili'ili Golf Course

phone: +1 684-733-6592

address: Ili'ili Road

18 holes, par 72.
Sleep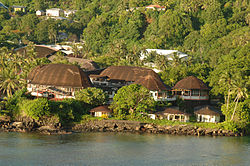 phone: +1 684-633-5900

address: Utulei Beach

Formerly known as The Rainmaker Hotel (aka The Ratmaker) the hotel has been much improved in recent years.

phone: +1 684-633-5900

Sadie Thompson was the prostitute who featured in the short story "Rain" by Somerset Maugham.

phone: +1 684 699-1000

address: Ottoville Road

100 rooms in this hotel built in 2003. Clean and well maintained.