Pakse
Pakse
(ປາກເຊ) is the capital city of
Champasak province
in
Southern Laos
, a small but relatively modern and friendly population center near the borders with
Thailand
and
Cambodia
.
Understand
Pakse is the main town and a major transportation hub for southern Laos; if you plan to go to the
Bolaven Plateau
,
Wat Phou
, or
Si Phan Don
, you will probably have to spend some time here. The town is on the Mekong River.
Tourist Office
Tourist information

phone: 212021 (domestic)

On the Xe Don River near the Laos Airlines Office, with English speaking staff. The tourist information can organize trekking to the Xe Pian and Phou Xieng Thong nature reserves and overnight stays with natives at Don Kho and Don Daeng.
Get in
By plane
Pakse International AirportMost flights are operated by Lao Airlines with services from Bangkok-Suvarnabhumi, Ho Chi Minh City, Luang Prabang, Savannakhet, Siem Reap, and Vientiane. Also Lao Skyway flies from Vientiane. A tuk-tuk or moto into the city costs $1-3.
Another option is
Ubon Ratchathani
(
UBP
) in Thailand. Pakse is far easier to reach from Ubon Ratchathani than from Vientiane. You can enter Laos from Thailand via the Thai - Laos border crossing at Chong Mek, and buy a Laos visa there if you don't already have one (see below). AirAsia offers flights from Bangkok (DMK) to Ubon Ratchathani (departure Bangkok 07:40, arrival Ubon Ratchathani 08:45, and departure Bangkok 18:00, arrival Ubon Ratchathani 19:00, return flights departure Ubon Ratchathani 09:15, arrival Bangkok 10:20 and departure Ubon Ratchathani 19:25. arrival Bangkok 20:30, €33 to €35 one way).

By boat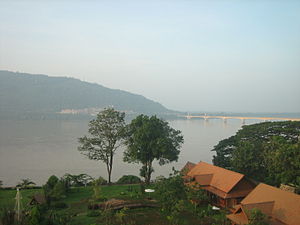 There is no regular slow-boat service to Si Phan Don. If you can get a group together, you might be able to rent a private boat. One quote was for $250. The boat landing is near the mouth of the Xe Don River.

By bus
Pakse has two bus stations that mainly serve locals. One serves traffic to the north and one to the south. Getting to right station with tuk-tuk is easy if you just tell the driver which place you are heading.
The also called khiw lot lak jet or km-7-us station (tel 251 508) is about 10 km north of the city centre on Route 13. Buses are very slow and have no air condition.
Buses to Savannakhet and Thakhek leave from 06.30 to 16.30 every 50 minutes, the trip to Savannakhet (280 km) takes 4 to 6 hours and costs 35.000 kip, to Thakhek 8 to 9 hours and costs 50,000 kip.
Buses to Vientiane (680 km) need 16 to 18 hrs and cost 100,000 to 150,000 kip (2011).
Other buses go to Lao Bao (depart 06:00, 100,000 kip), Hue (depart 06:30, 150,000 kip) and Da Nang by Da Nang bus (depart 07:00, 180,000 kip, 2011). Some aren't direct buses and you will have to change buses twice.

The (Khiw lot lak paet or Km-8-v´bus station) is 8 km to the south, and costs 40,000 kip by motorbike, from the centre, on route 13.

To Si Phan Don (4,000 islands): buses to Muang Khon (120 km, 3 hours, 35,000 kip including ferry) leave from 07:00 to 15:00. You have to take the bus to Ban Nakasang (3 to 4 hours, 30,000 kip) if you want to go to Don Det and Don Khong. It is much more comfortable to take the international buses to Phnom Penh and quit at Nakasong (60,000 kip including ferry). Minibuses head to/from Si Phan Don for 55,000-60,000 kip. For Si Phan Don it's also possible to go to the main bus terminal outside of the city and take a songthaew for 40,000 kip per person. Expect chickens and fish as your companions. Coming to Pakse from Don Det, there are once-a-day bus itineraries leaving the island at 11am, 60,000 including the boat fare. If you want to save a little money by taking the bus yourself from Nakasong to Pakse, there are about three departures per day but all in the morning.
To Bolaven Plateau: There are frequent buses to Paksong (90 min, 15,000 kip) and some buses to Saravan (115 Km, 3 to 4 hrs, 25,000 kip), leaving before 14:00. buses to Xekong (135 km, 4 hrs, 30,000 kip) leave from 07:00 to 11:00 every hour and go ahead to Attapeu (210 km, 5 to 6h, 40,000 kip, 2011).

VIP buses from/to Vientiane operate from the near the Champasak shopping centre in the city centre. The journey takes about 10 hours and should cost around 170,000-190,000 kip depending on whether you buy the ticket in the bus station or at tour agencies.
There are a number of VIP bus companies, and two of the popular ones are Chitprasom and Kriang Kai. Chitprasom (all sleeper buses) buses operate out of a station close to the shopping centre near the city centre. Kriang Kai (all sleeper buses) operate out of a private bus station 2 km from the town centre near an afternoon food market. A ticket to and from Vientiane will cost 210,000 kip per person when a one seater bus is available, 170,000 kip to share a double with another stranger, or 250,000 kip for double to be ridden alone if a one seater/sleeper is not available. If a single seater (210,000 kip) is available, 340,000 kip for a double seater/sleeper for either one or two person occupancy (Apr 2011). Chitprasom buses tend to be newer as KK has been around longer and have not updated their buses. When travelling from Pakse to Vientiane, take the KK buses as they will drop you off in the centre of Vientiane where their corporate office is, 2 min walk from the Cultural Hall, free of charge and save the 10,000 kip tuk-tuk ride into the city. All northbound buses, however, do stop at the Vientiane bus station, which is 9 km from the city centre. If you are coming from Don Det and have not bought a through ticket, you can either get off at the KK terminal and buy ticket there with KK, or wait and get dropped in the city, and buy your ticket for Chitprasom.
Warning: women have been groped on these buses. If this happens to you, tell everyone on the bus what happened, and advise the authorities.

Chong Mek border crossing from Thailand

VIP buses from/to Thailand via the Chong Mek border crossing (on the Lao side it is known as Vang Tao) take about 2 hours and charge $5/200 baht in Ubon bus station near Big C. If you don't have too much luggage, there are also vans to the border bus station for B100. After crossing into Laos, there is a big food center about 100m from the border, where transport is waiting. Vans cost 25k kip from there to the new market in Pakse.
The Thai-Lao international bus between Pakse and Ubon Ratchani (126 km, 2 to 3 hrs) is much more comfortable. Buses leave Pakse at 08:30 and 15:30, and from Ubon Ratchatani at 07.30 and 15.30, and will wait at the border for everyone to complete border formalities. Note that in Pakse this bus will drop pax off at a bus station on Road 38 about a km East of the big Arawan Riverside Hotel. Agents in downtown Pakse are now booking this for 90,000 kip, which includes a ride to the bus station. It may be a bit cheaper if you can get to the bus station yourself and buy a ticket there.
You can buy a Lao visa at the Chong Mek/Vang Tao crossing. However, when entering Thailand without a visa, most nationalities will get a free 15- to 30-day Thai visa stamped into their passport. Keep in mind though that at present Thailand is only allowing 2 overland entries per year, without getting a visa in advance. Best to check beforehand for latest edicts!
There appears to now be an official fee of 10,000 kip to exit Laos at this border. You will be issued a bill and directed to a payment window that issues you a receipt. They may allow you to pay 40 baht if you don't have 10,000 kip.

Get around
If you plan to do the Bolaven Plateau Loop, rent a motorbike or buy a bus ticket beware of the company Lao Adventure(r) Travel. The Lao woman in the office will try to scam you in any possible way just to get money out of your pocket. There are also a lot of reviews on tripadvisor about the bus tickets she tries to sell you for a 'special price'. Apparently the office changes names quite often. On Google Maps you will find it as Laos Keywords Travel. Located on the No. 12 Road, when you come from the north, just shortly before the main road No.13 on the left hand side.
On foot
While the immediate downtown area with the highest concentration of lodging and restaurants is walkable, many things outside are small city center are spread far apart. If you want to see the large open-air market or the movie theater/mall, it may be better to find another means of transportation.
By bicycle
If your accommodation provides bicycles, this is a fast, easy way to get around town.
By tuk-tuk
Tuk-tuks and motorbike taxis hang around the main road east of the bridge leading to the airport, as well as near the wet market and in the surrounding street blocks. A trip to Dao Hueang market will cost around 10,000 kip and 20,000 kip to either of the bus stations.
By scooter/motorbike
Travel agencies, guesthouses, and some hotels in the center rent out scooters and motorbikes; common prices are 50,000–70,000 kip/day for a semi-automatic and 90,000–100,000 kip/day for an automatic one.
Like in
Luang Prabang
, most, if not all, will demand your passport as collateral while renting the bike; passport copies, cash deposits, etc. will not be accepted.
See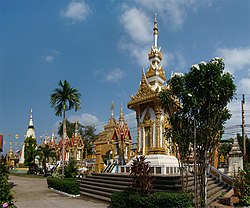 Ban KeosamphanhThe most beautiful green rice fields of Pakse, a former French army camp, and is home to the oldest market of Pakse.

Big BuddhaIn Aug 2011 a Big Buddha temple complex was built across the river, adjacent to the Japanese bridge. More than a few steps to the top, a great view of the river and city.

Dao Heuang Market

address: Rd 38

Many food stalls that are a feast to the eyes and nose.
Museums
Champasak Historical Heritage Museum

address: Route 13
Monasteries
Wat LuangThe biggest and most beautiful temple of Pakse, and home of Buddhist monk school. This is also the best place to see the monk alms giving rituals often seen in Luang Prabang.

Wat PhabadThe oldest and largest temple of Pakse, and believed to have Buddha's footprint, from which its name is derived.
Do
There's not much to do in Pakse itself. However, this is a good base for travel to the
Bolaven Plateau
and
Si Phan Don
.
Pakse can be considered as a staging point for archaeological trips in this part of Laos for two reasons: 1) it is where he Champasak Provincial Museum (listed in See above) is located as an introductory to local archaeology, and 2) it is an alternative to Champasak city as a jumping off point for those wanting to see
Wat Phou
. Wat Phou is a designated UNESCO site and boasts the Lao counterpart to Angkor Wat/Angkor Thom. It's the finest of its genre outside Cambodia. It's possible to organise a day-trip to Wat Phou near
Champasak
, where you can also stay easily.
Rent a motorbike and head east towards Pak Song (Paxxong). The journey is pretty, and there are heaps of
waterfalls
to stop by near Pak Song. The Champasak Provincial Tourism Department puts out a few nice brochures including one on the Bolaven Plateau that details these including Tad Fane, Tad Champee, Tad Ueang, and Tad Pha Suam. Admission tends to be the same at every place, 5,000 kip per person, 3,000 kip for the bike.
BowlingAs in Vientiane, there is also a proper bowling alley in town. If you want a ride home you should arrange for a tuk-tuk to stay since you won't find many patrolling there later in the evening.

Movie theater (outside of the city center) The only movie theater outside Vientiane, Major Complex (biggest chain from Thailand) is located at the top floor of the Friendship Mall (known locally as the Fancy Mall) along along with some Japanese brands. For Western/Hollywood movies, the mall mostly shows movies dubbed in Thai and subtitled in Lao so make sure you check the schedule or ask the counter.
Cruises
Mekong Cruises
offers a
3 days/2 nights cruise on the Mekong in Southern Laos
on board the
Vat Phou
. The boat has 12 air-conditioned cabins with private bathrooms, 2 large open shaded air decks, bar and restaurant.
The cruises starts at Pakse from Oct to Apr on Sat, Tue and Thu, in May and Sep on Sat and Tue. You will be transferred to a longtail riverboat for a 2.5 hours journey to
Champassak
. In the afternoon you visit the
Vat Phou ruins
. On the second day you visit the village of Huei Thamo and the forest temple of
Oum Muong
. In the afternoon the boat sails closer to the "4,000 Islands". You can walk through
Ban Deua Tia
, a small Laotian Village where the traditional way of life has not changed in centuries. This day's cruise finishes at the most northern tip of Don Khong, the largest inhabited island in the river archipelago.
On the third day the Vat Phou takes you to the village of
Ban Veuthong
, where you board a small boat to meander among the 4,000 Islands to Khone Island, visit the old French railway and walk across the bridge that links Khone and Det Islands. Lunch will be served at a local restaurant in a small fishing village, Xieng Di, on the banks of the Mekong. A bus brings you to the
Pha Pheng waterfall
, "the Niagara of the East", close to the Cambodian border. Then you will be brought back to Pakse, arriving there between 17:00 and 17:30, permitting you to reach the evening train or flight from Ubon Rachanthani. The package costs $725 from Oct to Apr, $615 in Jul/Aug and $580 in May and Sep (2015).
Buy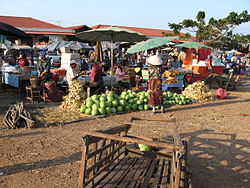 BCEL BankChanges money, cashes traveller's cheques and does cash advances on credit cards. There is an ATM in front of the building that accepts most foreign cards. There are a lot more ATMs in southern Laos these days. When heading south this is the last ATM until Kompong Cham in Cambodia. However, there is now an ATM in Attapeu, though the charge is 20,000 kip per withdrawal with a 700,000 kip per transaction maximum.

Lao Development Bank

address: Rd 13

Can exchange kip to $, vital if travelling onward overland to Vietnam. Across the road, directly opposite the bank is an ATM which accepts international cards such as Cirrus. There is a limit of 700,000 kip per transaction, although you can withdraw several times. Those who are heading to Cambodia, gather a few riel to tide you over for your first few hours in Cambodia from the Lao Development Bank.

Morning MarketLasts most of the day.

Talat Dao Heuang
Eat
The majority of restaurants, over 50, are concentrated onhe road which runs parallel to the Mekong, a five-minute walk from the main street). Most offer Lao or Vietnamese cuisine and some western dishes, have English menus, and are low-priced. Several restaurants catering to tourists are found near most of the accommodation along and nearby the main street. These are higher-priced but offer more variety in non-Lao food, such as Indian, Italian, burgers, steaks and pizza.
Champady

phone: +856 30 534 8999

Thai and Lao specialities.
Dornsokdee RestaurantA Sin Daat (cook yourself Lao BBQ) restaurant that also serves Thai, Vietnamese and some Western food. A Sin Daat is intended to be shared between two or more which makes for an economical option. At least one traveller rates their fried springrolls the best in Paksé.

Ketmany Restaurant

phone: +856 31 212 615

address: Route 13

Authentic Lao and Vietnamese cuisine, air-conditioned.

Lan Kham Noodle HouseServes enormous bowls of noodle soup with fresh herbs and salad. Price from 15,000-17,000 kip.

Pizza Boy

address: Th 13

Italian restaurant with pasta from 30,000 kip, locally grown espresso coffee at 7,000 kip, and ice cream for 5,000 kip for a scoop. Pizzas are expensive by Lao standards. 45,000 kip for a margherita or 60,000 kip for additional toppings.

phone: +856 31 213 245

address: Th14
Drink
Coffee
address: No 11 Rd

Cafe has free Wi-Fi for patrons and fancy frappe drinks, cakes and basic restaurant menu.

Delta CoffeeOffers Western food options such as pasta (20,000-30,000 kip), pizzas (35,000-50,000 kip), sandwiches, hamburgers (15,000-20,000 kip), and desserts baked on-site. Known also for good quality, locally sourced coffee. Prices are quite reasonable and the staff friendly.
Alcohol
Enjoy the sunset with a beer Lao at the Mekong River. Go to the French bridge and then head south along the Mekong. After having passed the wat you will come to countless places to have a drink.
phone: +856 31 212131

address: Bane Watlouang, Rd 4

The only rooftop restaurant in Pakse. On the 7th floor of Pakse Hotel, with a beautiful view over the town and the Mekong. Western, Asian and fusion dishes. Not cheap, but the view makes up for it, and probably the best pizza and Western dishes in town.
Sleep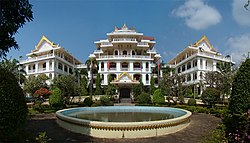 Most hotels and guesthouses in Pakse can be found along the main street between the French Bridge and the roundabout or a short way into its side streets. Prices in Pakse are very high compared to the rest of the country; even higher than Vientiane. Expect to pay around double what you pay elsewhere in Laos and consider booking ahead.
Budget
1918's HostelNot the perfect hostel you might expect from reviews online, but does a good job of providing accommodations on par with a decent western-style hostel, with good value for money. Dorms are air-conditioned at night, and there is free wifi throughout. Free bicycles are also a very nice touch.

phone: +856 31 213 314

Clean and surprisingly has an OK lounge downstairs along with large stacks of Time and Newsweek. Free Wi-Fi, but only at reception.

Sabaidy 2 Guesthouse

phone: +856 31 212 992

It's the only guesthouse in town with basic dorms. The shared showers have hot water. They also have basic rooms. 50,000-60,000 kip for the dorm and 80,000 kip for single or double rooms. Apparently being mentioned in the Lonely Planet has gone to their heads as the rooms are overpriced & they charge for any extras. They will not keep your bags while you visit the Bolaven plateau and suggest you leave them with whomever you rent a bike from. Laundry 10,000 kip/kg. Have a day tour to Bolaven at 180,000-250,000 kip depending on the number of persons.

Sedone River Guesthouse

phone: +856 31 212158

address: Rd 11

This guesthouse has friendly staff and a very pleasant garden overlooking the Se Don. 50,000 kip for a fan room or 70,000 kip for an air-con room with hot water. These prices cover up to two people; you can pay 15,000 extra for a third. The air-con rooms are enormous if a bit shabby. Cleanliness is middling and is a bit shabby. Unfortunately due to the location by the river there are a lot of mosquitoes.
Mid-range
Daovieng Hotel 2

phone: +856 31 214331

address: Rd 13 & 35 Phonesay Village

Good clean, smallish rooms with air-con and cable TV. Wi-Fi in the lobby.

Lao Chaleun Hotel

phone: +856 31 251333

address: Rd 10

Staff are accommodating and single rooms, although tiny, are immaculately clean.

Noknoi Guesthouse

phone: +856 31 251100

Clean standard rooms, complimentary water and coffee. Some room for improvement with woodwork that is a bit rough, owners don't really speak English. Cable TV is there but the signal is very noisy.

phone: +856 31 212 131

A broad range of rooms. A good hotel with nice rooms, good service, helpful staff and a lovely roof-top restaurant. Can arrange tours to nearby sights.

Thaluang Hotel

phone: +856 31 251399

address: Rd 21, Bane Thaluang

Good location, helpful and knowledgeable staff. Rooms are fairly old and could use some renovating. Air-con and hot water available, the most expensive room has four beds.
Splurge
Arawan Hotel

phone: +856 31 26034550

address: Salakiew St

Good location, on the banks of the Mekong River. Stunning views from the outdoor pool. Great if you feel like a bit of a splurge. They also offer cheaper rooms for $35, but the deluxe rooms are worth the money.

phone: +856 31 212 263

The former royal palace is probably the most upmarket option in town. The hotel is nicknamed a "Thousand Doors and Windows" due to its sheer size and scale.

Hotel Salachampa

phone: +856 31 212 273

address: Th 14
Connect
These are several Internet cafes on the corner near Nazim's Indian restaurant that charge around 6,000 kip/hr. The smart new Tour Lao Cafe on the south end of the market plaza has Wi-Fi too.

Cope
Hospital

phone: 212 018 (in country only)

address: corner Th10 and Th46
Police

phone: 212 145 (in country only)

address: Th 10
Post Office

address: corner Th8 and Th1
Visa extensions
Visa extensions are possible at the police station on Rd 10, just down the road from the Salachampa Hotel and Restaurant. The cost is $2 per day plus a 5,000 kip "form fee." The process is very easy: turn up in the morning with your passport and one photo; fill in a form and come back in the afternoon for your extension.
Go next
Nearby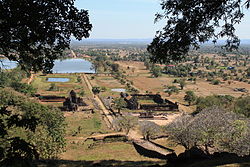 The Um Muang ruins are located 44 km south of Pakse. The most interesting approach is to travel to Ban Nakham Noi by boat and hike in half an hour to the ruins. Two Khmer sanctuaries and several sandstone nagas and lingas have been built approximately at the same time as Wat Phu. The minor site is covered with moss and not as impressive as Wat Phu. The site has not been cleared of the encroaching jungle.
Ban Phapho is situated 27 km east of Route 13 on the road to Attapeu. Here young elephants are trained for hauling hardwood and rice. There are up to 90 elephants in the elephants' school.
Wat Phu is located 43 km south of Pakse. It is reached via the village of Champasak, What Phu is an outpost of the Khmer empire, but not as impressive as Angkor Wat in Cambodia. It makes for a great hour-long boat trip on the Mekong and a 1-hour hike on the mountain to the top of the sanctuary, Allow a full day for this excursion including a minimum stay of three hours at Wat Phu.
Don Kho is an island in the Mekong River. Don Kho and the village of Ban XA Phai (15 km north of Pakse) are centers of silk weaving. There are no cars on Don Kho. Most people on Don Kho offer 'homestay' accommodation with a family (30.000 kip per person, dinner 20,000 kip, 2011). Some women offer silk weaving courses (50,000 kip per day) This is a good opportunity to see everyday life in rural Laos. Sawngthaews to Ban Xa Phai depart from the Dao Heuang Market (Morning Market) at Pakse (45 min, 8,000 kip, tuk-tuks or saam-laaw cost kip 60.000. The boat from Ban Xa Phai to Don Kho costs 20,000 kip per person and a boat tour around the island costs 70,000 kip (2011).
Phou Xieng Thong NPA is located 50 km from Pakse upstream on the Mekong. On the Thai side of the Mekong is the Phae Teaem National Park. Usually 2- or 3-day-trekking tour to Phou Xieng Thong NPA ar offered, with a boat trip on the Mekong, an overnight homestay and a hiking tour to Phou Khong (Khong Mountain). For practical reasons, it is recommended to book this tour at the Tourist Information in Pakse.
Bolaven Plateau - about 25 km to the southeast, rent a motorbike. Talk to Sabaidy 2 Hotel for information on a 2-3 day loop and other destinations.
Further away
Three other countries are within a couple of hours on the bus; Cambodia, Vietnam and Thailand. Also see the Get in section for suggestions for places to go next.
Si Phan Don - in the far south of Laos, 150 km or so to the south. Also known as 4,000 islands, is less than 3 hours away. Relax here for a few days by the Mekong River.
Tadlo - some 100 km to the northeast, a village with waterfalls and trekking opportunities.
Savannakhet - another major Lao city, about 5 hours north by bus.
Vientiane - among other options, an overnight bus is available (2 people to a bed; snack, blanket and pillow included). Possible to book this at Sabaidy 2 Hotel.
Ubon Ratchathani is accessible by bus, and from there Bangkok and other places in Thailand. The border at Vang Tao (Laos) between Chong Mek (Thailand) is open from 05:00 to 20.00. Sawngthaews leave from Talat Dao Heuang (New Market) in Pakse (75 min, 10,000 kip), Taxis charge 20,000 or 25,000 kip per person or 200,000 kip for the full taxi. Vans are also 25,000 kip per person. The 44 km trip by taxi to Vang Tao takes about 45 mins. There is a walk of about 300 metres to the Lao and further 100 metres to the Thai border station. The bus station is a few hundred meters further West from the border crossing and from there frequent vans go to Ubon for B100 per person. Thai taxi drivers charge 900 to 1,200 Baht for the 1 hr (80 km) drive by air conditioned van to Ubon Ratchani. You can also take a Sawngthaew to Phibun Magsahan (1 hr, 40 Baht) and take another Sawngthaew there to Ubon Ratchani (40 km, 1 hr, 40 Baht, 2011). Tickets from Pakse to Bangkok (14 hrs, daily a 15:30, 220.000 kip) and combined bus-sleeper tickets (departure at 15:30, 280.000 kip) are also sold. Buses that go all the way to Ubon, including waiting at the border, can be booked with agents in Pakse for 90,000 kip, including pickup.
Vietnam – there are buses to Da Nang
Cambodia - Travel onward to Cambodia from Pakse with visa-on-arrival facilities in place at the southern border with onward travel to Strung Treng, Kratie, Phnom Penh and Siem Reap. Check transport providers carefully as there have been reports of people being left at one destination when they were booked for another.
A single bus journey on VIP coach from Pakse to Phnom Penh costs 210,000 kip, and takes 13 hours including one hour at border. One company is Sengchaluean bus company, and includes tuk-tuk pick up from hotel via
Lao Adventure Travel
. DIY is not wise, as the bus station is more than 5 km to the east, a 20,000 kip tuk-tuk plus the fare quoted by the booth attendant at $27. There is only one departure time, 08:00, although shown on the ticket as 07:30.
The border procedure is: 20 minutes from the last stop to the border, a man will appear together with other foreign passengers. Holding a stack of passports collected from the foreigners, he will walk the aisle, announcing that the border is near and those who have no visa should make ready their $30. He distributes the Cambodian entry card and instructs everybody to complete it. Those who already have a visa should make ready their $6 (the price of the departure stamp on the Laotian side, the entry stamp on the Cambodian side plus the Cambodian immigration card to be filled up included in the passport). This expediter instructs everybody to stay in place in their seats unless they want to unwind and stretch. As soon as he collects everything and the bus stops, he will disappear. After 40 minutes, he will return and hands out the stamped passports, with the visa sticker for those who have none, and the immigration card stamped and stapled.
At the next highway junction on the Cambodian side, the expediter will jump off, his mission accomplished.
It would be wise to leave the processing to the expediter to ensure it's worry and hassle free. Not to condone the corruption that may be involved, but because of the ocean of language barrier that keeps the tourist from being well informed and taking decisions correctly, just better leave it to these runners, unless one has the luxury of time.
Warning
: For those proceeding to Cambodia by bus and making a pit stop at Pakse, dazed and rudely awoken from sleep, do not ever be convinced to buy VIP bus tickets right away upon setting foot at the bus station. Drivers will talk you into buying them at $75, a blunder that would have covered the cost of air ticket from Vientiane to Phnom Penh. If you have the stamina to walk with your luggage for about 500 m north where agencies line the main street, you can buy a ticket or better still, flag down a tuk-tuk to the bus station where the Cambodia-bound buses depart.
Alternatively, if you have a spare day, stay for the night (for 100,000 kip) and leave early next morning. Laos Adventure Travel at Rd 12, off the main street a few blocks east of the bridge, (Bhan Lak Muang), is reported to be a little cheaper than other agents.
Direct buses leave for Hue and Danang in Vietnam daily at around 07:30 from the Southern bus station. Bring your own food and water. The cost is 160,000 kip to Hue and 180,000 to Danang.