Palakkad
Palakkad
is a city in
Central Kerala
in
India
.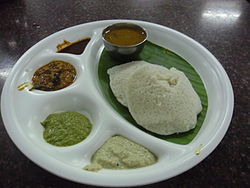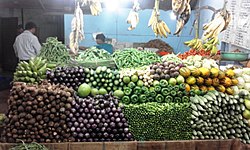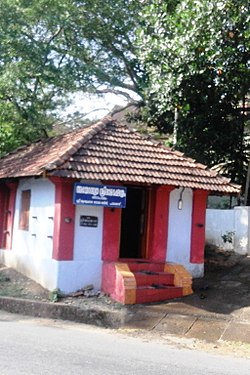 Understand
Palakkad lies near a wide low gap or pass in the
Western Ghats
mountain ranges that separates
Kerala
from
Tamil Nadu
. Consequently the city is a major conduit for travel between the two states. Palakkad is 4,480 square kilometres and the population is 2,617,072.
Palakkad is the land of Palmyras and Paddy fields. It is the chief granary of Kerala, often called the
Gateway of Kerala
. Palakkad lies at the foot of the gigantic Western ghats on the border of Kerala. This city surrounded by mountains, forests and fertile valleys, rivers and mountains streams are rich in flora and fauna.
Palakkad is known for its historical background and the remnants of Tippu Sulthan's Fort are still maintained.
Malayalam is widely spoken language as the rest of Kerala. However Palakkad is close to the Tamil Nadu border and people understand and speak Tamil well. You won't be very far from a person who speaks perfect English or Hindi just in case you need one.
==Get in==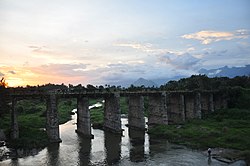 By plane
The nearest airport is the domestic airport at
Coimbatore
50 km away. The nearest international airport is in
Kochi
. There are three airports in 2-3 hr travel distance (Kochi, Coimbatore and Calicut).
By train
Palakkad is well connected and one of the railway divisional headquarters. Serviced by rail from all major cities in India like
Hyderabad
,
Kozhikode
,
Mangalore
,
Kochi
,
Thiruvananthapuram
,
Bangalore
,
Mumbai
,
Chennai
,
Kolkata
.
By bus
You can also reach here by bus from big cities like
Kozhikode
,
Mangalore
,
Kochi
,
Bangalore
,
Thiruvananthapuram
,
Chennai
,
Mumbai
,
Coimbatore
,
Salem
. However there is no direct bus from Hyderabad.
By car
Palakkad is well connected to other cities
Chennai
,
Kozhikode
,
Ooty
,
Palani
,
Kodaikanal
,
Kochi
,
Bangalore
,
Coimbatore
,
Salem
and
Madurai
by road. National Highways NH 47 and NH 217 pass through Palakkad.
==Get around==
Bus - Palakkad is well networked by public bus transport. The state runs KSRTC and many private operators operate bus services.
Autorickshaw - This is cheap way of transportation between attractions. Rickshaw drivers are generally very polite unlike big cities of India. However, if you are a foreigner trying to get around by yourself, agree on fare before boarding.
Taxi - Local taxis are also available at cheap rates. You will have to bargain.
Walk - Many attractions in Palakkad like the Tippu's Fort, the Open air Auditorium called "Rapadi", the Stadiums etc are walkable.
See
AttappadyTribal villages. 38 km Home of Irulas and Mudugars

Brahmakumaris Yoga Center

phone: +91 4912578525

address: Kalpathy.

Chulliar Dam

Chittur Gurumadam

Cholanoor Peacock Sanctury

Dhoni Reserve Forest15 km

Government Victoria CollegeColonial structure.

Guru Mandir

address: West Yakkara

Jain temple

Kanhirapuzha Dam

address: muhammed karakkadan

Killikurrussi Mangalam

Lakkidi

Mahadeva Kshetram

Malampuzha Gardens

address: Malampuzha.15km

Spectacular Garden, Suspension Bridge, Boating facility, Japanese Garden, Fantasy Water Theme Park, Toy Train, Acquarium and Cable Car. Entrance 9.00 am to 7.30 pm Video Cameras are charged ₹1,000

Mangalam Dam

Meenkara Dam

Meenvallamwaterfalls

Meenvallam Water Falls

address: Kalladikode

Museum of Musical Instruments

address: olavakkod Road, Palakkad

Nelliyampathi'Ooty of Kerala' hill station.

Parambikulam Wildlife Sanctuary135 km

Pothundi Damwith a garden and good views.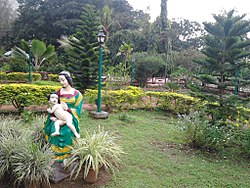 Seetharkundu water falls

Silent Valley National Park80 km. 'Evergreen forest' with many rare species. Advance reservation by telephone is needed. Please contact: Phone: +91-4924-222056, +91 4924 253225, +91 8589 895652

Sholayar ForestCoffee and Tea estates.
Siruvani

Thiruvalathoor

Tippu's Fort

Walayar Dam25 km.

Walayar Deer ParkYou can see deer and other small animals roaming about in their natural habitat. The park is in a poor condition due to lack of investment. The park spreads over 110 acres of forest area, mainly teak plantation. There are plans to convert it into a safari park, providing more amenities for the deer and other animals and also to the visitors.
Other places around Palakkad
Ayalur Temple

address: Ayalur

Car festival during winter

Hemambika/Emoor Bhagavathi temple and Siva TempleBus available every 5 min from Palakkad Town Bus Stand. Board Rly Colony bus and alight at Kallekulangara bus stop.

Kakkayur Kottamala Ayyappa Temple

address: Kakkayur

The giant walls of this temple is at least 1 1/2 times taller than an elephant, built of stones unbelievable in size. There are no stone quarry nearby from where this has could have been taken. These stones are laid one on top of another without any sealing in between. They have been standing like that for centuries just on gravity. Also on the walls are writings in some very old language.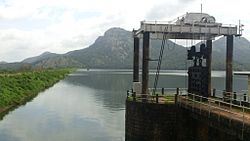 Kakkayur Siva Temple

address: Kakkayur

Meenkulathhi Amman Temple

address: Pallasena

Nellikulangara Temple

address: Nemmara

Pothundy DamIt is a reservoir built across Ayalur river as an irrigation project in 1968. It provides water to Nenmara and Ayalur villages. It is in a valley just below the Nelliyampathy Hills.

Tripallavoor siva temple

address: Pallavur
Do
Alampallam RadhotsavamThe biggest Chariot in Kerala.

Chinakathur PooramA spectacular festival.

Chittur KonganpadaThe celebrations commemorate the victory of the Chittur Nairs over the militia of nearby Konganadu during 918 AD. It is said that there was constant fight in the Palakkad region between the Kerala kingdoms on the western side and the princely state of Konganad on the eastern side of the Western Ghat mountains. On the third day of the Konganpada festival 101 rounds of the kathina vedi (ironpipe crackers) commemorates the historic victory. Later, there is a kolam procession of little boys dressed as girls carried on the shoulders of men. At night men engage in mock fights wearing buffalo head masks to symbolise the dead buffaloes of the Konganpada (Kongan militia).

Kalpathy RathotsavamColourful Temple car festival where all the streets of the village will be lightened and the procession of Ratha's will take place.

Kunissery KummattiA traditional Indian festival.

Nemmara VelaA traditional Indian festival.

Walk in the paddy fields

address: Azhchapparamba Junction, Thrissur Road
Eat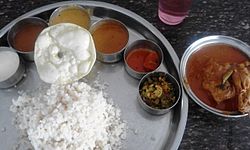 Due to its traditional Tamil-Brahmin culture, Palakkad has maintained a slight distance from Malabar cuisine, focusing more on vegetarian Tamil foods.
10/10 Restaurant

address: West Yakkara

20/20 Fast Food

address: Yakkara Junction

Aryas Vegetarian Restaurant

address: Near Town Railway Station

Fort Palace HotelVeg and non-veg.

Hotel Ashok BhavanVegetarian.

Hotel Indraprastha

address: English Church Road

Veg and non-veg.

Hotel KapilavasthuVegetarian.

Hotel NoorJehanAuthentic Kerala style Muslim dishes.

Hotel Royal TreatVeg and non-veg.

phone: +91 491-2570901

phone: +91 491 2524910

address: Opp. KSRTC

Indian Coffee House, Opp. Post Office

address: Olavakkod Junction

K R BakesVeg and Non Veg

Kudumbashree Caffe

address: Abudhabi Complex, Near Stadium

Magic Oven Cafe

address: Near Stadium

Manis Cafe

address: Near Railway Police Station, Olavakkod

Specialists in Elayada or Leaf-covered-rice-cake

Noor Jahan Open Grill

address: Near Stadium
Sleep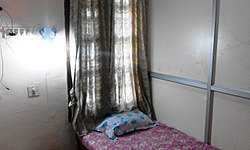 Railway Retiring Room

address: at Palakkad Junction Railway Station (Olavakkod)

A.V.Tourist Home

phone: +91 4912504193

address: G.B.Road, Palakkad

Hotel Chanakya

address: Chandra Nagar, Palakkad

Hotel Gazala

Hotel Kairali

address: Near Stadium Bus stand, Palakkad

Hotel Malabar

address: Near stadium Bus stand

Delicious & Ethnic Veg & Non Veg Cuisine

India Lodge

address: Near Railway Police Station, Olavakkod

phone: +91 4912534641 2539531

address: English Church Road

address: Olassery

Kairali Resort, Kodumbu Olassery Road, Palakkad

Landmark Residency

phone: +91 4912555708

address: Palakkad

Malang Lodge

phone: +91 4912529665

address: Kannara Street, Near Noorajahan Hotel, G.B.Road cross

Sri Chakra International

address: Chandranagar
Stay safe
Be careful when you travel to the eastern mountains of Kerala as there are frequent Maoist attacks. Avoid lonely treks.

Go next