Palanga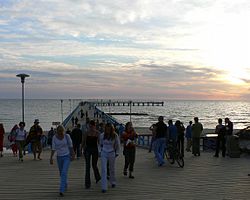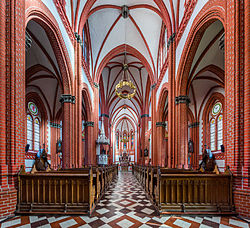 Palanga
is a popular seaside resort at the Baltic sea in
Lithuania
.
Get in
By plane
When you come to Palanga Airport by a rented car, you can park it at the airport and leave the keys with car documents in Airport Cafe on the first floor. For more information please contact Airport Cafe on the first floor .
Passengers coming by own car, can park auto in a paid place for long parking. For more information contact Airport Cafe.
By bus
The buses on the Airport - Palanga - Airport route run approximately every hour every day (even in the late hours). For more information phone (+370 460) 52020. The bus stop is not the one in front of the terminal but on the roadside 20m further.
For bus schedule on route
Klaipeda
- Palanga - Klaipeda contact the Klaipeda bus station (+370 46) 411547 or Palanga bus station tel.: (+370 460) 53333.
For bus schedule on route
Liepaja
(Latvia) - Airport - Palanga - Airport - Liepaja contact Liepaja bus station tel.: (+371 34) 27552 or Palanga bus station tel.: (+370 460) 53333.
Palanga is one of the stops on the Klaipeda -
Riga
bus route. This bus also calls at Liepaja. (The buses from Klaipeda to Riga Airport via Siauliai do not call at Palanga or Liepaja.)
By taxi
Taxi is available in front of the airport terminal. A trip to Palanga city takes 10 min and costs €6-12 or to Klaipėda takes about 30 min. Price about €12. A trip from/to Liepaja (Latvia) takes about 1 hour 20 min. and costs about €60. Taxi tel.: (+370 46) 345 345 (Klaipėda), (+371 34) 22222 (Liepaja).
By car
There is a 310-km motorway connecting the western part of Lithuania —
Klaipeda
and Palanga on the shore of the Baltic sea — to
Kaunas
, as well as
Vilnius
in the eastern part of the country.
See
Palanga PierIt is a tradition to visit the pier around sunset. This can easily be included as part of a visit to Basanavicius street (see below).

Basanavicius streetThe focal point of Palanga, and the highlight of any visit to Palanga, is J. Basanavicius street, running between Vytauto street and the pier. Along this street can be found most of the town's bars, restaurants, nightclubs, funfairs and souvenir shops. People-watching is a fashionable, and fascinating pastime here.

Botanical GardenTo the south of the city center is Palangas Botanical Garden, which is more like a forest and boosts the Amber Museum. Its a more a quiet place, especially in winter, but is nice to stroll around. A bit further into it, there is Birute Hill a forested sand dune, where excavations showed settlements from far back in time and now has a little chapel. From there you can take a nice walk back into town via the beach.

Amber museumThe amber museum is also interesting.

address: Vytauto g 39A

Creative and entertainment space. A contemporary alternative for mainstream Basanavicius area. A square for concerts, workshops, gatherings, discussions. There's a lounge built out of various recycled materials too - beer/wine/snacks. Summertime only.
Do
The beachThe beach extends in several kilometres either direction from the pier. Given that Palanga is Lithuania's main tourist resort, expect the beach to be very crowded in the summer. The busiest areas are either side of the pier. Though the beach is less crowded further from the pier.
Buy

Items made from amber are one of the town's specialities, and range from inexpensive jewelry and small pictures with pieces of amber (or imitation amber) stuck on, up to very high quality items made of the real thing and costing thousands of Litas. There are good opportunities to buy souvenirs on your way to the beach, where tents with souvenirs are set up.
At the beach, you can enjoy a cheap cheburek and cold beer (sold by young peddlers). A bit of a warning though, the chebureks are not made in a local restaurant, and are deemed "illegal" for unsanitary conditions in which they are thought to be made. So buy from the peddlers at your own discretion.

Sleep
A large proportion of householders in Palanga offer rooms to let at very cheap rates. Simply look for signs offering accommodation.
Budget
address: Sakalo st. 14

Cozy guesthouse surrounded by pine forest, 5 min away from the beach.

Vilija

phone: +370 46040039

address: Birutės al. 24

Mėguva

phone: +370 46048839

address: M.Valančiaus g.1

phone: +370 46051290

address: S.Dariaus ir S. Girėno g.20

Tenisas

phone: +370 46052828

address: Gėlių aikšte 1

phone: +370 46041433

address: S.Daukanto g.21
Mid-range
phone: +370 46049215, +370 46049318

address: S.Nėries g.14

phone: +370 46056101

address: Smilčių g.31

phone: +370 46048885

address: Plytų g. 7

phone: +370 46053636

address: S.Daukanto g.33

Du broliai

phone: +370 46048108

address: Kretingos g.36
Splurge
Go next