Palatinate
Pfalz
is a region in
Rhineland-Palatinate
.
Cities
— in the Südliche Weinstraße near Alsace (France)
— offers good opportunities for leisure, sports and shopping, with a lively inner city. Its famous football-team also attracts football-fans from all over.
— With the biggest chemical factory in the world, Ludwigshafen is no health spa.
— situated in the heart of the Palatinate region, including a number of vineyards, castles and the chance to taste some really good wine.
— largest romanesque Cathedral in the world, UNESCO World Heritage site since 1980. In Speyer you also find the Historical Museum and the Museum of Technology, both worth a visit.
See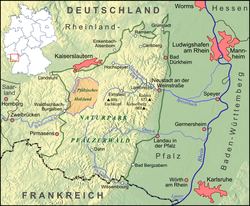 Pfaelzer Wald and
Deutsche Weinstraße