Palatka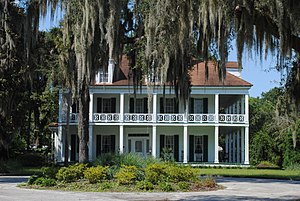 Palatka
is located on the banks of St. Johns River in
Northeast Florida
. One of the earliest cities to develop in the state, the city is home to charming historic neighborhoods and notable state landmarks. The area also offers numerous outdoor actives. These range from skydiving and kayaking to boating and golfing. Home to many festivals throughout the year, one event in particular pays homage to the city's most popular flower, the azalea. The flower can be viewed prominently throughout the city in early March, coinciding with riverfront festivities. The unique mixture of southern hospitality and Florida culture make Palatka a "must experience" destination for the roaming traveler.
Understand
Climate

Palatka has a humid subtropical climate, with mild weather during winters and hot weather during summers. High temperatures average 64 to 91 °F (18-33 °C) throughout the year. High heat indices are not uncommon for the summer months in the Palatka area. High temperatures can reach mid to high 90s with heat index ranges of 105-115 °F. The highest recorded temperature in Palatka was 105°F in 1950. It is common for daily thunderstorms to erupt during a standard summer afternoon. These are caused by the heating of the land and water, combined with extremely high humidity.
During winter, the area can experience hard freezes during the night. Such cold weather is usually short lived, as the city averages only 15 nights below freezing. The coldest temperature recorded in Palatka was 11 °F on January 21, 1985, a day that still holds the record cold for many locations in the eastern half of the US. Even rarer in Palatka than freezing temperatures is snow. When snow does fall, it usually melts before touching the ground, or upon making contact with the ground.
Palatka has suffered less damage from hurricanes than most other east coast cities. Palatka has experienced hurricane or near-hurricane conditions more than a dozen times due to storms passing through the state from the Gulf of Mexico to the Atlantic Ocean, or passing to the north or south in the Atlantic and brushing the area. Rainfall averages around 50 inches a year, with the wettest months being June through September.

Get in
Airports
Jacksonville International Airport (JAX

) is the closest major international airport in the region. It is about 69 miles north of Palatka

Palatka Municipal Airport (), also known as Lt. Kay Larkin Field, is public-use general aviation airport located just west of the city.
By train
By bus
Greyhound Bus Lines, +1 386 328-8617, 222 North 11th Street
Get around
By car
In order to access the full amenities, services, and recreational areas offered by the region, vehicle accommodations are a must.
Car rentals:
Affordable Car Rentals, +1 386 325-5446
Advantage Auto Rental, +1 386 325-6477
Budget Rent A Car, Toll free: +1-800-527-0700, .
Enterprise Rent-A-Car, Toll free: +1-800-261-7331, .
Taxi services:
Hedrick's Taxi Services, +1 386 328-6553
By bus
Ride Solutions, +1 386 325-9999, 220 North 11th Street,
By boat
Marinas:
Cruises:
See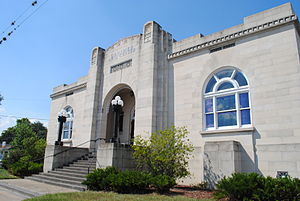 Downtown
Historic Neighborhoods
North Historic District is bounded by the St. Johns River, Bronson, North 1st, North 5th, and Main Streets. It contains 76 historic buildings, including the Bronson-Mulholland House and St. Mark's Episcopal Church.
South Historic District is bounded by the St. Johns River, Oak, South 9th, and Morris Streets. It contains 243 historic buildings.
Art
Larimer Arts CenterHoused in a 1920s architectural treasure, the center serves as an art and cultural resource for the community. Gallery showcases are held year round.
Do
Festivals
phone: +1 386-312-6266

Palatka is greeted every year with bright busts of pink and purple Azaleas. The bush, quite common looking most of the year, comes alive in early March. This is also when the Azalea Festival takes place. Arts and crafts, music, food, and beautiful scenery makes this a great weekend getaway. Don't forget to make a trip to The Ravine State Gardens to see the Azaleas in their full glory.

Blue Crab FestivalThe Blue Crab Festival kicks off every year during Memorial Day Weekend. Located Downtown on the riverfront, the festival features live music, live entertainment, arts and crafts, and of course blue crabs.
Sports and Outdoors
Buy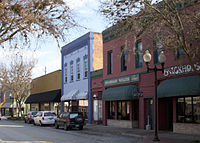 Downtown Palatka, Downtown and Historic Lemon Street offer a variety of specialty shops, boutiques, and restaurants. Accentuated by parks and public spaces this pedestrian friendly area is a perfect place to spend an afternoon.
Lemon Street Market, every Saturday, 8AM – 1:30PM
SR 19 commercial corridor, State Road 19 is the big box retail corridor. Here you will find Publix, Winn Dixie, Wal-mart, and Kmart. The Palatka Mall and movie theater are also located in this area.
Eat
Angel's Dining Car

phone: +1 386 325-3927

address: 209 Reid St

Niko's Pizza

phone: +1 386 328-8559

address: 804 S State Rd

19.

Corky Bell's Seafood at Gator Landing

phone: +1 386 329-9300

address: 185 South Highway 17

San Mateo Seafood

phone: +1 386 325-1871

address: 480 S Highway 17

City Cafe

phone: +1 386 329-8400

address: 318 Saint Johns Ave

Pizzaboyz

phone: +1 386 325-9977

address: 919 St Johns Ave
Drink
Corky Bell's Seafood at Gator Landing

phone: +1 386 329-9300

address: 185 South Highway 17

Steamboat Landing

phone: +1 386 328-5500

address: 201 N 1st St

High Level Lounge & Package

phone: +1 386 328-7131

address: 3821 Reid St

Spurs Bar & Grill

phone: +1 386 329-9919

address: 111 South 10th St

Downtown Blues

phone: +1 386 325-5454

address: 714 Saint Johns Ave
Sleep
Hotels
Holiday inn Express and Suites

phone: +1 386-325-2500

address: 3813 Reid St
Bed and Breakfast
Azalea House Bed and Breakfast

phone: +1 386 325-4547

address: 220 Madison St
Campgrounds and RV Parks
Economy Inn & RV Park

phone: +1 386 325-2455

257 N Highway 17.

St Johns Campgrounds

phone: +1 386 328-4470

address: 436 S US Highway 17
Go next