Palawan
Palawan
is the westernmost province of the
Philippines
, the one with the largest land area and with probably the most pristine natural environment away from its settlements.
Understand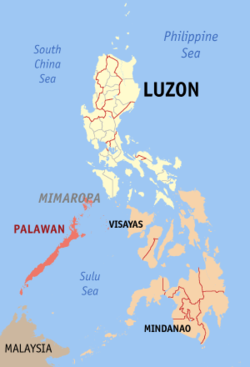 The island of Palawan stretches from close to
Mindoro
in the northeast almost to
Borneo
in the southwest. It lies between the South China Sea to the northwest and Sulu Sea to the southeast.
Metropolitan Filipinos tend to regard Palawan as their final, unspoilt frontier, but even here venal politicians conspire to degrade conservation lands and there are plans for virgin forest to be logged out so lucrative oil palms can be planted. Get here while the beaches are still relatively deserted and unspoiled; resorts are still relatively few and far between in most of Palawan.
The indigenous flora and fauna of Palawan are somewhat different from the rest of the country. Biologists draw the Wallace-Huxley line to classify ecological regions in the area; Palawan is west of the line, grouped with
Borneo
, while most of the Philippines is east of the line.
The Samal people, also known as Bajau, Badjao or several other spellings, and as Sea Gypsies, live on Palawan, as well as the
Sulu Islands
, mainland
Mindanao
and parts of
Malaysia
and
Indonesia
. They are renowned for their skill at diving for pearls; some of them get down more than 30 m (100 feet) without breathing equipment.
The
Magellan expedition
visited Palawan in the 1520s, and hired pilots there to help them navigate the rest of their journey to the
Spice Islands
.
The Philippine government considers Palawan part of the
Mimaropa
group of provinces, hence falling under Luzon at the next level of the hierarchy. An executive order to reclassify it as part of the
Western Visayas
region was issued in 2005, but has not been implemented as of 2015.
For Wikivoyage purposes, we treat Palawan as a separate fourth region of the country, the other three being
Luzon
,
Visayas
and
Mindanao
.
Regions
Palawan Island is much the largest part of the province both in land area and in population, but a number of other islands are also included in this province:
All of these are actually island groups; even the ones named for a single main island include several smaller islands as well.
Cities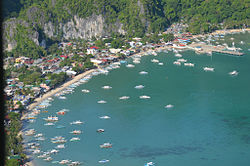 On Palawan Island:
In the Calamian Islands:
Other destinations
, a UNESCO World Heritage Site with exceedingly fine diving, usually reached by live-aboard dive boats operating out of Puerto Princesa
- a rural university town
- game preserve and wildlife sanctuary
- The Rice Granary of Palawan.
Palawan Butterfly Garden - located south of Puerto Princesa
Talk
Many people understand the official national language of
Filipino
(based on
Tagalog
). However Palawan has its own regional language, Cuyonon, which is one of the
Visayan languages
. most people also know English.
Get in
Puerto Princesa International Airport (PPS) is the main gateway to Palawan, major airlines serve international and domestic flights; Philippine Airlines, Air Asia, Cebu Pacific have flights to and from Manila, Cebu, Clark Angeles Airport. Cebu pacific also has flights too Iloilo. Tiger Air Taiwan fly to Taipei, Eastar Jet fly to Seoul.
When departing from this airport, there is a terminal fee within the ticket price of for domestic destinations and for international destinations.
Air Juan has flights to/from Puerto Princesa airport to Iloilo via Cuyo (CYU

). and Puerto Princesa to Coron via San Vicente.
A new airport has been "near completion" in San Vicente since 2012, but don't hold your breath since, like many projects in the Philippines, opening dates are often wildly optimistic. Even when it does open, the surrounding settlement provides very little to attract visitors to bounce over the rutted goat tracks - with the exception of the 14-km long strip of white sand that made resort developers salivate.
Get around
Cheapest option while getting around is the local
jeepney
, tricycles are also available. Getting from one island to another is possible; daily boat trips are available. Car and van rentals are also available.
See
Tabon Caves in Quezon. The Caves were the discovery site of the skull cap remains of the Tabon Man estimated to be 22,000 years old. Explore its 138 hectares of rugged cliffs and deep slopes and breathtaking sea view.
Eat
Kalui in 369 Rizal Avenue, Puerto Princesa is a popular Filipino restaurant that serves varieties of seafoods
Buy
Pearl diving is common throughout the region and pearl or shell-based handicrafts widely sold. Several of the world's largest pearls, including both the current and the previous record holder, have been found around Puerto Princesa.

Go next