Paldiski
Paldiski
is a town (population: 4,000) on the shore of Baltic Sea, in
Harjumaa
county in northwestern
Estonia
.
Understand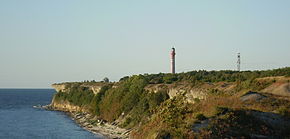 During
Soviet times
and early years of independent Estonia, until up to 1994, the city was a "closed city", i.e., off-limits to foreigners, non-resident Soviet citizens, even non-resident Estonians themselves, because of its military importance. Today, it's open to everyone and deserves a visit by those interested in the grey world of the Soviet Union (Paldiski and the Pakri peninsula are covered with abandoned bunkers, piles of unidentifiable junk and various military debris).
The scenes taking place in a location introduced to the audience as "somewhere in the former Soviet Union" in the film
Lilya 4-Ever
were shot in Paldiski.
Get in
Best to take the train one way and the bus the other way to enjoy both sides of the ride. Bus and train schedules are easily available online – read more under
Estonia
.
The to get in and out is along Sadama street in the centre. But there are other stops between and including the railway station.
By train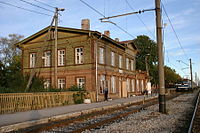 There is a train service to/from Tallinn Balti Jaam, at least three a day. The trip takes about 1hr 10min and it costs €3.
By bus
Buses depart almost hourly during daytime to/from Tallinn Balti Jaam. The trip takes about 1h 10min and it costs €3.
On the way back to Tallinn, the most central bus stop in Paldiski is probably the one on Sadama or on Kivi street. They also have a timetable posted there.
By car
Paldiski is a 45-km drive from
Tallinn
.
By boat
There are regular ferries between Paldiski's harbour and
Kapellskär
,
Sweden
;
Hanko
,
Finland
; and
Lübeck
,
Germany
.
Get around

Paldiski can be explored on foot. For the lighthouse, 5 km north, try taking a taxi, hitch or walk anyway.

See
Pakri lighthouse

phone: +372 55576087

address: Majaka tee

A view of the Baltic sea, but rather expensive compared to the lighthouses on Hiiumaa island. Right before it, on the other side of the road, you can find the former and old lighthouse, falling apart and dangerously located at the cliff.

phone: +372 6742013

Old summer studio of Amandus Adamson.

Orthodox Church
Do
If you have a good map that has many foot paths (like
OpenStreetMap
, which many mobile Apps like
OsmAnd
,
MAPS.ME
, etc. use), you can walk around the port and continue north along the cliffs towards the lighthouse.
Buy
There are two grocery stores
Konsum - supermarket with pharmacy
Maxima - Modern products and Russian-style borscht
The locals shop and a few kiosks, located in a dilapidated lot, which sell various supplies.
Kaubamaja - Slavic products, Russian beers, confectionary
Second hand stores - Slavic-style clothes
Eat
Peetri Toll also serves food.

phone: +372 6742095

address: Rae 17

Pizzeria with very good ratings online.
Drink
phone: +372 53423425

address: Mere 10

This is a new tavern.
There is also an alcohol shop in town.
Sleep
phone: +372 58140153

address: Kivi 4

Very bad ratings. Check them first before deciding to stay here.

phone: +372 5145116

address: Tuule 2

A new bed & breakfast.
Go next