Palembang
Palembang
is the capital of the province of
South Sumatra
. The second largest city in
Sumatra
Island, about 2 million inhabitants have filled the area right before the delta of the Musi River, and acts as the economic center for southern Sumatra.
Understand
History
Palembang was founded as the capital city of the Srivijaya Kingdom in the 7th Century, which was the largest Buddhist kingdom in Indonesia. For centuries, it was a sprawling center of trade, government, and religion. When Srivijaya fell in the 14th Century, Palembang came under the control of the Java-based Majahapit Empire. The Majahapit would rule the city for a century, after which the city became the center of the Palembang Sultanate. The Sultanate lasted until 1825, when the Dutch seized the area. Under Dutch rule, canals were built and the Musi River was optimized for trade and transportation.
Palembang was the site of a battle between the Allies and Japan during WWII, and several conflicts during the National Revolution period of the late 1940s. Since independence, the city has undergone major development. In the 1960s, the iconic Ampera Bridge was built to allow development to the eastern side of the city.
In 2011, the city was the venue for the Southeast Asian Games, and for the 18th Asian Games in 2018 (jointly with
Jakarta
).
Orientation
The development of Palembang spreads along the Musi riverbank. The Ampera bridge is visible from everywhere at the riverbank in order to locate how far one is from the city center.
Get in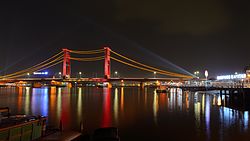 By plane
Sultan Mahmud Badaruddin II International AirportJust built in 2005 to replace an old airport. There are tons of flights daily from Jakarta, as well as an international flight each from Singapore and Kuala Lumpur. The Palembang LRT connects to the city with a special fare of Rp10,000. Taxis can be hailed and will take you to the city in 30 minutes for roughly Rp100,000. You can also use the TransMusi to Terminal AAL, and then transfer to other lines that can take you to the city proper, all for only Rp5,000!
By train
Palembang's rail network is serviced from , 2 km south of the city center along Jl. Kemang Kertapati road. However service is limited to trains from
Bandar Lampung
in Lampung, to Lubuklinggau in western South Sumatra, and a light rail to Sriwijaya University. From Lampung, there are tw trains daily, one daytime express economy class train,
Rajabasa
and one overnight executive class,
Sriwijaya
.
By bus
Palembang is connected by bus from other cities in Sumatra (Jambi, Padang, Pekanbaru, Medan and Lampung) as well to Jakarta in Java. The main terminal is (locally known as AAL) north of Palembang.
Get around
It is quite easy to get around in Palembang since there are a lot of public buses, modified vans (Angkots or Angkutan Kota) and for short distances there is always becak. Don't be surprised if they keep packing the buses and angkots with people even though they are full. Short trips should be no more than Rp5,000. Taxis are scarce, far between, and often refuse to use meters and insists on fixed price for certain distance. Just like other Indonesian cities, the most reliable and safe taxi in Palembang is Blue Bird. On land, motorcycle taxis, ojeks, are cheap, quick, and everywhere. Boats can be hired on the river.
By light rail
To prepare for the 2018 Asian Games, a light rail system was built. The single line has 6 stations that connects the airport, the city center, and the Jakabaring stadium complex.
Trains run at least every 18 minutes daily from 05:24 and need 47 minutes from end to end. The latest train from DJKA Station is 18:43 and from the airport is 19:37. Tickets cost at a flat rate of Rp5000.
By bus
TransMusi is the best public transportation so far. For a flat rate of Rp5,500 (April 2016) you can hop on along its 11 lines in operation:
Corridor 1 : Bus stop below the Ilir part of Ampera Bridge - Alang Alang Lebar Bus Station (KM 12)
Corridor 2 : Perumnas Bus Station - PIM (Palembang Indah Mall)
Corridor 3 : Plaju - PS Mall (Palembang Square Mall)
Corridor 4 : Jakabaring - Karya Jaya Bus Station (Kertapati)
Corridor 5 : Alang Alang Lebar Bus Station (KM 12) - Sultan Mahmud Badaruddin II International Airport
Corridor 6 : Pusri - Palembang Square (PS)
Corridor 7 : Kenten - Letkol Iskandar
Corridor 8 : Alang Alang Lebar Bus Station (KM 12) - Terminal Karya Jaya (Kertapati)
Pangkalan Balai Corridor : Alang Alang Lebar Bus Station (KM 12) - Pangkalan Balai
Indralaya Corridor : Terminal Karya Jaya - Indralaya
Unsri Corridor : Unsri Bukit - Unsri Indralaya
See
Ampera BridgeThe second largest bridge in Indonesia (lost to Surabaya's Suramadu in 2009), as well as the landmark of Palembang and the glory of the Musi River.

Masjid Agung PalembangThis grand mosque has been renovated a few times already. Now it is a very large and beautiful mosque. In some sections of the mosque you can see old Sriwijayan style architecture. It is located in front of the main roundabout in Palembang which you will pass coming from the Musi Bridge.

Benteng Kuto BesakThe old fort on Musi riverbank.

Museum Sultan Mahmud Badaruddin IIThe museum building is in Palembang Limasan traditional architecture, displaying the history of Palembang city, from the era of Buddhist Srivijaya empire to Palembang Sultanate and colonial era.
Do
Musi RiverThe riverfront plaza on front of Kuto Besak fort overlooking Musi river and Ampera bridge is a popular spot for local family, youngsters and visitors to enjoy late afternoon breeze in Palembang. It is a nice place for hang around and people seeing. The "warung terapung" (floating warung) are boat eating establishment offering nice and cheap snacks and Palembang famous dishes such as pempek. On east side of Ampera bridge, numbers of traditional eating establishments offering various local delicacies.

Jakabaring Sport CityThe sports complex with its grand Gelora Sriwijaya Stadium was the host of the 2011 Southeast Asian Games and some of the 2018 Asian Games. On Sunday morning it is a popular spot for locals to converge, do jogging or exercise.
Buy
Songket. Among Indonesians, Palembang is famous for its songket handycraft. It is a traditional handwoven cloth with metallic golden or silver threads. Songkets are available in most Palembang marketplaces and even available in Palembang airport, however for richer variety and choices, several songket handycraft centres, production houses, boutique or showroom are available in the city.
Pempek. Although pempek can be found in most of Indonesian cities, the original Palembang pempek is said to have distinct taste and beyond compare. Unfried, packed, precooked boxed pempek is popular as food souvenir among Indonesians visiting the city. Fish based Palembang krupuk is also popular choice.

address: Jl. Angkatan 45

A quaint yet crowded mall at the heart of the city, attached to the Aryaduta Hotel and Siloam Hospital. While the original mall looks old, its new underground extension is more spiffy and has better restaurants.

Pasar 16 Ilir

address: Jl. Pasar 16 Ilir

To the right of the Ampera bridge is one of the most crowded places in Palembang. Some people refer to this bazaar as the Tanah Abang of Palembang. Women's clothing is widely sold. A lot of clothing sold here are in beautiful colours and embroidery with Indian/Pakistani styles. Bargaining here is a must. Pasar 16 is also good to buy traditional palembang textile called Songket. A must-buy in Palembang, you can get songket as a textile to make clothes, songket shoes, purses, cushion covers, calligraphy, art, hand fans, etc.

phone: +62 711-350999

address: Jalan Letkol Iskandar no.18

The classiest mall in Palembang. The most quantity of branded fashion, anchor stores, and food tenants in one building. It also hosts a lavish movie theater.
Eat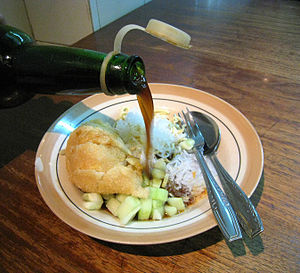 Palembang cuisine is the second most well-known from Sumatra after Padang. They primarily use freshwater fish and prawn as ingredients due to the paramount role of the Musi River for the area. Spices are also generally included although not as liberal as its same-island counterpart. Malay, Indian, and Chinese culture has also influenced Palembang's culinary scene. Do try these while you are here:
Pempek is the dish virtually everyone in Indonesia thinks of when mentioning Palembang cuisine. It is a dough of fish cake which can be either boiled, fried, or grilled and is eaten with a sweet and spicy sauce called Cuko,topped with cucumber and prawn powder. Because it is actually a dough, locals have intelligently crafted them into shapes and sizes, as well as being creative with fillings. Examples include lenjer (long cylinder shaped), keriting (curly), kapal selam (literally: submarine. filled with egg), adakan (round and fried) and pites (filled with cooked young papaya).
Model are a variety of pempek with tofu fillings.
Tekwan are small pempek balls served with fresh shrimp soup.
Mie celor is a soup of thick yellow noodle served with coconut milk broth, topped with egg and prawn.
Pindang Ikan is a spicy smoked fish soup, similar to Thai's tom yum soup. It is normally eaten with rice, with side dishes like seluang goreng and sambal buah.
Pepes Tempoyak is made of patin fish seasoned with durian and spices.
Nasi Minyak is Palembang's version of Briyani Rice. The rice is seasoned with ghee and other spices to create the fragrant and distinct taste. Best served with Ayam Kecap (soysauce chicken) or Malbi (spiced stewed beef).
Budget
Mie Celor 26 Ilir

address: Jl. KH. Ahmad Dahlan No. 02

The most famous mie celor restaurant in Palembang, situated at a market. The Mie Celor is similar to laksa, but less spicy and more condensed broth, with scents of prawn and coconut milk.

Pempek & Es Kacang Vico

address: Jl. Letkol Iskandar No. 541-542

A constant flow of customers are craving for pempek at this tenant across the Palembang Indah Mall. Its Es Kacang Merah (red bean ice) can neutralize the spiciness of the broth or to be enjoyed on its own on a hot day. A popular gift idea from Palembang, they do delivery across the country even by air cargo!

Pempek Saga Sudi Mampir

phone: +62 711 314 417

address: Jl. Merdeka

While most of the pempek you see are typically either fried or steamed, this establishment has it baked or grilled, making the texture crispy outside and soft inside, without the guilt of too much oil. Recommended for its pempek lenggang (pempek filled with duck egg, grilled while wrapped in banana leaves).
Mid-range
Martabak HAR

phone: +62 711 315 086

address: Jl. Jend Sudirman No. 2269

The HAR stands for its founder, an Indian immigrant named Haji Abdul Razak who opened the murtabak restaurant which still stands 70 years later in the same spot! One of the most famous restaurants in town, their specialty is the Murtabak filled with minced meat and duck egg, eaten with curry. You can also order a plain murtabak or prata, or other Indonesian delights.

phone: +62 711 510 655

address: Jl. Ahmad Yani No.285 B 8

Most major cities in Indonesia have at least one prominent Padang restaurant, and this is the one that Palembang has. Famous for all-rounders of the spicy Padang food.

Sri Melayu

phone: +62 711 420 468

address: Jl. Demang Lebar Daun No. 1

The restaurant, which is next to the governor's office, offers pindang - a smoked or steamed fish in a sweet, sour, and spicy soup - as its specialty. While Palembang primarily uses Pangasius (ikan patin) fish as its ingredient, the restaurant has other varieties such as fish head, shrimp, or other fishes, such as the second most favorite, ikan baung. Top it off with the sweet srikaya pudding or coconut water.
Splurge
phone: +62 711 562 6366

address: Jl. AKBP Cek Agus 284 Kenten Golf

A Western restaurant with an open kitchen concept. Chic and quaint British style exterior and so is the food, from steaks to pizzas, for a generally lower price than hotels.

River Side Restaurant

phone: +62 711 368 222

address: Jl. Rumah Bari

A dining experience by the bank of the Musi River with a fantastic view of the iconic Ampera bridge. Primary offerings include the Palembang's local delicacy, especially its pindang, seafood, and a few Chinese dishes.
Sleep
Budget
phone: +62 711 315 222

address: Jl. Jend. Sudirman

The no-frills hotel brand that lets you pay only for what you need, but has complete facilities such as breakfast, Wi-Fi, air conditioning and TV.

phone: +62 711 710 800

address: Jl Dr. M. Isa no 988

Budget hotel with noticeably modest but clean rooms and minimum design. Restaurant is in a separate building downstairs but don't expect a wide variety of menus.
Mid-range
Aston Palembang Hotel & Conference CenterThis Aston hotel is more modest than its bigger city counterparts. Provides large deluxe rooms, suites, and an option that includes Palembang cuisine for breakfast.

address: Jalan R Sukamto No. 8A

One of the best hotels in the city. Typical Accor style hospitality with spacious rooms, generous breakfast, a wide swimming pool and jogging area. Generally suitable for business travelers and families.
Splurge
phone: +62 711 383 838

address: Jl. POM IX, Palembang Square

An 18-storey atrium hotel offering 174 rooms. One of the facilities they offer to guests is their the largest banquet and meeting space in South Sumatra, accommodating up to 2,500 guests reception-style. Guests could also enjoy their experience in their Pool Café that offers healthy food, snacks, and light refreshments.
Go next