Palencia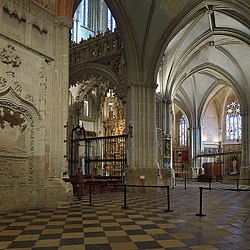 Palencia
is in
Castile-Leon
, and is the capital of its own province.
Understand
Palencia doesn't feature in the main tourist trail in the region, and it cannot compare to the beauty of
Salamanca
,
León
,
Burgos
or
Segovia
or the museums and urban dynamism of
Valladolid
.
However, Palencial offers a many well conserved monuments and a postcard-worthy main street. It has many parks, each with their own characteristics and setting. And culinary secrets waiting to be discovered. It is the picturesque capital of an eminently Castilian province, contemporary and bustling.
Climate
Summer in Palencia is a pleasure, but it ends early and there is cold weather from September. The winter is long and severe. The people of the city can be found outdoors and in the squares and plazas year-round.
Culture & Politics
Palencia is known in Spain for being culturally insular. It is an aging city, as the youth tend to move to the larger surrounding cities. Immigration is a recent addition to Palencia, and it may bring some diversity to a city that has been a closed.
Palencia seems to be the forgotten city among the great Castilian For example, the city is in the shade of Vallodolid, which is close by and much larger. Some locals are upset by the windmills that have appeared in the surrounds of the city, spoiling the views of the Christ of Otero. At the same time, the citizens of this city of 83 000 inhabitants enjoy a great quality of life in this neat, quiet, green, wealthy and gastronomic city.
Get in
The AVE train does not yet reach Palencia. The existing rail link connects with
Madrid
.
See
The city has an cultural offerings, cinema, movies club and nightlife.
Palencia does not hold events of national significance. The Palace of Congress, that may one day be an attraction, has been under construction for several years now.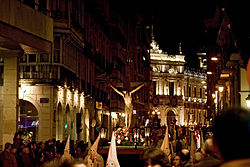 Sleep
Hotel Eurostars Diana Palace, a mid-range hotel towards the outside of the city centre. Clean and functional. Parking is available - entry to the parking area is via a car-lift, and subsequent narrow drive-way - for those who enjoy the challenge of a tight parking space.