Palisades
The Palisades
are cliffs in
New Jersey
&
New York
. They rise on the western banks of the Hudson River. They range from 300 to 500 feet (90-150 m). There are parks, camp sites, look outs and hiking trails on the Palisades north of the George Washington Bridge.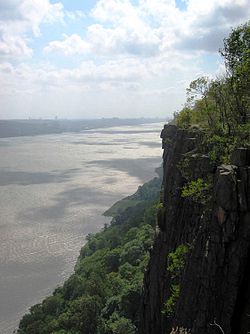 Understand
The Palisades are cliffs that formed millions of years ago. They are the most prominent geological feature in the New York City Metropolitan Area. Many of the cliffs south of the George Washington Bridge are heavily developed. Much of the area north of the bridge was bought by Palisades Park Organization which helped preserve the natural beauty of the cliffs and saved it from development and destruction.

History
Landscape
Flora and fauna
Climate
See and do
There are beautiful hiking trails and breathtaking views from look-outs in these parks.

Sleep
Lodging
Camping
Backcountry