Palm Desert
Palm Desert
is a city in the
desert
of
California
between
Palm Springs
and
Indio
. It lies in the Coachella Valley at the base of the San Jacinto Mountains. The city is home to many golf courses, attractions, luxury hotels and shops, and spas that make the region a famous getaway for much of Southern California.
Get in
By plane
Palm Springs International Airport (PSP) is in the heart of nearby Palm Springs. Scheduled daily flight connections to San Francisco, Seattle, Phoenix, Chicago (O'Hare), Dallas/Fort Worth, Los Angeles, Houston, Atlanta, Salt Lake City, Minneapolis/Saint Paul, Denver, Portland (Oregon), Las Vegas, Calgary and Vancouver. Airlines serving Palm Springs (PSP) include Alaska, America West, American, American Eagle, Delta, and United.
LA/Ontario International Airport (ONT) is about 80 miles (130 km) to the west of Palm Desert and has many more flight connections. The airport lies off Interstate 10 in the Inland Empire.

Bermuda Dunes AirportOne of two nearby general aviation airports. This airport is accessed by private aircraft. Private jet charter services are provided at this airport by Desert Jet.
By car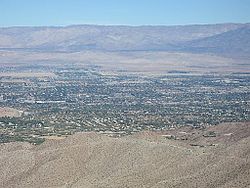 Interstate 10
is the main artery serving the Coachella Valley. From
Los Angeles
, take Interstate 10 east towards
San Bernardino
, Indio, and
Phoenix
. Palm Desert is about a two-hour drive if traffic is not heavy. Weekend getaway traffic can be very heavy. Exiting Monterey Avenue or Cook Street and heading south puts you in the heart of the city.
State Highway 74
descends the San Jacinto Mountains into the city from the south. Travelers from the San Diego should head north on I-15, south-east on State Hwy 79 (towards Indio) and then east on State Hwy 371 until it meets with Route 74. Chains may be required on this route in the winter.
By train
Amtrak has a station in nearby Palm Springs.
Get around
Like many California cities, Palm Desert is a very car-oriented city. If you want to have a good time at all, you should rent a car at the airport. Otherwise you'd have to take the bus or walk.
By car
The main highway serving the city is State Highway 111, which links many of the Coachella Valley cities, from Palm Springs to Indio and beyond to the Mexican Border at
Calexico
. However, this artery has many traffic lights and lots of traffic, so if you are going far, you should consider driving out and hopping on the 10 freeway.
The Rodeo Drive of the area is El Paseo. There are lots of art galleries, shops, and restaurants along the street, which links up with Highway 111 at its ends.
By shuttle
The City of Palm Desert operates the El Paseo Courtesy Carts. The shuttle runs along El Paseo and is free of charge. Although not exactly a viable option for seeing the entire city, it allows visitors to park their cars and see the entire El Paseo stretch.
See
phone: +1 760 346-5694

address: 47-900 Portola Ave

For close-up encounters with spectacular desert plants and animals. People of all ages will have fun. During the summer, due to extremely hot temperatures, the preserve closes at 1:30PM.

Palm Desert Civic Center

phone: +1 760 346-0611

address: 73510 Fred Waring Dr

Nice park with occasional musical performances, basketball courts, and a nice atmosphere.
Do
Stroll along El Paseo between Monterey and Portola avenues. This stretch has many fine boutiques, galleries, restaurants, and shops. The free Courtesy Carts make visiting this stretch very easy.

phone: +1 760 340-2787

address: 73000 Fred Waring Dr

Has great shows going on all the time.

Balloon flightsThere are several balloon ride companies in Palm Desert.
Buy
There are a lot of good places to shop in Palm Desert. You could probably find just about anything.
The GardensA very nice shopping area on El Paseo. There are lots of good stores.

phone: +1 760 346-2121

address: 72840 Highway 111 Ste 166

Nice mall right in the heart of Palm Desert.

The RiverAt Bob Hope Drive and Highway 111 in the neighboring city of Rancho Mirage. The center has great shopping with restaurants, shopping, movies, and more. There actually is a river there, too!
Eat
Armando's Dakota Bar & Grill

phone: +1 760 346-0744

address: 73260 El Paseo

Great Mexican food with good fajitas.

Tony Roma's

phone: +1 760 568-9911

address: 73155 Highway 111

Great place to go for an inexpensive rib dinner.

phone: +1 760 568-9898

address: 73705 El Paseo

A more expensive restaurant with great chop salad.

Picanha Churrascaria

phone: +1 760 674-3434

address: 73399 El Paseo

The Brazilian food is great and they bring the meat out to you and then you decide if you want it or not rather than ordering the meat first. Great salad bar for vegetarians too.

phone: +1 760 674-8666

Seafood at the Gardens on El Paseo

phone: +1 760 836-9396

address: 73-890 El Paseo

Vegan restaurant, reasonable prices. The tempeh/vegetable/pesto pizza is very good.
Sleep
Go next
Joshua Tree National Park. This desert park is definitely worth visiting if you have at least half a day to spare. You can get there in less than an hour by going north on State Route 62. Take a minimum of four hours to do the loop from the north through the south of the park. Camping is allowed as well as rock climbing.
Idyllwild. Alpine scenery a short drive from Palm Desert via State Route 74 & 243, the Pines to Palms Highway.
Cabazon Outlets, A large outdoor shopping plaza with many stores. If you're looking for something to buy, chances are that there is a store in Cabazon that will have it.