Palma de Mallorca
Palma de Mallorca
is the island's only true city. A city on the island of
Mallorca
, one of the
Balearic Islands
off the
Spanish
east coast.
Understand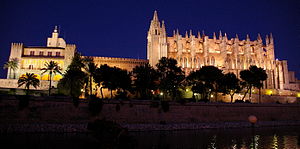 Palma de Mallorca, the capital of the Balearic Islands, is the largest city in Mallorca. The population of Palma municipality was approximately 400,000 at the beginning of 2007. Half the population of Mallorca lives in the city of Palma.
The city occupies the northwestern end of a bay in the southwest of the island of Mallorca. The city council also has jurisdiction over the sub-archipelago of Cabrera including the islands of Cabrera, Conejera, Estells, Imperial, Rodon, Foradada, Plana, and Pobra.
The name
Palma
dates back to the Roman settlement on the site of the present city, although the area was originally settled during the Bronze Age. In the early middle ages it was conquered by Arabs, who named it
Madina Mayurqa
. In 1229 it was conquered by King Jaime I, ruler of Valencia and Aragon, and became an important trade city. Palma saw its dark ages in the 16th century, when a significant decline was caused by attacks from Turkish and Berber Pirates and through plague. Lasting until the 18th century, Felipe V changed the government which made Palma the capital of the Balearic Islands. Later, Carlos III established a free trade pact with the Indies, which had a huge impact turning financials around in Palma.
The city became a tourist destination in the 1950s, and tourist numbers have continually increased in the subsequent half century. Palma is a busy commercial and cultural center of Mallorca. This independent region of the Balearic Islands of Spain has over half of the island's population.
The holiday season lasts from the end of April until October. Temperatures range from and may require a jacket in the evenings.
Palma de Mallorca, during the 19th century, more sea traffic would come in bringing in much economic growth for the island. Today, Mallorca is one of Europe's major holiday destinations, with many tourists coming from everywhere, every year. Palma is a city of modern, hotel chains, and flashy shops, yet, is dated and still retains much of the old architecture, with the Old Town having narrow streets, and showing the restored cathedral standing proud in the center of town.
Get in
By plane
Palma de Mallorca Airportis the major airport in Mallorca, and has daily flights from many European cities on national and budget carriers.
EMT's Line 1 bus service runs between the seaport, the city centre and the airport every fifteen minutes between 6:15am and 2:30am. As of October 2016, the fare is . There's a ticket machine that sells return tickets for but it only accepts notes up to .
A taxi ride from the airport to the city centre costs €20-25 and takes maximum 15 minutes without traffic.
Modules
There are four modules at the airport: Module A, Module B, Module C and Module D.
Module A
Located in the north of the airport, it has 28 gates, of which 8 have air bridges. This is the only module that has double air bridges attached to gates. The Pier is mainly used by flights to non-Schengen destinations including the UK and Ireland. This part of the terminal building is closed during winter months and is only used in the summer.
Module B
The smallest Module, located in the north east. It has 8 gates located on the ground floor, of which none have air bridges. It is used by regional aircraft of Air Nostrum, mainly operating intra-Balearic flights.
Module C
The largest of the modules is located in the east. It has 33 gates, of which 9 have air bridges. It is used by Condor and by EasyJet flights to Schengen destinations.
The southern area of the module was worked on and reopened in May 2011.
Module C is also the meeting point for transfers, taxi pickup and groups.
Module D
Located in the south, it has 19 gates of which 10 have air bridges. All odd-numbered gates have a bus transfer.
By train
TIB runs train services between Mallorcan towns. There is no train service to the airport. The main train, bus, and metro station ('Estacio Intermodal') is underground, at Plaça d'Espanya in Palma.

Ferrocarril de Solleroperates the quaint wooden electric train from Plaça d'Espanya in Palma to Soller town, northwest of the island, and from where you can continue your relaxing scenic journey to Puerto Soller on the companion Electric Tram.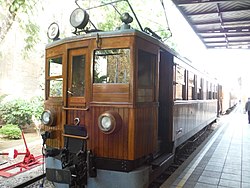 By car
There are no bridges or any road links from/to mainland Spain or other islands. Most cities and towns in Mallorca have road links directly to Palma.
There are several companies in Mallorca that offer transfer facilities from the airport to any destination on the island.
Balearic transfer services
,
Fleet and Goo
and
BookTaxiMallorca
are examples of these companies.
By bus
EMT
runs the local bus service in Palma. Regional buses to destinations around the island are operated mainly by TIB (
Transport de les Iles Balears
). All EMT buses are equipped with onboard screens and loudspeakers that state the current and next stop, in both Spanish and Catalán.
EMT's line number 1 will take you from the airport through Palma downtown and to the outer dock of the main harbor (where most large cruise ships dock). Arrivals/departures every 15 minutes from 7AM until 8PM. They operate once every 30 minutes from 6AM to 10PM. The fare is €5 (as of October 2016). There is only one fare, so you don't need to specify your destination to the driver/conductor. All other local EMT destinations within Palma cost €1.50 so you must tell the driver "no aeroporto, por favor.".
In an effort to reduce drunk driving and get fewer people driving on the weekends, Palma offers a
bus de nit
bus service (Catalán: night bus). It is full of locals and Spaniards from the peninsula and runs from 10PM to 6AM every 20 to 30 minutes. It goes all the way down the infamous
Paseo Maritimo
, which is where all the best clubs are in Palma. The price is that of a regular ticket.
By sea
Any number of cruise ships berth at Palma, and there are also a number of ferry services to other Balaeric Islands and to the Iberian peninsula:
The all-year-around Baleària and Acconia Trasmediterranea ships travel to and from the mainland (Barcelona) once a day, each. They both usually leave
Barcelona
at night (23:00) and arrive in Palma very early the next day (06:00). And they both usually leave Palma for
Barcelona
at 12:30 and arrive at 19:30.
Palma's port has a small office on the west end of the port where customers must check in at least one hour before departure. The line can grow long so travelers may want to arrive a couple hours in advance. Please be aware that the ship may depart from the east end of the port, and that a bus will transport the customers from the check in building to the ship.
Get around
By private transport
You can move around Mallorca hiring a transfer service, such as
Palma Airport Transfers.
You can go from Mallorca Airport to your hotel. This type of companies offers a door to door service. They will be waiting for you at the meeting point, and you and your group will go directly without waiting until the place you have agreed. Also, the price is closed. The average price for each sense of travel is €78 for eight people. The cost varies according to distance, passengers and luggage.
Without a doubt, if your only intention is to go from the airport to the hotel and you are a group from 5 people to 14 people, it is a great option to take into account.
By public transport
Buses and trains are the two forms of shared public transport in Palma de Mallorca. The local buses are run by Empresa Municipal de Transportes Urbanes de Palma de Mallorca (
EMT
) and are very frequent. They have particularly good coverage of the beaches and the centre of the city. The main train system is operated by Serveis Ferroviaris de Mallorca (SFM), Mallorca Railway Services.
The
Palma City Sightseeing
bus (which is numbered line 50 on the
EMT bus maps
) does a circuit of Palma that includes tourist attractions like Pueblo Español and major shopping centres like Av. Jaume III and Porto Pi, as well as the ferry and commercial ports. The buses are double-decker and the top floor is open air. A basic audio tour is free with the tickets. The tickets are €15 adults and €6,50 children for one day (24 Hours) which is much higher than the other city buses, but they are valid for reboarding as many times as you like within 24 hours, and this is the only bus route that visits the Castell de Bellver. The two-day fare is € 16,25 for adults and € 8,13 for children from the age of 8 to 16. The first bus in the winter season starts from Cathedral at 10:00AM and the last bus in winter starts from the same place at 06:00PM.
By bicycle
Cycling is a great way to get around Palma and along the coastline near Palma. Excellent bicycle paths have been made.
Rent A Bike

phone: +34 971 26 64 25

address: Can Pastilla

Good quality bicycles for rent, from €5 full day, €3 half day.
Talk
Like much of the Balearic Islands and the Catalonia region of Spain, the locals speak Catalan and Spanish. In addition, the island of Mallorca has its own version of Catalan called Mallorcan. For this reason, fewer locals learn to speak English. English-speaking Westerners should be aware that it will be more difficult to get around without learning basic Spanish. However, the nearby communities of
Magaluf
and Palma Nova are home to UK Citizens, Germans, and other Europeans.
See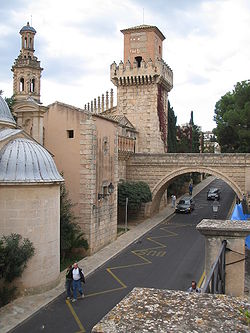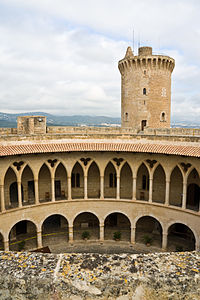 phone: +34 971 73 06 57, +34 971 45 12 03

A 14th century castle, one of the most distinct castles in Spain with its circular form. The castle is set high on a hill and has the best view of the bay and the entire city of Palma. Built on the ruins of a Muslim site, the castle contains a museum of archaeological finds and classical sculptures. It has three large towers, a central courtyard, and other features throughout the architecture of the interior and exterior. The best way to tour this castle starts with a walk around the moat; then proceed to the top of the castle to a patio area.

Pueblo Español

phone: +34 971 73 70 70, +34 971 73 70 75

address: C- del Poble Espanyol

This architectural museum is designed like a small village containing facsimiles of the major classical works of Spanish architecture. During the week there are numerous artisans' shops, restaurants and bars operating within the museum.

Paseo Maritimo

address: Paseo Marítimo Palma

If you enjoy nightlife, don´t miss the Paseo Marítimo, along the ocean in Palma. Paseo Maritimo refers to area all along the port, where all the yachts and boats are chartered. It is where the majority of the discotecas, bars, pubs, etc. are located and it is beautiful at night because you can see the cathedral all lit up. Discotecas are very popular here; Tito's is a famous discotecas that in the 1950s, people like Frank Sinatra used to go to and it is still up and running today. Clubs stay going until about 6AM and the clubs here do not get extremely busy until at least midnight on most days. It is a great place to people-watch, even if you cannot stay up until the sun rises on the island.

address: C. de Saridakis, 29

A museum showing works of the artist Joan Miró, who lived and worked in Palma. There's a sculpture garden and you can visit Miró's two ateliers: a modern one designed by the architect Sert, and an older one with Miró's graffiti on the walls.
Historic Centre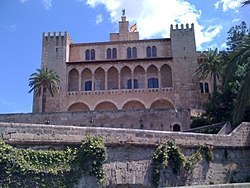 The historical centre of Palma is the oldest part of the city. It is also a refreshing area to walk in on one of Palma's hot humid days: the streets are narrow and shady. You will get a chance to peek in at a number of private courtyards. In addition, the historic center has a lot of attractions:
phone: +34 971 72 31 30 or +34 971 71 31 33

And Museo Catedralicio, C/ Capiscolato, 2. Mallorca's spectacular cathedral is located close to the sea-side. The museum, located in the chapter room and vestry, has exhibits of religious paintings and silverware. The museum opens at 10AM, and its weekday closing hours are 5:15PM (April to May), 6:15PM (June to September), 5:15PM(October) and 3:15PM (November to March). On weekends it closes at 2:15PM (all year). 4 Euro to enter.

Banys Àrabs

phone: +34 971 72 15 49

C/- Serra 3. The Arab bath building is the only building in Palma dating to the Arab settlement. The baths were constructed in the tenth century, and were sauna-style: the floor was heated and water added to make the room steamy. A small courtyard and the two rooms of the baths themselves are open to ten people at a time. €2,00 adults and free for children.

Museo de Arte Español Contemporáneo

phone: +34 971 71 35 15 or +34 971 71 04 28

Sant Miquel, 11. This branch of the museum of contemporary art has a permanent collection of over seventy pieces by modern Spanish artists including Pablo Picasso, Joan Miró, Juan Gris and Salvador Dalí. Free admission.
Plaça del Mercat, church and interesting art nouveau buildings.
Plaza de Toros (bull ring), located on Avinguda de Gaspar Bennazar. If you are not into animal cruelty then just have a look around the arena. It is open when there are no events taking place. It is a fairly impressive structure.
Do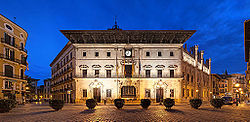 AqualandThis water park has slides and pools of varying degrees of adventurousness.

Windward Islands Yacht Charter and SailingWindward Islands, one of the world's largest yacht charter companies, can take care of all charter requirements, from bareboat to crewed in the Baleares. Operating from nine offices worldwide (USA, Spain, UK, Germany, Italy, France, Spain, Switzerland, Caribbean, Hong Kong and Dubai).

Beach. From the town centre follow the signs to the Parc de la Mar (the park by the sea, just south of the cathedral). When you get there face the sea and walk left along the main coast road for 5-10 minutes until you reach the beach. This part of the beach is fairly noisy due to the traffic so go to the other end where the road veers away. There are also some showers here.
Ciudad Jardín is very a white sandy beach, 450m long and 45m wide and protected from bad weather by a series of jetties. This beach has moderate waves and is located in Ciudad Jardín residential area, a pleasant neighborhood that is surrounded by the La Torre d'en Pau Park, where all buildings are low-rise and are flourished with many outside, beautiful gardens. Ciudad Jardín offers many facilities for visitors, such as free showers, telephones, beach umbrella rentals, hammock rentals, Boat rentals, as well as plenty of bars and restaurants, and shops.
Cala Major (Cala Mayor) is positioned only a few kilometers West of Palma de Mallorca. The beach is 200 meters long and 80 meters wide. The water is crystal clear. The beach is surrounded by high hotels and tends to be crowded during the months of July and August. Cala Major, is suited for children, only always pedal boats, and has a promenade that visitors or locals can find a number of restaurants and bars.
Can Pere Antoni is 735 meters long and 25 meters wide. This beach is to be found just in front of the cathedral of La Seu, beside the beautiful promenade. This is one of the most pleasant locations in Palma to go cycling. A cycle path is available, that stretches the entire length of the Bay. Can Pere Antoni has a restaurant available as well.

TitosTitos, located in Palma de Mallorca, is a hip night club. During the 1950s and 1960s, big stars of the day such as Marlene Dietrich and Ray Charles kept this place hip. Visitors can dance to house and R&B music. There is an illuminated elevator that will transport visitors up to the disco, which suggests a fantastic view of the city of Palma at night. Visitors need to be 20 to enter, and range from ages 20-35 years old. Titos includes go-go girls, a light show and can hold up to 2,000 guests.

MarinelandMarineland is a large marine zoo, a perfect place to take children. This main attraction of this zoo can be made an entire day experience and has been in existence for 38 years. Marineland has a large aquarium, as well as, a terrarium. Sharks, tropical fish, exotic lizards, iguanas, anacondas, flamingos, and penguins can all be witnessed here. If visitors want to take a break from the animals, Calvias Costa d'en Blanes beach is close by, as well as, a playground, which all belong to Marineland. There are daily shows played here, such as shows of the Sea lions, Dolphins, and Parrots.

Watch football ie soccer at RCD Mallorca. They were promoted in 2019 and now play in La Liga, the top tier of Spanish football. Their home ground is Estadi de Son Moix or Iberostar Stadium, capacity 23,000, 2 km northwest of city centre.

FestivalsFestival Isladencanta – Annual music festival covering genres including rock, pop, and features Europe's best DJ's during the month of July.
Festival de Pollença – Classical annual festival featuring ensemble of renowned international artists and orchestras, occurring during the month of August.
Fonart Short Film Festival – Showcases rising talent from Balaeric Islands and the mainland, with regular screenings at establishments throughout the city between the months of August and September.
Festa de l'Estendard – Historical event of the festive new year, featuring a Mass at La Seu Cathedral during December to celebrate the marking of the end of the year and the coming of the new year.
Buy
El Corte InglesTwo large branches of the Spanish national department store, in Palma at The Avenidas and at C/ Jaime 111. Anything and everything you might want to buy, in the UK at a good branch of Debenhams, or in the US at Macy's!
Work
All EU citizens have the legal right to work. Getting a job, even temporary ones, for non-Spanish speakers is hard to find in a Spanish speaking environment (most Spanish do not speak English). So you may try looking for temporary jobs as bartending or waiting at English, Irish or German owned bars and restaurants, mainly in cities outside Palma like Magaluf, S'Arenal and Peguera (for German speaking travellers).
In Palma you may try getting day-work washing boats at Palma´s Marina. There are several boats and some of the owners may need a hand. Be around 8AM at the Marina and start asking for "day work" to people around the big boats. If you're lucky you'll be making around €100!
If you are seeking a career aboard one of the many superyachts in Palma de Mallorca a good place to register and start looking is Crew Central.

Eat
Pamboli - traditional "sandwich", made with Majorcan bread, plenty of oil and tomato, and then with the topping of your choice.
Ensaimada - literally translated as "made from pork fat" - traditional pastry here, sometimes it just has powdered sugar on top, other times it is filled with chocoloate, cream, fruit filling.
Sobrasada - Raw,cured sausage that is typical of Mallorca.
Bunyols - (sweet pastries)- they are typical only in autumn. Bunyols are commonly made of boiled potatoes, flour, eggs, butter or lard, yeast and sugar; they are fried in hot oil and then sprinkled with sugar. (A fried Donut)
Budget
Tapas Tuesdays or Ruta Martiana: several dozen bars in Sa Gerreria (quarter in the old town, about 100m south-east of Plaza Mayor) offer cheap tapas and a drink on Tuesdays and Wednesdays.
Mid-range
Plaça d'en Coll: previously a reasonably good town square in the Casco Antiguo part of the old town of Palma, with a few quite respectable bars and cafes but with the incongruous and slightly disquieting presence of 'the travelling population' with their giant supermarket-style plastic bottles of warm San Miguel concealed in brown paper bags. All very nice polite guys (and girls) actually! - but in May 2011 Placa d'en Coll is transformed into a veritable plethora of bars and cafes, vying with each other on quality and price: the ideal place to visit for a 3-course menu del dia for less than fifteen Euros. A veritable serendipity!

Pesquero

phone: +34 971 715 220

address: Moll de la llonja

This portside restaurant is a seafood specialist, and also serves local specialties like tapas and platos mediterráneos. It is popular with locals and tourists.

XII Apóstoles

phone: +34 971 262 015

C/- Sant Ramon Nonat., This opulently decorated pizza restaurant has a pizza topping for each of the eponymous apostles. The enormous pizzas have a thin crust and sparse but intense toppings. Bookings advised if you're eating after 8:30PM.
Rock City Pizza y Copas, +34 971 450 976, c/ Caro, 24. Quality fresh ingredients, generous portions, each pizza hand tossed to order (no molds or frozen dough) and all at a great price. Pizza with thin crust and in three sizes, 24 cm, 33 cm and 46 cm, with a wide variety of salad and appetizer options. Decorated with various photos of rock legends in their prime while some of the best rock, jazz and r&b plays in the background. Apps & salads €5,50-€12,00 Pizzas €7,00-23,50 Cocktails €4,50 Wine €9,00-€22,00

phone: +34 971 919 697

address: Carrer Soler 18A

French Tunisian homemade dishes. Recipes can be changed to cater for any dietary requirements vegans, gluten-free, diabetic etc.
Splurge
Drink
Cappuccino Palau March

phone: +34 971 717 272

address: Carrer del Conquistador, 13

Good breakfast till 12 noon. Then cocktails and salads. Nice, romantic and comfortable. But not cheap. Various breakfasts including "full English" ("Desayuno London") at €12.

Jah Garden - Reggae Bar

address: Joan Miro

This bar plays non-stop reggae DVDs on a wide-screen TV. The drink prices are a bit steep (€5 for a bottle of Heineken) but they don't seem to put any one off as people keep disappearing into the toilets at frequent intervals. There is an electronic lock on the front door so you won't get in if the barman doesn't like the look of you.

phone: +34 971 71 49 39

address: Carrer Sant Joan 1, La Llonja

The world-famous cocktail bar, set in a magnificent old-town former coaching house, where every Friday at 11:30pm (-ish), the classical background music rises to a crescendo and fresh rose petals fall from a hidden balcony above the imposing open stone fireplace. A ceremony not to be missed. Ignore the killjoys who tell you it's a rip-off: true, the bar only serves drinks (no food), frowns even on using the Cappuccino machine, and pushes an expensive cocktail menu on you as soon as you walk through the daunting entrance door. But the cocktails are all made with fresh fruit juices and are huge - or just have a cerveza or a copa de Vino.
Sleep
The Mallorca high season is between July and September. Book especially early during any holiday weeks or weekends in the
United Kingdom
or
Germany
, as Mallorca and Palma in particular are popular holiday spots for people from these countries. Many hotels close in winter so that booking is also advised then.
Budget
phone: +34 971 73 99 31

address: Pl. Mediterránia, 8

Reviews describe this as a particularly clean hostel with very friendly staff. A guest kitchen is available. Dorm beds are €15-17 per person, and double rooms are €17 per person (€22,50 with en suite).

phone: +34 971714610

address: Apuntadors, 6

Open in winter, English owned and conveniently placed near the cathedral and with numerous cheap tapas bars around.
Mid-range
phone: +34 971 68 66 12

address: C/ Rosal Nº8 Paguera

phone: +34 902 400 661

address: C/ XABEC , 5 Can Pastilla

Reviews describe this three star hotel as in a good location near the beach and not far from the airport. It is described as an ideal family hotel with plenty of entertainment and a good distance from local restaurants and activities. Double rooms €69 per night (high season, 16 July - 15 Sept), €49 per night (low season). Cheaper single occupant rooms also available.

phone: +34 971 28 12 00

address: Plaza Almirante Churruca, 5

Well equipped and close to the commercial centre of the city. The facilities are oriented towards business travelers and include Internet access and a fax service for guests.

phone: +34 971 260 712

address: Avda. Son Rigo, 6 07610 Playa de Palma

Nice, family-owned 4-star hotel, with a very good breakfast and dinner (no lunch) buffets. Indoor and outdoor pools. Only 1 block away from the beach with unobstructed sea views from the 4th floors up. Bus to Palma stops only 70 meters away. Value for money

Hotel Amic Miraflores

phone: +34 902 400 661

address: C/ XABEC , 4

Family atmosphere just 5 min to the airport PMI by bus or taxi.

address: Calle Raixa 2, Urbanizacion Son Vida

Surrounded by an 18 hole golf course called Son Vida Golf. This beautiful, 171 room high rise setting over the city of Palma de Mallorca has private bathrooms, air conditioning, cable television, Wi-Fi, coffee makers, a minibar, spa facilities, laundry, tennis, swimming pool, game room, fitness center, lounge, salon, and offers parking available on-site.

address: Carrer Octavi August 2, Can Pastilla

A more poular hotel in Can Pastilla. This 189 room hotel, close to the beach, shopping, bars, restaurants, water sports, gold and an aquarium. This hotel offers a lounge, bar, restaurant, swimming pool, sun lounging areas, parking, internet access, 24 hour reception, game room, tennis, laundry service, and currency exchange. Rooms consist of en-suite bathrooms, balcony, satellite TV, telephone, etc. All of these amenities make this hotel an ideal spot for a holiday vacation in Mallorca.
Splurge
Connect
phone: +34 971 71 29 27

Soledad 4, Bajos. This Internet cafe has DSL access and laptop access for €3 per hour. Printing is €0,20 black and white and €0,90 color.
Stay safe
Be aware of pickpockets when walking around the centre. They can even steal loose change from your back-pocket!
If you do stop at any of the many terraces in the centre, keep an eye on your valuables and never leave them alone.
You will probably find women offering flowers around the Cathedral. They will do their best to take what ever they can from you. If you see them, pass on.
The people on Mallorca are Catalan, not Spanish. Do not make any jokes about "Catalan just being Spanish spoken with a lisp" or any remarks that could be construed as support for the Madrid government.
Italian troops were stationed on Mallorca during the 1930s. The Franco regime named a road and erected monuments in their honor. However, the local population were less hospitable and there is still some residual resentment. If you are of Italian origin and this comes out during conversation then don't be surprised if it comes to an abrupt end.
Most areas of Palma are safe to wander around even after dark. Visitors should refrain from wandering alone after dark through the empty narrow streets of the Old Town and El Terreno. The gay and lesbian area of town, the Latter, can be rather sleazy in parts and known to attract drug users.
Remember Palma de Mallorca (as well as the other Baleric islands) is full of club drugs. Extasy, cocaine, marijuana, and more can be found
especially in the club scene. Be cautious of drugs like GHB, ketamine, and others which can be slipped into drinks (especially in
Sangría
found in restaurants). Personal drug possession in Spain is legal (considered to be less than 500 doses), but trafficking is illegal.
Keep all valuables out of sight when sightseeing, such as wallets and purses to be kept in front or hidden in pockets. Any excess cash, cards, passports, and valuable documents are best left in the hotel or wherever visitor is staying to stay safe. It is always safe to take a taxi during late hours, especially if you are alone. Use your common sense to stay safe.
Go next
Take a journey on a vintage train from the Plaza d'Espanya to Sóller. Sóller is a beautiful small-town getaway, and the slow train journey through the citrus groves has magnificent views of the western mountains. Groups can get a deal for about 10 euros, but depending on the day of the week, tourists can make the round-trip day adventure for about 17 euros.
You can then take a tram from Soller train station to the
Port de Sóller
, located on a large bay. The journey takes about 15 minutes and costs 4 euros (one way). The port of Sóller is full of tourists attractons and shops, and has breathtaking views from the top of the hill on the island.