Palmyra (New York)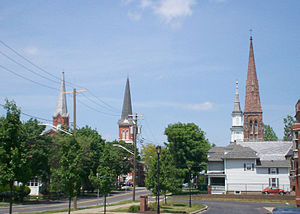 Palmyra
is a village and surrounding town in the
Finger Lakes
region of
New York
. In the nineteenth century, it was a center for religious revivalism, but today it's one of the most-visited villages along the
Erie Canal
. Palmyra is the birthplace of the Church of Jesus Christ of Latter-Day Saints (also known as Mormonism) and claims to be the only community in the U.S. that has a four-corner intersection with a church at each one.
Understand
In the late 1780s, a group of settlers from Connecticut tried to stake the state's claim to land in
northeastern Pennsylvania
, due to overlapping provincial charters. Among those Connecticuters was one
John Swift
, a Revolutionary War veteran. In 1789, with the venture in Pennsylvania bearing little fruit, Swift decamped for Western New York, where the Phelps and Gorham Purchase had large tracts of land for sale.
He purchased a tract (as did his fellow John Jenkins, though Swift soon bought him out) and in 1790 became the first permanent resident of what is now the Town of Palmyra. Swift's land was centered on
Ganargua Creek
, and the community that sprouted up was known as
Swift's Landing
.
After a brief period as
Tolland
, Swift's brother-in-law proposed the name
Palmyra
, and that is how the town was incorporated in 1796. The town center grew slowly until 1825, when the
Erie Canal
opened. The canal's route took it right through Palmyra, necessitating an aqueduct over Ganargua Creek. Energized by the new waterway, the village was quickly incorporated, in 1827.
During the period in which the Canal was built, at the height of the Second Great Awakening, the area between Rochester and Syracuse became a hotbed for religious fervor, known as the
Burned-Over District
. Palmyra was a particularly prolific source of the newly devout. In the mid 1820s, a local young adult named
Joseph Smith
(whose family lived just over the county line in nearby Manchester) claimed to have been visited by an angel, and directed to a set of buried artifacts on Hill Cumorah. Among those artifacts, it is claimed, was a set of golden plates, which Smith alone could translate. His translation became the
Book of Mormon
, which was published for the first time in Palmyra in 1830.
Despite that milestone, the area never embraced Smith's nascent religion (he had moved away in 1827 and never returned), and it wasn't until the year 2000 that the Church of Jesus Christ of Latter-day Saints built a temple here. But the founding has been commemorated every year since 1937 with the
Hill Cumorah Pageant
.
Get in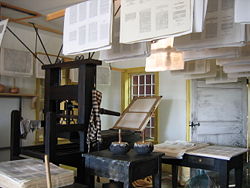 Although
RTS
—
Rochester
's municipal bus system—does run a bus out to Palmyra twice daily on weekdays, it's timed for commuters, not tourists. You'll most likely be taking a car.
As it does throughout Western New York,
New York State Route 31
parallels the Erie Canal through Palmyra, making it your best option for arriving from the east or west. It enters from
Lyons
from the east and from
Macedon
from the west. From the north and south,
New York State Route 21
will get you to Palmyra, connecting to
Williamson
and
Marion
northward and to
Manchester
and
Canandaigua
southward. If you're coming from farther afield, you'll want to take the east-west
New York State Thruway
(Interstate 90). Take Exit 43 and follow Route 21 north for about six miles.
Once you're in town, free public parking is available in a number of lots along Route 31 (Main Street) and at the public parks.
If you have a boat, you can take a scenic cruise into Palmyra along the historic
Erie Canal
, which runs right through town. Dock at the
Port of Palmyra Marina
, just east of the Division Street bridge.
Get around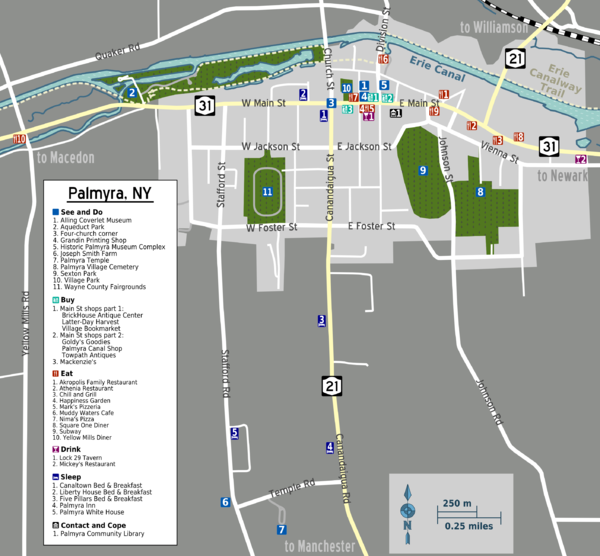 Palmyra's downtown area is quite walkable, and that's where you'll find most of the shops, eateries, and lodging. If you're exploring the canal, the
Erie Canal Heritage Trail
is great for walking or biking, though it's over a mile from the downtown/marina area to the far end of Aqueduct Park.
If you want to head south to the Latter-day Saints sites, take your car or bike; they're two to four miles away, along country roads with no sidewalks.
See
The word "charming" is perhaps overused in tourism brochures to describe exactly the sort of village that Palmyra is. If you're easily charmed by such sites, then Palmyra won't disappoint. In truth, though, there's not a lot here that you can't find in other similar canalside villages throughout the region.
Still, Palmyra's claim to be the Queen of
Erie Canal
Towns is not entirely unfounded. You can easily spend a day here browsing the shops, strolling the canal, visiting historic sites, and taking in the sights and sounds. Traffic is relatively light, and there are few cookie-cutter retail chains spoiling the atmosphere.
Four corners, four steeples

address: Main St at Church St/Canandaigua St

Hey, when you're in a small town, sometimes the most trivial things can become tourist attractions. There's one church on each corner of this intersection, and the village claims that no place else in the country can boast the same. The 1832 Western Presbyterian Church, 1867 First United Methodist Church, 1870 First Baptist Church, and 1873 Zion Episcopal Church aren't connected in any other way, and there's no tour or admission fee that lets you explore them all. But the sight is a popular one for photographers, if nothing else.

Aqueduct ParkSo named due to the still-standing aqueduct that carried the original Erie Canal—Clinton's Ditch—over "Mud Creek" (part of Ganargua Creek), Aqueduct Park is a treasure trove for Canal buffs. For starters, the aqueduct itself is quite a sight. Modern Lock 29 is also here, for those who like to watch boats lock up and down. There's a man-made waterfall where the modern canal spills over into the creek. Also here is the historic Aldrich Change Bridge; though it no longer crosses the canal, it was built when the original canal was widened in 1840 (the widened canal allowed no room for the south-bank towpath through the village of Palmyra, so the bridge was needed for the mules to change sides).

Swift's Landing

address: 4100 Hogback Hill Rd

Swift's Landing on Ganargua Creek is where John Swift started settlement of the town; today it's a quiet 17-acre park that sits between the Creek and the Canal.

Historic Palmyra Museum Complex

phone: +1 315 597-6981

address: 132 Market St

The complex encompasses five separate museums, each presenting a different aspect of life in old Palmyra.
Palmyra Historical Museum

address: 132 Market St

The flagship museum of the complex houses a number of permanent exhibits on local history and artifacts. Topics include the Erie Canal, the Underground Railroad, women's suffrage, and the Book of Mormon. Another exhibit details the unique connection Sir Winston Churchill had to Palmyra.

Erie Canal Depot

address: 136 Market St

Before 2011, the building between the Historical Museum and the General Store was known as the Tenant House and used for museum storage. But when they went to finish the interior, the museum staff discovered that the building had a story of its own to tell. Mule stables in the basement pointed the way: the building would become a museum documenting the village's canal history, with artifacts and exhibits explaining what life was like when Palmyra was the third-busiest port on the Erie Canal.

William Phelps General Store and Home Museum

address: 140 Market St

A former boarding house and tavern, the Phelps General Store was locked up in 1940 and left untouched for decades, leaving the contents almost exactly as they would have looked in decades past. The apartment upstairs appears much as it did when the Phelps family first occupied it, without any of the common modern conveniences like indoor plumbing.

Print Shop Museum

address: 140-1/2 Market St

John M. Jones sold printing equipment from this location for 63 years; today, examples of those items are on display at the museum.

Alling Coverlet Museum

address: 122 William St

The hand-woven coverlet collection of Mrs. Merle Alling constitutes the core of this museum's assets, which also includes exhibits on quilting and weaving. A small gift shop features woven goods and books.
Village Park

address: 149 E Main St

The Village Park is in many ways the center of community activity in the village. Nearly every weekend it seems like there's something going on there, from outdoor movies to Farmers' Markets to bandstand concerts to community garage sales. Playground and picnic facilities available.
Sexton Park

address: Johnson St

Much larger than Village Park, Sexton Park sits on Prospect Hill, a glacial drumlin much like Hill Cumorah to the south. It's a large wooded park popular with picnickers.
Church of Jesus Christ of Latter-day Saints sites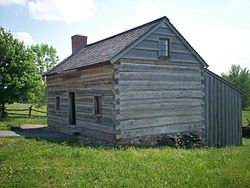 There are not many places in the world that can claim to be the verified birthplace of a religion with millions of adherents worldwide. Palmyra is one of them, making this otherwise unassuming canal town a major destination—almost literally, a
Mecca
—for members of the Church of Jesus Christ.
Hill Cumorah and Historic SitesThe Smith family farm was over a mile south of the village, straddling the border between the Towns of Palmyra and Manchester; Hill Cumorah is another couple of miles south. Today, the Church of Jesus Christ of Latter-day Saints maintains a small visitors center at Hill Cumorah, along with an assortment of historical sites around the area. There is no admission fee for any of the sites, and staff members are always on hand to provide (free) guided tours.
Hill Cumorah Visitors Center

phone: +1 315 597-5851

address: 603 Route 21

Hill Cumorah, one of thousands of glacial drumlins found throughout the region, is said to be the location where Joseph Smith found the gold plates that he translated into the Book of Mormon. The elegant but modern visitors center is at the foot of the hill, and it contains a number of exhibits and displays related to the church and its history. Free guided tours daily.

phone: +1 315-597-1671

address: 843 Stafford Rd

The farm property has been restored to resemble what it would have looked like in 1830. You can start at the welcome center, with an introduction to the history of Joseph Smith's family and views of the whole farm complex. The Smith Frame Home (1825) still stands, and a replica of the 1818 Smith Log Home is nearby. Free guided tours daily.
*

Sacred GroveThe exact spot where Smith received his first vision is not known, but it was somewhere within the woods west of the farm. What is left of the grove is maintained by the church, open and free to anyone who wants to walk its trails. No guided tours.

phone: +1 315 597-5982

address: 217 E Main St

Even though Smith had moved away to Pennsylvania in 1827, it was at Egbert B. Grandin's print shop that the first edition of the Book of Mormon was printed in 1830. Today, the restored print shop houses a press, bindery, and even the shop where the first Book was sold. Free guided tours daily.
The church also maintains the Peter Whitmer Farm, 27 miles (43 km) east-southeast of Palmyra in Waterloo, and the Aaronic Priesthood Restoration Site in Oakland, Pennsylvania.
phone: +1 315 597-6001

address: 2720 Temple Rd

Despite being the location of the church's founding, no temple was built in the area until the year 2000. Even then, it was the first such Temple built in the entire state. Keep in mind that only members of the Church of Jesus Christ who are in good standing with the Church are permitted inside the Temple itself. The beautifully maintained grounds and gardens, however, are open to all.
Do
The highlight of the year in Palmyra is the annual
Hill Cumorah Pageant
, a spectacular recounting of the Book of Mormon, at the very location where it was first recorded. There are a few other annual events for locals and visitors to enjoy, but activities in Palmyra largely center on the
Erie Canal
: boating, fishing, hiking, and bicycling.
Buy
Palmyra has a small but active business district on Route 31 (East Main Street) between Church Street and Clinton Street. Locally owned retail shops line both sides of the strip, with angled parking on both sides between William and Market Streets. The local specialty appears to be antique and vintage items of all types.
Eat
Palmyra is not a major destination for foodies, but you've still got to eat, right? The choices are dominated by takeout and diners. Unfortunately, popular local hangout Brad & Dad's has closed, but there are still some good options when hunger strikes.
phone: +1 315 597-5634

address: 513 Canal St

Extensive diner-style menu with a handful of Greek- and Italian-American dishes, including pizza. Breakfast is served all day.

Athenia Restaurant

phone: +1 315 597-4287

address: 606 E Main St

Standard Greek-American diner with a limited online presence and somewhat mixed reviews. Fairly popular with locals, though. Careful not to park in the Dollar General lot just to the west; they've been known to tow.

Chill and Grill

phone: +1 315 597-8946

address: 616 E Main St

While the 'grill' portion of this shop offers basic burgers, hots, and fries, it's the 'chill' side that draws in the locals in droves. Enormous ice cream cones are the specialty here.

Happiness Garden

phone: +1 315 597-8868

address: 212 E Main St

Classic Chinese-American eatery with takeout and delivery, but only two tables. Fairly good reviews.

phone: +1 315 597-2727

address: 240 E Main St

Mark's has dozens of locations throughout the Greater Rochester metro (and beyond!), but it got its start back in 1982 right here in Palmyra. Sadly, the original, historic building, along with three adjacent ones, burned down in May 2013. But Mark quickly bought 'em all up and rebuilt a bigger store, one that's still in keeping with the historic architectural character of downtown Palmyra. Is it the best pizza you'll ever have? No, but it's good, as is the rest of the extensive menu, and they'll deliver just about anywhere.

phone: +1 315 502-4197

address: 100 Division St

A little cafe with sandwiches, salads, bakery items, and coffee. Nice view of the marina.

phone: +1 315 597-5399

address: 165 E Main St

Nima's is the other good pizza option in town if you don't like Mark's. Their pizza has a thinner style than Mark's, but Nima's real specialty is their calzones, which earn raves from patrons.

Yellow Mills Diner

phone: +1 315 597-4613

address: 2534 Rte 31

Good online reviews for this homey diner. Food is considered good for the price.
A couple of local taverns also have good-sized dinner menus; see
the Drink section
.
Drink
While not a major nightlife spot, Palmyra has a couple of bars where locals hang out, drink, and watch the game.
phone: +1 315 597-0286

address: 222 E Main St

Mickey's Restaurant

phone: +1 315 597-5131

address: 3495 Vienna St
Sleep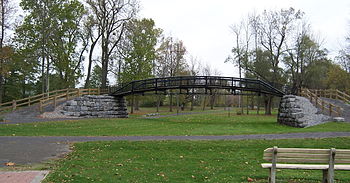 Lodging in Palmyra is limited; most people visit as a day trip from Rochester. But there are several B&Bs in the area, and a nice two-star hotel near the LDS temple.
There are also some hotels in nearby
Manchester
and
Newark
.
Cope
phone: +1 315 597-5276

address: 402 E Main St

Part of the OWWL (Ontario, Wayne, Wyoming, and Livingston Counties) library system. Free Wi-Fi (guest passes available).
Go next