Palo Duro Canyon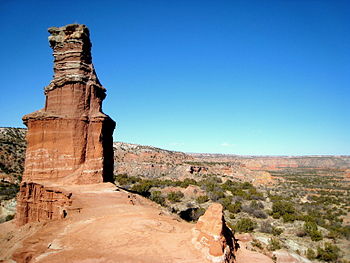 Palo Duro Canyon
cuts through the
High Plains
of the
Texas Panhandle
, in the southern
United States
.
Understand
Palo Duro Canyon is long, up to wide, and up to deep, making it the United States' second largest canyon.
History
Archaeological findings indicate that humans inhabited the canyon as many as 12,000 years ago. It was long home to various native American tribes as well, including Apache and Comanche. The JA Cattle Ranch was established there in 1876, after the expulsion of the natives.
Landscape
The canyon was formed by erosion from the Little Prairie Dog Town branch of the Red River.
The park is home to many unique
geological formations
, including many
hoodoos
thin, irregular columns of sedimentary rock sticking up from the canyon floor, capped with a harder rock which prevents further erosion.
The
Lighthouse
is the most famous of these in park, and is one of the quintessential postcard shots in the state.
Prominent features:
the Lighthouse, reachable via a 5.75 mile-long round trip on the Lighthouse Trail.
Capital Peak
the Spanish Skirts
the Devil's Slide
Flora and fauna
Aoudad sheep are agile climbers, a rare but special sight.
Whitetail deer and Mule deer
Coyotes and red foxes
Bobcats and mountain lions
Diamondback rattlesnakes and Bullsnakes
Longhorn cattle, but only two of them. They are named "Biscuits" and "Gravy".
Wild boar and wild turkeys
Prickly Pear Cactus and Yucca
Cottonwood and Mesquite trees
Climate
Summer temperatures are often at or near , winter temperatures can drop below freezing.
Get in
By car
Amarillo, at the intersection of Interstates 40 and 27, is the gateway to Palo Duro Canyon.
From I-27 take the exit for Texas 217 eastbound at Canyon, just 20 minutes south of Amarillo.
If staying in Canyon, know that 4th Avenue is part of Texas 217. Palo Duro Canyon is about 33 minutes east of the town.
By air
Amarillo's
Rick Husband International Airport
is served by American, Continental, and Southwest.
Fees and permits
Entry is $5 for adults, free for children under 12. Ranger station - +1 806-488-2227

Get around
A road winds down into the floor of the canyon where you will find the visitor center and the amphitheater. The road continues on to some campsites, but many areas of the park can be reached only on foot or horseback.
It is possible to rent horses for exploring the park, and some of the campsites allow horses. Inquire at the visitor's center.

See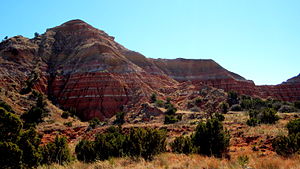 phone: +1 806 655-2181

In production for over 40 years, the show plays nightly Tu-Su from early June to mid-August at Pioneer Amphitheater. There is a steak dinner before the show which is catered by the Big Texan Steakhouse in Amarillo.

Charles Goodnight's DugoutNear the entrance of the park. This is a replica of the dwelling of the first white man to colonize the park. Charles Goodnight started the JA Ranch in 1876, raising up to 100,000 head of cattle here. A small portion of the ranch is still in operation today, in the lower parts of the canyon.
Do
The park has over 30 miles of marked trails for hiking, mountain biking, or horse riding.
Elkins RanchThis working cattle ranch spans part of the canyon. It offers horse and jeep rides, cowboy poetry and music, chuckwagon meals, and its authentically-costumed staff do their best to make you feel you are out on the range in the mid-1800s.

Old West Stables

phone: +1 806 488-2227

address: 11450 Park Rd

Guided horse rides. Various routes are available, Reservations are required for the 6-mile loop route to see the Lighthouse formation. Chuckwagon meals and other food items are also available.
Buy
There is a small novelty shop near the entrance to the Canyon.

Eat
Chuckwagon meals of smoked ribs and chicken, corn, mashed potatoes, beans, and cowboy coffee. Available at Elkin's Ranch or Old West Stables-- see the listings under the Do section above.

Sleep
Lodging
There are a few cabins available for rent with nice views of the canyon. Reservations can be made with the Visitor Center.
Cow Camp Cabins4 vintage cabins built in 1933 by the Civilian Conservation Corp workers who developed road access into the canyon. Now renovated, they provide microwave, refrigerator, and cots. No bedding is provided. $60/night plus entrance fee.

CCC Rim CabinsTwo 2-room cabins on the canyon rim. Both have a bathroom/shower and twin futon beds with bedding provided. $110/night plus entrance fee.

SorensonA single cabin on the rim of the canyon. A large deck gives a panoramic view of the canyon below. Bedding provided. $125/night plus entrance fee.
Camping
There are many campsites throughout the park, all of which charge $12 per four persons. Amenities range from sites with electricity and public bathrooms and showers to those with only a picnic table and fire pit. The following campsites are accessible by car:
Cactus Camp Area

Fortress Cliff Camp Area

Hackberry Camp AreaNear the Givens, Spicer, and Lowry trailhead.

Mesquite Camp Area

Sagebrush Camp Area
Backcountry
Simple: go to the end of the road, park, and walk for a half-hour or so until you find a spot suitable for your tent (or bivy). Some trails are intended for horses and intersect streams. Ask for specific directions from a ranger if you don't want to get wet.
Stay safe
Beware of rattlesnakes while hiking.
Following severe rains, six river crossings in the park may be impassible due to flash-flooding. Although many trails remain open, check ahead for weather information.
Bring plenty of water when hiking. It gets hot and dry and there is seldom a water source nearby.
If leaving trails, be sure to check for sure footing on slopes, many rocks and soil are prone to breaking loose.
Go next
Caprock Canyons State Park - 80 miles to the southeast, off the beaten track, the same river cut another set of canyons where the Caprock Escarpment gives way to the North Central Plains, with some spectacularly long trails to follow.