Palouse (Washington)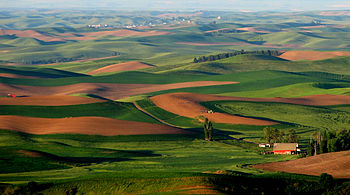 The
Palouse
is a region that covers parts of southeastern
Washington
and north-central
Idaho
, with some definitions also including parts of northeastern
Oregon
.
This page only covers the Washington portion of the Palouse region. For pages that cover other parts of the Palouse, see
North Central Idaho
and
Eastern Oregon
.
Cities
— largest city in eastern Washington, second largest in the state and third-largest in the Pacific Northwest Region; county seat of Spokane County and home to Gonzaga University and Whitworth University
a separate suburban city city east of Spokane.
— home of Eastern Washington University
— county seat of Whitman County
— largest city in Whitman County and home of Washington State University
— county seat of Columbia County
— county seat of Garfield County
— county seat of Asotin County
Other destinations
- Since time immemorial, the Nimiipuu or Nez Perce have lived among the rivers, canyons and prairies of the inland northwest
Understand
For our purposes, the Palouse consists of Spokane, Whitman, Columbia, Garfield, and Asotin counties. Portions of adjacent
North Central Idaho
are often included in the broader region.
Get in
By air
Spokane International Airport, located in the region, offers air service to some cities in the western US: see the
Spokane
article for details. Other airports with commercial air service near this region include
Walla Walla
,
Pasco
and
Pullman
. The nearest major international airports are
Seattle-Tacoma International Airport
or Portland International Airport, but they are 5-6 hours away by car. A connecting flight is recommended.
By train
Amtrak's Empire Builder stops at Spokane: this is the only train service to this region.
By car
Major east-west routes through this region arre I-90 through Spokane and US-12 through the southern areas. US-195 is a major north-south route.
See
The Snake River Canyon carries the Snake River through the Palouse from Lewiston, Idaho, through an arc northwest then southwest, and finally empties it into the Columbia River at Burbank, near Pasco. The most popular site is just SW of Pullman near Lower Granite Dam. However, you cannot follow the river by car any further downstream. Due to the extensive backtracking that would be required, most people are only able to view one section of the canyon per road trip.

Spokane House Interpretive Center

phone: +1-509 465-5064

address: N Riverside Park Dr. (via Nine Mile Rd. - WA Hwy 291), Nine Mile Falls, WA

Telling the story of the oldest house in Washington state, and the Spokane Indians who lived here.

Palouse Falls State ParkBy far, the largest waterfall east of the Cascade Mountains in Washington.

Spokane Plains Battlefield Monument

address: Four Lakes, WA

Marks the site of a battle on Sept 1, 1858 where the US military decisively defeated a confederation of the Spokanes, Couer d'Alenes, Yakamas, Palouses, and other tribes.

phone: +1 509 337-6457

address: S. Summit Loop, Rosalia, WA

A small 4-acre site with a monolith, marking where on May 17, 1858 a small US Army detachment was defeated by a larger force of Spokane, Palouse and Coeur D'Alene Native Americans.

phone: +1-509-243-4659

address: 215 Filmore Street, Asotin

Exhibits about the county's history, including examples of various kinds of buildings, such as a schoolhouse and Nez Perce tepee.
Drink
Coffee
Coffee is hugely popular all across the Pacific Northwest including the Palouse area. Look for small road side espresso stands even in small towns.

Beer
Like the rest of Washington State, microbreweries and beer in general is hugely popular, and the area has many to offer for beer enthusiasts. Some brews can only be found in local stores or bars (some notable brewers don't even bottle their product). Ask your servers for local beer recommendations and search out regional microbrews in stores.

Go next
Walla Walla Often thought of as part of the Palouse region. However, the western boundary of the county is on the Columbia River.

Whitman Mission National Historic Site

phone: +1-509-522-6357

The 1847 Whitman "Massacre" horrified Americans and impacted the lives of the peoples of the Columbia Plateau for decades afterwards.