Pampa
Pampa
is the second largest city in the
High Plains
region of the
Texas Panhandle
.
Get in
Get around
There is really no public transportation here, so you will need a car. Should you somehow find yourself here without one, there is one call taxi service:
Sun-Ray Cab

phone: +1 806 440-1066

address: 116 1/2 W. Foster Ave
See
Battle of the North Fork of the Red River
In September of 1872, in an area a few miles south of Pampa near McClellan Creek, a detachment of the US Army surprised a large village of Kotsoteka Comanches, killing more than 50 and capturing the rest. The battle marked a turning point in the Texas Indian wars, as it was the first time the whites had struck at the heart of Comanche territory. A Texas Historical Marker on Highway 70 marks the approximate site of the battle.
address: 600 N. Hobart

This somewhat ambitiously named museum hosts a modest collection of war memorabilia and strives to keep alive the memory of the Pampa Army Air Base, a pilot and mechanic training facility which existed during WWII.

Little Red Schoolhouse

address: Highway 70 North at FM282

This one-room schoolhouse was built and used during the 1930s. You can't go inside, but it's worth stopping by for a photo.

Prairie dog town

phone: +1 806 669-8041

address: 116 S. Cuyler

A large colony of prairie dogs as well as various species of larks and hawks can be seen here.

White Deer Land MuseumThis museum is housed in the 80-year-old restored Land Office Building. It contains many artifacts of the early pioneers and the Western heritage of Texas and Gray County. Guided tours.

Woody Guthrie Folk Music Center

phone: +1 806 669-3241

address: 320 South Cuyler

Center dedicated to the story of the folk music legend who began his musical career here, buying his first guitar in Pampa in the 1930s. The center is located in the old Harris Drug store which was brand new at the time, and sells souvenirs and memorabilia celebrating the famed musician.
Do
Chatauqua CelebrationOn the first Monday in September every year. Booths, food and entertainment.

phone: +1 806 665-5730

address: 1400 North Sumner

Small water park with pools, water slides, and a lazy river.

phone: +1 806 669-0434

One of the best PRCA events in the Texas Panhandle. Held every August.

White Deer Riding Club Rodeo
Buy
Pampa has a number of crafts and antiques shops. For basic necessities,
United
supermarket on north Hobart is the main grocery store in town. There is also a
Wal-mart Supercenter
on the north end of Perryton Parkway.
Cottage Collection

phone: +1 806 665-4398

address: 922 W 23rd Ave

Little Bow Peep

phone: +1 806 662-5679

address: 824 Barnes St

Past Reflections

phone: +1 806 665-5219

address: 518 S Cuyler St

Radcliff Rocks & Relics

phone: +1 806 669-2696

address: 939 S Hobart St

Trash & Treasure Shop

phone: +1 806 669-6601

address: 1431 N Hobart St
Eat
Amber's Mexican Restaurant

phone: +1 806-665-1173

address: 2014 North Hobart

China Dragon

phone: +1 806 665-8286

address: 1307 N. Hobart

Coney Island Cafe

phone: +1 806 669-9137

address: 114 W. Foster

A classic diner, popular with the locals.

Dixie Café

phone: +1 806 669-1000

address: 2537 Perryton Pky

Dyer's Bar-B-Que

phone: +1 806 665-4401

address: Highway 60 West

Emily's Cafe

phone: +1 806 665-5495

address: 732 Frederic St

Heard-Jones Healthmart

phone: +1 806 669-7478

address: 113 N. Cuyler

A classic drugstore deli with great hamburgers.

Jay's Drive-In

phone: +1 806 669-2722

address: 924 Alcock

Fine chili dogs and shakes.

Peggy's Place

phone: +1 806 665-7830

address: 1801 Alcock

Standard country diner fare.

The Plaza

address: Coronado Center

Popular Mexican food restaurant on North Hobart.

Texas Rose Steakhouse

phone: +1 806 669-1009

address: 2841 Perryton Parkway
Drink
Sandy's Pub

phone: +1 806 665-0600

address: 2218 Alcock St

Local watering hole with live music on weekends.
Sleep
AmericInn Lodge and Suites of Pampa

phone: +1 806-665-4404

address: 1101 N. Hobart

phone: +1 806-665-0926

address: 2831 Perryton Parkway

Black Gold Motel

phone: +1 806-665-5723

address: 12020 East Frederic

Cottonwood Springs Guest Ranch

phone: +1 806-665-7126

address: Hwy. 70 North

This working ranch offers quiet accommodations.

Holiday Inn Express

phone: +1 806 665-9500

address: 3119 Perryton Pkwy

phone: +1 806 669-1555

address: 2820 North Perryton Parkway

Offers business-class accommodations with deluxe lodging amenities, free breakfast, free Internet, swimming pool, and meeting facilities
Camping/RV Parks
A & A RV Park & Mobile Home Park

phone: +1 806-669-2439

address: 1708 W. Kentucky Ave

Spring Meadows RV Park

phone: +1 806-663-1322

address: 1300 W. Kentucky / S. Barnes

Hobart St. ParkOperated by the City of Pampa. No Reservations Required.

Recreation Park

phone: +1 806-669-5750

address: Hwy. 60 East

Operated by the City of Pampa.
Go next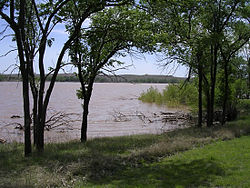 Black Kettle National Grassland, northeast about 55 miles on Texas highway 60 (Look for the turnoff about 10 miles beyond Canadian). Part of Cibola National Forest. While most of this park is in Oklahoma, this separate 576-acre park includes Lake Marvin, providing a beautiful relaxation spot for any Panhandle traveller who misses seeing lots of trees.
McClellan Creek National Grassland, 18 miles to the south on highway 70, 580 497 2143. Part of Cibola National Forest, this park has passable campground facilities and RV hook-ups, and offers fishing, hiking and wildlife viewing opportunities. Be cautious of rattlesnakes.
Lake Meredith, at Fritch, has good boating facilities and is a popular fishing spot.
Perryton, north of highway 60, has a museum with exhibits on the Panhandle Plains Villagers of pre-colonization times.
Square House Museum, in Panhandle, 30 minutes west on Highway 60.