Pamukkale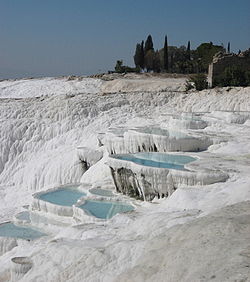 Pamukkale
is a hot spring with calcium-coated cliffs and pools in inland
southeastern
Aegean Turkey
.
Understand
Pamukkale, which has been used as a spa since the second century BC, literally means "cotton castle" in Turkish.
The travertine features have their origins in the shifting of a fault in the valley of the Menderes river (between here and
Denizli
). As the fault shifted, very hot springs with a very high mineral content (notably chalk) arose at this location. Apart from the slightly radioactive minerals, the calcium and hydrogen carbonate react to create calcium carbonate (also known as travertine) and limestone. This is what gives Pamukkale its whiteness and created the pools.
It can get quite hot in summer, a hat and especially sunglasses will certainly be very helpful against the sun and the reflecting sun rays from the chalky cascades. On the other hand, the cold winter climate could make the experience slightly uncomfortable. Climbing up the cascades barefoot, with cold water running downstream, will be a tough task.
Get in
The nearest major city is
Denizli
, where you will likely arrive first before getting to Pamukkale.
By plane
Closest airport is Denizli - Cardak Airport is 65 km or 1 hour away and there are flights six times daily to Istanbul.
By train
The nearest train station is in
Denizli
, which has services from
Izmir
only. The
Istanbul
service (
Pamukkale Express
) was suspended in 2008.
By bus
Buses to Pamukkale/
Denizli
can be found from almost all Turkish cities. Their services include water, hot drinks and a snack.
There are virtually
no
bus companies that take you directly to Pamukkale despite what the ticket sellers tell you. The bus will drop you in Denizli and then you have to get on a dolmuş to Pamukkale (about 20 km away).
By dolmuş
From Denizli bus station (otogar), take a
dolmuş
, a type of cheap communal taxi that usually seats about 10 (but it's possible they'll squeeze in more). Frequent mini-buses serve the village of Pamukkale from platform/
peron
76 by a 20-minute ride, which costs 3.50 TL per trip (Nov 2017). Dolmuşes leave from the lower level of the Denizli station.
Get around

Even when you're way on the edge of the village, you can reach everything (i.e. the village center and the travertine pools) on foot in 10-15 minutes.

See
Travertines and Hierapolis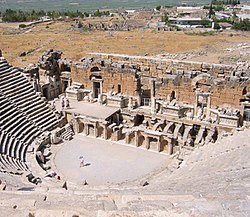 There are three entry gates, one at the bottom of the travertines and two at the top. A shuttle will take you between gates for 2 TL. Entry to Hierapolis and the travertines is a single ticket that costs 35 TL (Nov 2017). Entrance is from 08:00 - 21:00 daily.
The travertine terraces above Pamukkale and below the ancient city of Hierapolis are a
UNESCO World Heritage site
. This "Cotton Castle" is accessed via a gate near Pamukkale, and the walk up takes about 30 minutes and offers numerous opportunities to soak in pools that are generally no more than a foot deep. Tough pollution control regulations require removing your shoes in order to walk on them (so bring something to put your shoes in!), so the travertines stay white as ever. This job is made tougher in winters when the water flowing down the chalky cascades will be freezing cold.
At the top of the travertines lies the ancient Roman city of Hierapolis. The ruins of the city sprawl over a large area, but sites are well-marked and there are trails that can be easily followed. The 12,000-seat amphitheater is in excellent condition and is a highlight, as are the town gates and main road. In addition, the town is home to the Martyrium of St. Phillip, a pilgrimage site that is supposedly the site where the apostle Philip was martyred and buried. The church at the site is in ruins, but its foundations reveal an unusual octagonal plan.
You can soak in the antique pool for an extra fee (see "Do" below.)
The museum is housed in the former Roman baths and can be visited for an additional 5 TL (opening hours Tu-Su 08:00-17:00, Nov 2017). It contains three rooms housing some of the artifacts found during excavations of Hierapolis and the surrounding area, including sarcophagi.
Other sights
Other than the travertines and Roman city of Hierapolis, places worth a look around Pamukkale are:
LaodikeiaSee the Denizli article for more information.

ColossaeAncient ruins 7 km from Pamukkale of an ancient city of Phrygia. It has never been excavated.

KarahayitThe red spring is not even nearly as big as the calcium outcrop in Pamukkale, but worth a look. You might also want to try their mud baths.

Kaklik CavesThey are like a small version of Pamukkale, but in a cave, underground and are about 30 minutes from Pamukkale.
Do
You can walk down barefoot in the waterfalls from the village. The place is crowded when the tour-buses arrive. No shoes are allowed on the travertines. If you don't want to walk back to top, you can use the buses dropping off people back to top, which depart from near lower end of the travertines. You should wear swimming suit. A lot of people bath in the baths here.

Thermal pool in the Hierapolis area also called "Cleopatra Pools"Swim with Roman ruins in a large natural swimming pool located just past the topmost travertines. It's a hot spring pool that has sections of the original marble columns in it. A shop sells bathing suits (10 TL) and towels if you don't bring your own.

ParaglidingLots of paragliding options. Some are short another last longer.

Hot-air balloon rideThere are trips available.

Boat rideYou can try riding a boat or feeding ducks there.
Buy
The Pamukkale/Denizli area is famous for its
cotton and homewares
. These are becoming sought after world wide (Arnold Schwarzenegger decked out his house in curtains and furnishings especially made in Denizli - so the story goes!) and the best place to go is the town of Buldan, about 30 minutes drive from Pamukkale. Many of the other souvenirs and traditional Turkish wares that you can find in other parts of Turkey are cheaper around Denizli/Pamukkale because they are produced there.
phone: +90 258 272 2317
address: Atatürk Caddesi No 30
You can find locally handmade carpet and kilim, towels, tablecloths, ceramics, onyx, scarfs, and many different kind of souvenirs. Homewares are also cheap here.
Eat
The best and freshest food is to be found in the small family run pensions, but for a great open air restaurant where you can eat 'borek' the Turkish pancakes and gaze across the valley, try
Alis
on the main highway just before you come into the town.
Mehmet's Heaven, on the main street near the Travertines has an excellent view of Pamukkale from his porch out back. Great Turkish food and well priced - pide, beer or local wine 15 TL (Nov 2017). The owner and his wife are super nice.

Kayas Wine House

phone: +90 258 272 2267

address: Kale Mah. Ataturk Cad. No 3

Also serves Turkish and international (Korean, Japanese) food in traditional but trendy surroundings. Located in the centre of town, close to all the major hotels.

Lamuko's Lokanta

phone: +90 542 390 8175

address: Main Street Pamukkale

Japanese and Korean food in the centre of Pamukkale, next to Pamukkale Bus Company office. Delicious!

Kale Hotel

phone: +90 258 272-26-07

address: Atatürk Cad. 16

This place has great Chinese, Korean, and Japanese food at an excellent deal. It also serves Turkish food, but is a great change if you'd like something other than gözleme, pide or kebabs. Entrees are around 10 TL and it has beer and wine.
Drink
Ayran is a salty yogurt drink similar to a salty lassi. It may be an acquired taste, but should be tried while in Turkey.
The wines produced in the Pamukkale area are becoming quite famous and are winning awards for the quality and standard. Turkish wine may disappoint.
Raki is a traditional Turkish drink, generally served with mezes (tapas like appetizers, generally followed by a fish or meat dish). With an anise-seed flavor, it may be an acquired taste. Great with fish or any long meal as it is meant to open up your appetite.
Efes or Tuborg are the go-to beers in all of Turkey, and are often the only beers available.
Sleep
There are small family-run pensions at the village south of the travertines. Most have swimming-pools filled with the warm greenish milky water from the travertines. They also offer very delicious Turkish food.
phone: +90 258 272-26-74

address: Atatürk Cad. 48/A

Hotel just opposite the bus stop with a pool and a nice garden, and a rooftop restaurant which serves traditional Turkish food. Rooms with en-suite, TV, and air-con. Owners can speak English.

phone: +90 258 272-20-09

Very friendly and welcoming family-run hotel with free wi-fi, swimming pool, free car park, babysitting service, and air-con. They allow pets at no extra cost. They also have a campground on their yard. Very delicious dinner is freshly cooked in the evening for 15 TL pp.

Kale Hotel

phone: +90 258 272-26-07

address: Kale Mah. Atatürk Cad. 16

A family-run guesthouse. Rooms with satellite TV. Roof-top terrace, swimming pool, free wi-fi, Ottoman Corner, restaurant, day trips and excursions. Verify the reviews on popular booking sites, as they don't seem that good.

phone: +90 258 272-22-22

address: Pamuk Mah. Fevzi Çakmak Cad. 29

Friendly and family-run, with garden bar and restaurant and a large swimming pool. Rooms with satellite TV. The hotel can organize day tours, express bus tickets, plane tickets, and offers a transfer service.

phone: +90 258 272-22-50

address: Vali Vekfi Ertürk Cad. 8

A nice family-run pansiyon at the eastern end of town with nice rooms, all of which have air-con. The friendly owners serve cheap but tasty home cooked meals. There's a laundry service and a pool filled with spring water.

Öztürk White Hill Hotel

address: Pamuk Mah. Fevzi Çakmak Cad. 31

A small family-owned hostel.

phone: +90 531 708 81 16

address: Pamuk Mah. Hasan Tahsin Cad. 22

A comfortable, family-run hotel with wireless internet access and cable TV. Rooms with en suite bathroom, and air-con. Staff can speak English and German.

phone: +90 258 272-21-52

address: Pamuk Mah. Hasan Tahsin Cad. 16

A comfortable hotel with wireless internet access, a swimming pool filled with thermal water from travertines. Rooms with en suite bathroom, and air-con. Staff can speak English.
Go next
It is also worth making the effort to get to the remains of the ancient city of Aphrodisias—one of the best preserved Roman sites in southeastern Aegean. You can rent a van from Denizli to get there. Local bus companies will arrange bus tours for 30-40 TL pp (usually a minimum of 4 people is required ).
Of moderate interest might be visiting Denizli. It's a bit dull but there's a lively market.
From Denizli one can transfer to, among other options, Selçuk and its Roman ruins of Ephesus, or the popular Mediterranean resort city of Antalya (3.5 hr, 40 TL, every 2-3 hours, Nov 2017). Just shop around at the various travel agencies scattered throughout Pamukkale to get the best price quotes, though beware their mark-ups for fees/"taxes" (in particular, Neşe Tours charges high hidden "taxes": e.g. 45 TL for a bus to Bergama that was supposed to include the 3.5 TL dolmuş price (Nov 2017) to Denizli, when in fact the dolmuş must be paid extra upon arriving in Denizli, and one could buy the same Bergama bus ticket for 30 TL at the Denizli bus station counter).