Panay
Panay
is an island in the
Philippines
, the most northwesterly of the
Visayas
group.
Four provinces are mainly or entirely on Panay: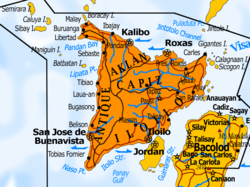 Iloilo City
is the largest city on Panay and the main hub for both air and sea transport.
The island of
Boracay
, located just off northern Panay, is one of the best-known and most heavily developed beach resort areas in the country. It is part of Aklan Province and is generally reached via Kalibo.
Panay has many religious and cultural festivals including the Ati-atihan Festival in
Kalibo
and Dinagyang Festival in
Iloilo
. both in January.
The larger island of
Negros
is southeast of Panay. Its largest city,
Bacolod
, is right across a strait from Iloilo City and is easily accessible with a short ferry ride.
The small island province of
Guimaras
is in the strait between Panay and Negros and is generally reached by ferry from Iloilo City.