Pangandaran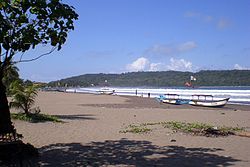 Pangandaran
is a small town and a subdistrict in on the south coast of Java in Indonesia, in the
East Parahyangan
region.
Understand
With its black beaches, Pangandaran, will never stand a chance compared to
Bali
when it comes to attracting the big crowds. However, this is exactly the appeal of this remote town of beach resorts. Even though it is a popular tourist destination with the locals on national holidays for its fine sand beaches (considered to be of the finest in
Java
), you will not feel overrun by the tourism.
In the natural park you have also a beautiful white sand beach with monkeys where you can snorkel.
Get in
By plane
Susi Air
flies from Jakarta (with a short stop in Bandung) on small 12 passenger Cessnas, but the plane will fly only with minimum 8 passengers. (
CJN
, also known as Pangandaran Airport) is a small airfield near Cijulang (along the road to Batu Karas), about 25 km west of Pangandaran.

By bus
The stops at the market just 500 m from the beach where you can find plenty of accommodation. It is close enough to walk, but if you are lazy or laden with heavy bags it will not take you long to spot a bicycle rickshaw (more likely, they will spot you) ready to help you empty your wallet.
Local buses run frequently from Pangandaran's bus terminal to Tasikmalaya (Rp 30,000, three hours), Ciamis (Rp 20,000, 2½ hours), Banjar (Rp 25,000, 1½ hours), Kalipucang or Majingklak (Rp 5,000, 40 minutes) and to Cilacap (Rp 25,000, 2½ hours). Buses also run along the west coast as far as Cijulang (Rp 7,000, 40 minutes).
The large patas buses generally leave from the Perkasa Jaya depot, just north of town, and Budiman bus company depot, about 2km west of Pangandaran along Jl Merdeka. Frequent normal buses go to Bandung (Rp 48,000, six hours) between 06:00 and 16:00.
However, the most comfortable way to travel to Bandung is with the Sari Harum (639276) door-to-door minibus for Rp 100,000. Perkasa Jaya minibuses (639607) pick up from hotels for the trip to Jakarta's Kampung Rambutan terminal (normal/air-con Rp 125,000/150,000, nine hours). Travel agencies can also book tickets for most buses and minibuses for a premium, but transport to the depots is usually included. From Yogyakarta, travel agencies can book you a minibus to Pangandaran for around Rp 130,000.

By car
Most travel agencies rent minibuses with drivers for about 500,000 Rupiah per day including driver and petrol. Put together your own tour and you may be able to negotiate a better rate. The most popular trip is a three-day tour to Jogyakarta. The usual route will take you as far as Wonosobo for the first night. The second day goes to Dieng for the sunrise, then on to Borobudur for the night. The final day is to Yogyakarta via Prambanan.
Seven hour drive from Jakarta.

By shuttle
Unlike the shuttle from Bandung to Jakarta, which is point to point, the shuttle from Bandung to Pangandaran is door to door. The tariff for regular shuttle travel is about Rp 125,000 to Rp 150,000 (236 kilometers from Bandung, while Bandung-Jakarta is about 150 kilometers). Sun In Pangandaran Group charge Rp 100,000 only for customers who sleep in Sun In Pangadaran Hotel (East Beach). For executive shuttles, which use Suzuki APV or Daihatsu Grandmax for 5 passengers and a driver, the tariff is Rp 200,000 per passenger.

By train
Pangandaran train from Bandung only up to Banjar through Tasikmalaya with Eksekutif class Rp 100,000 and Ekonomi Premium class Rp 50,000.

Get around
Pangandaran's becak (tricycle) starts at around Rp 10,000 and requires heavy negotiation. Bicycles can be rented for Rp 25,000 per day, and motorcycles cost around Rp 50,000 per day, excluding petrol. Petrol costs Rp 8,500 per litre at petrol stations, but 9,500 - 10,000 per litre outside petrol stations.
Costs for becaks from the main bus station are price-fixed at Rp 30,000. This is primarily due to that local hotels will provide the becaks a Rp 30,000 commission for bringing in tourists who have not previously booked. It is less than 1 km from the bus station to the centre where all the hotels are.

See
Pananjung Pangandaran Nature ReserveThis natural reserva is nearby on a peninsula connected to the mainland by a narrow neck of land, so you can see sunrise at east of Peninsula (Pantai Timur or East Beach) and sunset at west of Peninsula (Pantai Barat or West Beach). About 80% of the nature reserve is secondary rainforest. A few hours can be spent here without the need for a guide, however, guides are available and can obviously show you more of the reserve compared to going unattended. The flora of the nature reserve includes the Rafflesia. The fauna of the nature reserve includes deer, two species of monkey and monitor lizards. You can also see many deers and monkeys at and outside the border of the park, look around if you want to save the steep entrance fee.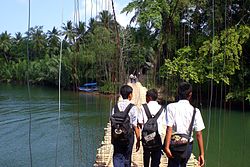 Green CanyonJourney through some truly wondrous jungle - rich in massive teak trees, palms, various hanging vinery and the shrill sounds of extensive bird-life. The canyon is apparently a couple of hundred metres long, but it is only safe for visitors to venture the first hundred. At the end of the passable section, the opportunity arises to jump from a 5 metre high stalagmite formation rising from the canyon floor into a deep pool below. The rocks aren't sharp or slippery and there's a myriad of harmless animals such frogs, dragonflies and miniature crabs to marvel at too. There are about 500 visitors a day, but it will increase to 2,000 per day on holidays make boat congestion on the narrow path and make boat long-waiting too.

About 15 km northwest of Pangandaran. It's possible to swim in the clear water of the second "Green Canyon" that exists above the dam of the main tourist "Green Canyon". This is slightly more difficult with bumpy road to get to and involves hiring a moped (cheap), but the journey and the final destination is very rewarding. There are barely any tourists and it feels like your own personal tropical river. It is much cheaper (Rp 19,000 each for entry and parking, or 24,000 if taking photos) and provides far more freedom and scenery than "Green Canyon". Body rafting in Citumang can be done even in rainy season which it cannot be done in Green Canyon. The water of Citumang River is cleaner than in Green Canyon and relatively calm, so kids of 4 to 6 years old can safely enjoy body rafting. There are several waterfalls you can safely jump from, ranging 1m to 10m high into pools 6m deep, a rope swing, and a cave where is is said drinking the dripping water will bring everlasting youth. Body rafting with life vest and guide/guard cost is Rp 120,000 for 1.5 hours, including lunch (both not required, but a life vest is recommended due to the amount of swimming). Weekends are hectic with local tourists, but in weekdays are very quiet.
"Paradise Beach" is a deserted island that will satisfy all your Robinson Crusoe adventure feelings for a day. Hire a boat (Rp 600,000 for the day), stock up on supplies and have a picnic on the white sandy beaches of this sliver of paradise.
Do
In short; beach, sun, surfing and kicking back is the image of Pangandaran. However, there is so much more in this yet unspoilt paradise. Hire a motorbike and explore the surrounding area. Not far from the beach you will encounter the life of the unimpressed locals tending to their crops and livestock. Take a trip to the Green Canyon or Green Valley (see above) and continue on to Batu Karas, for some of the best beginner surfing
Java
has to offer.
Hiring a moped is well worth the Rp 50,000 tuppence that it costs. Exploring the surrounding countryside and villages such as Batu Karas (the amazing two-way traffic bamboo bridge crossing the river is a highlight along with great surfing at the beach) and Karang Nini boasts some spectacular isolated beaches (one beach which hasn't been cleaned up since the 2006 tsunami also boasts a lagoon). Batu Hiu or "Shark Rock" provides beautiful views of the Indian Ocean and Pangandaran along with clifftop walks.
Note:
Pangandaran and many of its surrounding villages charge a fee to enter (around Rp 3,000 - 5,000), it may also be necessary to provide a monetary gift (Rp 1,000 - 2,000) to the guard.
Surfing lessons are offered in Pangandaran, prices vary around Rp 200,000 - 250,000 per day. Every hotel and tour operator will let you know about this as soon as you arrive.

Learn to surf

address: Jalan Pamugaran Bulik Laut

A friendly surf school with low negotiable prices but safe practices. An instructor is always watching you while you surf. Surf lessons schedules depend on the tide, so book your course the day before so you don't miss it. Tours to the Green Canyon and/or treks to local tribal communities are eagerly offered. They average about 150,000 per day.
Bike (the Heartland of Southern Coast, beyond the beach, Pangandaran offers more natural attractions. choose on of bike tours. Enjoy the countryside experience across the lush paddy field, garden and coconut plantation. Take a breath of fresh air of the village and watch the local farmers starting their day, and try other track and be the downhiller.
Coral adoption, Contributing to Nature, coral transplantation has been taking place in Pangandaran to contribute to coral reef rehabilitation. In the last two years, the program has been extended to allow tourists to participate.
Tunnel exploration, Pangandaran keeps silent evidence of the rail route in the southern coast of Java - dated back from its role as one of the plantation areas in the colonial era. The railway track lies from Banjar - Pangandarn - Cijulang although it is no longer used, the tracks and tunnels keep their appeal and provide a perfect setting for trekking tour in the hinterland.
Traditional dance lesson - Ronggeng Gunung is a traditional dance originally from Pangandaran. It is related to the history of the local princess "Dewi Rengganis. Rengkong and Gondang are the traditional dances to celebrate harvesting period at the southern coast of West Java. The local community has developed a special performance tour for you to see these fascinating dances. Setting under their village's open sky and at the yard of a traditional stage.
Canoening, explore the rivers and paddling canoe around Pangandaran feel the different atmosphere
Buy
ATMs are available near the bus terminal, nearby and at the bus station area, there are 3 ATMs, but none at the beach area.
There a few mini supermarkets along the beach.
Eat
Seafood comes fresh to the fish market on the eastern side of the city every day. Here you can have your pick from one of the many cheap restaurants. Pick your live seafood (fish, crabs, lobsters, prawns etc.) and watch while they cook it in front of you.
On the west side (the beach side), western style cafes and restaurants line the beachside road. The government has moved the beach cafes and restaurants 3 kilometers away further to the west from the longstanding former spot. (05/2018)
Bamboo Cafe & Resto Pangandaran

phone: +6281313718567

address: Kampung turis no 2 jalan Pamugaran Pantai Barat Pangandaran

Cafe with live music every weekend

Mungil Steak House

address: Jalan Pamugaran Bulik Laut

Offers the same sort of menu as Bamboo, plus — not surprisingly — a steak menu.

Relax Restaurant

address: Bulak Laut Street

offers European, Chinese and Indonesian food, plus - recommended menu; homemade brown bread and ice cream. Offers also yoghurt and musli/cereals. Price for Indonesian food 35,000. Western food from 40,000 -

D.E. Coffeeserves espresso coffee (although pricey) and tasty sandwiches as their speciality, but really it's recommended for its proximity to Steak House and wifi enabled internet cafe (Rp 250 /minute). A perfect day well spent.

Saung Miring coffee shop

address: jalan bulak laut no. 64

24 hours free internet access / free wi-fi, coffee and tea, pancake, sandwich and toast

Bintang TimurFresh seafood and other. Small restaurant along the beach in front of the Futsal (boulevard turn right)the food is different and delicious. If you are in mood you can sing karaoke or eat under the moon.

Fish marketThere are many restaurants in the fish market. You choose the seafood which is then cooked for you.
Drink
Often a bonfire on the beach and drinks and snacks from the closest
Warung
is the definition of a night out in Pangandaran. The government has moved the beach cafes and restaurants 3 kilometers away further to the west from the longstanding former spot. (05/2018)
Jacko Baralong the west beach near the other cafés and restaurants. Often has offers live music and DJ parties.

Silent Bar or Diam CafeNext to Jacko bar. The owner cannot hear or speak but he speaks a lot in his own language and can be understood by all foreigners :)

Mungil Cafeor Steak House. Nice place to drink and listen to the live music

Malibu CafeA beach bar with good food and friendly atmosphere.

several others next to them.
Sleep
There are plenty of hotels to fit every budget, scattered around the town. Most are on the street along the beach, or in an alley just off that street. The price for a clean and equipped room is Rp 150,000 with fan and Rp 200,000 with aircon (2014). On national holidays prices go up and you should book ahead.
Budget
phone: +62 265 639 419, +62 081 323 558 555

address: Jalan Bulak Laut Timur 8

A popular, long running guesthouse. All rooms have bathrooms, the fan rooms have with open-air bathrooms, includes breakfast and free tea/coffee all day.

phone: +62 2 65 63 94 36

address: Jalan Pamugaran Bulak Laut

Artistic place. All rooms have fan and private bathroom with western toilet but the charm of the place is the hospitality of the owners. Free breakfast and coffee/tea all day. Free wifi. Daily homemade yogurt by the Frnch owner Catherine. Offers surf lessons and guided tours to the National Parc. Motorbike and surfboards rental. Mini bar cool drinks and cold Bintang beer. Backpacker and surfer atmosphere.

Panorama a la Plage

address: Jl. Pamugaran No. 1

Both fan and air-con rooms available, some with shared bathroom, some with attached. Owned by a Frenchman called François, always up for good tips. Be sure to get a dinner at their restaurant, Tika (his wife) makes the best food in town.
Mid-range
phone: +62-265-639428

address: Jl. Pamugaran Desa Bulak Laut

This hotel is next to a wide stretch of sandy beach. Restaurant serves freshly caught seafood. 24-hour coffee shop and massage centre.

phone: +62 265 639376

address: Jl. Kidang Pananjung No.262, Pantai Timur, Pananjung

Has great views of the North beach and Pangandaran Nature Preserve; don't be surprised when you see a herd of deer in front of this hotel.
Connect

There are some internet places by the beach, but the cheapest (Rp 1,000 per 15 minutes) is near the bus terminal. They don't have wifi, but you can plug your laptop into their LAN for the same price.

Go next
The main routes out of Pangandaran are either east towards Yogyakarta, or west towards Bandung:
Yogyakarta via Sidareja. A private minibus (usually seating 4) is heavily advertised by the main hotels (Mini Tiga home-stay etc.) which travels to Sidareja station and from there the train heads to Yogyakarta.
Bandung — provincial capital in the mountainous central part of West Java; 4-6 hours by car or bus.
Batu Karas — small fishing village 1 hour from Pangandaran, with a beginner surf break and some backpacker accommodations.