Panglao Island
Panglao
is an island in
Bohol Province
in the
Philippines
with world-class diving and many tourist resorts. The resorts and other tourist facilities are concentrated in the
Alona Beach
area, but there are some other tourist areas and beaches scattered around the rest of the island.
Cities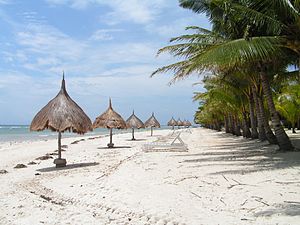 Municipalities
For administration, the island is divided into two roughly equal-sized municipalities, each with a small town as its center. Wikivoyage has an article for each:
, on the northeast, right across the bridge from Tagbilaran
, on the southwest
Beaches
There are also beach towns around the island, particularly in the south. While these are in the municipal regions listed above, many of them are separate enough from the municipal towns and have enough tourism to get their own Wikivoyage article.
on the southeast coast is the island's most popular tourist destination. Many visitors to the island spend all their time in just this area. Administratively it is within Panglao Municipality, but Wikivoyage treats it in a separate article.
and are east of Alona Beach; they are covered in the Bolod and Libaong Wikivoyage article.
is between Alona Beach and Panglao Town, and it is covered in a separate Wikivoyage article.
is considerably less developed and less hectic than Alona. It is just east of Panglao Town and we cover it in the town article.
Other destinations
Nearby islands
All of these islands can be visited on a separate tour or as part of dolphin watching or island hopping ones.
Balicasag IslandIsland 8 km offshore from Alona beach.

Virgin Island

Pamilacan islandTour there is more expensive among other islands, prices start at per boat (2016), as they say, it's a more authentic experience, where dolphins and whale sharks can be seen wild and not in a artificial environments like in Oslob where animals got attracted to the place by being fed by locals.
Get in
Panglao is often reached via
Tagbilaran
, the capital of
Bohol
Province, where there is a ferry terminal. Tagbilaran on the larger Bohol Island and Dausis on Panglao Island are separated by a narrow strait, and there is a bridge between them. You can also fly directly to Panglao which has the province's main airport.
By ferry
Most visitors reach
Bohol
via the large modern ferry terminal in Tagbilaran. The most common embarkation point is
Cebu City
; see the
Tagbilaran
article for details on that, and for boats from other places.
A
taxi
from the ferry terminal will cost , whilst a local
tricycles
will set you back to Alona Beach on the far end of the island. you can get a tricycle or taxi from the ferry terminal to the bus terminal then get the air conditioned bus to Alona beach for only 50.
Southern Star transit
Large Air conditioned buses from Tagilaran bus terminal going to and from Alona Beach via Panglao international airport, every 45 mins from 6.45am till 6pm , takes only 30 minutes. (June 2019). has room for Luggage.
By plane
Bohol–Panglao International AirportA new airport, large enough for international flights using large aircraft. It is expected to handle many charter flights for package holiday companies. Until this airport opened Cebu Airport was the only one in the country close to beach resorts and capable of handling these flights.
When Panglao International Airport opened in November 2018, the older and much smaller Tagbilaran Airport was shut down the same day. The new airport inherited the old one's code,
TAG
.

Get around
The island has two main roads; the Circumferential Road circles the island near the coast while the Dauis-Panglao Road goes lengthwise through the center of the island to connect the two main towns.
Tricycles
and
habal-habal
(motorcycle taxis) are abundant, with prices for a ride. Frequent
jeepney
cruise the island with rides as low as .
See
In the highly developed Alona Beach area where many of the tourists stay, tours can be organised to various diving sites.
Hinagdanan caveThere is a tiny lagoon inside a coral cave. Enjoy a dip in a fresh water. The cave is completely dark, the guides have a flashlight. The admission is around . To get here, you can take a bus or mini van towards Panglao island from Tagbilaran. If you tell them you are going to Hinagdanan cave, they will know what intersection to drop you off at.
Do
Massages are available on the beach. for an hour Swedish massage.

Buy
7-Eleven convenience store. Alona Beach.
BPI Bank ATM Alona Beach. It takes Mastercard & Visa Card with a P250 fee for overseas cards (May 2019).
Eat
Both the towns have some restaurants, including some candelaria which are plain cheap Filipino places, with food that is always filling and often quite good, Almost every resort has a restaurant, the airport has several, and there are a few more here and there around the island.
The heaviest concentration is along Alona Beach which has a few dozen tourist places — mostly international cuisine at mid-to-high prices — plus some chains like McDonald's and
Dunkin Donuts.

Drink
Most restaurants also serve alcohol, except for some of the candelaria. On Alona Beach, many are more bars with food than restaurants with drinks, and quite a few have live music in the evenings.

Sleep

There are hotels, mostly beach resorts, all over the island. Alona Beach in particular has a everything from luxury resorts to backpacker hostel dorm beds from ₱350.
At peak times, like Christmas and Easter, it is quite difficult to find accommodation unless you have booked well in advance. Many of the hotels are on the usual hotel booking sites.

Go next
The entire island of
Bohol
is right next to Panglao, with
Tagbilaran
city lying just over the bridge connecting two islands. Bohol's main tourist attractions are tarsiers (rare small primates) near
Corella
, and the
Chocolate Hills
. Tours to either are readily available from Tagbilaran, and many of the hotels on Panglao can make arrangements for them.
Anda
is another beach destination on Bohol, quieter and less crowded than Panglao.
Other places are easily reached by ferry from Bohol, mostly from Tagbilaran. Two nearby and much less touristy islands are
Camiguin
(ferry from
Jagna
) and
Siquijor
. Cities that are popular tourist destinations are
Metro Cebu
and
Dumaguete
. There is also a ferry from
Ubay
, on the eastern side of Bohol, to
Maasin
on
Leyte Island