Paniyeli Poru
Paniyeli Poru
is in
Ernakulam
District of
Kerala
state in
India
.
The Periyar River flowing through rocks and between dense rain forests is an amazing sight. The vast view of distant green hillocks and the tranquility around the place is really great.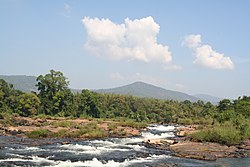 Understand
A canopy of trees, sweet warbling birds and the crystal-clear water of a lovely river. This is Paniyeli Poru, a serene, scenic picnic spot. It forms part of the Periyar River and is located at Paniyeli, Vengoor near Perumbavoor. This little-known destination is fast attracting tourist attention. This place is now a favourite location for filmmakers, with many Malayalam, Tamil and Telugu films shot in its backdrop.
Mid-November to end of May is the best time to visit as the water flow will be reduced during this time thus exposing the rocks and whirlpools.
For adventurous travellers, a little known picnic spot, on the outskirts of Kochi, awaits you. Paniyeli Poru, near Vengoor, Perumbavoor, has natural water falls, small rivulets, offshore surrounded by rich flora and fauna, where the visitors can sit, relax and enjoy the beauty of nature. There are no restrictions, but the visitors must be cautious.
Resting by sitting on the banks of the river surrounded by dense trees is a unique experience. The sweet, melodious sound of birds, the bustling sound of water waves makes your heart, mind and body cheerful. The river Periyar flowing in between two main lands Malayattoor in the north and Paniyeli in the south, provides a panoramic view to the visitors. The hilly terrain of St. Thomas Mount, western Ghats, the famous kraal at
Kodanad
forms part of Paniyeli Poru.
History
The name 'Poru' (which means 'fight' in Malayalam) was derived from the old custom of raftsmen fighting with the unruly waves and deep vortex to sail out from the area. The raft forms after bamboo cut from the Edamalayar forest, tied as logs. It was the old practice of bamboo cutters, to carry logs to destination like Kalady and Malayattoor, through river Periyar. Only an experienced raftsman could sail the log through the unruly water here. The area, where the rafts man fights fiercely against these adversities, was later called by Poru. Nowadays logs of bamboo cut from the forest are carried away through the road in vehicles.
Poru came in to the limelight of tourist map in 2000-01. Heavy rush of tourists appear on Saturdays, Sundays and public holidays. During summer season in March-April, people in large numbers throng here to escape from hot, sweaty conditions. A bath in fresh, crystal clear water of Periyar makes your body and mind cool and fresh. Beware of the death trap between the strata of rocks connecting mangroves existing in the river belt. Do not immerse in deep and farther water. Don't step in to water after consuming liquor. The rocks in between the mangroves is slippery due to the in flow of gushy dam water and rain. Normally, the concerned department announce in advance, the opening of shutters of Edamalayar and Idukki dams.
Landscape
Flora and fauna
Climate
Get in
Paniyeli Poru is 55 km from
Kochi
. The nearest railway station is
Aluva
, 35 km from this place. Poru is 20 km away from
Perumbavoor
, the nearest town. From here take a left deviation from the MGM School Junction, Kuruppumpady, on the busy Aluva-Munnar (AM Road) road. There are bus services from Perumbavoor to Paniyeli on one hour duration. You must walk at least a kilometre to Poru after alighting the bus at Paniyeli. Jeeps and motorcycles can take you up to entrance office. The roads to Poru are not tarred and in very bad shape. It is better to leave the cars and scooters and trek all the way.
Fees and permits
As this property is under the Reserved Forests and under the control of Kerala State Forest Department, a pass of a nominal fee is needed at the entrance to this area.
There are forest department volunteer guards available there and they are of great help.
No liquor is allowed in this area. Also, this is a no-plastic zone. You are not allowed to carry any plastic items to the area. Entry passes are valid for times between 8AM and 4PM.

Get around
Although the dense forest on the shore of Periyar is devoid of wild animals, deer, pig, and python can be seldom seen. Leeches are also rampant along the pathway leading to Poru. The milky waterfall at Poru can be seen from the distant shore. It is risky to reach there by crossing over the strata of rocks and mangroves. Even during hot summer, when water level falls, it is dangerous to cross over the strata of rocks, unless vigilant. It is advisable to enjoy the beauty of water bursting, by sitting on the shore. Even if the water level is below buttock level, the gap between the rocks may be slippery and fathom. Even a good swimmer cannot with stand and tide out of the strong water currents here.
There is no organised rescue system in Poru now. It is the locals who come into the rescue of those who fell into trap. The visitor some times, under estimate the tranquil of water in the surface. A little distance away from the bank of the river is advisable for swim and bath. Even though the water level may be buttock bottom, the fathom can be dangerous. Many have fallen here fatally after hitting on rocks, while slipping away.
The nearest fire and rescue service is at Perumbavoor, 20 km away from Poru. More over, the fire force is not equipped with the rescue operation of this type. Those who slip away in the water currents, cannot be saved by the traditional away of rescue operation carried out by the Fire force. Dwellings, a little in number are situated 1-2 km away from the water falls.

See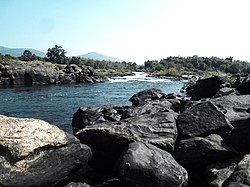 Tickets should be bought from the forest department counter at the entrance. Rate is ₹10/person, ₹100 for video camera, ₹5 for 2-wheeler, and ₹10 for 4-wheeler and ₹20 for heavy vehicles. You must park the vehicle 500 m before the river and walk.
It is best to visit in summer as the river is safer.
Nature walk along the river is rejuvenating and there is a tree house from where you can enjoy the scenic beauty and tranquility.
Place is closed at 5PM for visitors.
There are no guides available.
Do
Just spend the time on the banks of the Periyar River enjoying the tranquility. During the summer, the area around Poru is very cool and refreshing.
Walk around the banks and if you like, you can go half way across the river by walking on the tops of rocks.
This is a good scenic photography location.
Trekking
Trekking from Poru to Bhoothathankettu (around 20 km) along the riverside, through the dense forest, is around 6-hour trip and refreshing. Local guides can be available.
Trekking, crossing the river, to Malayttoor is another option and need permission from Forest department - try to go with guides, this area is a natural habitat of elephants.
Surrounded by trees, chirping birds and the sound of the river as it flows by makes it a perfect weekend escape. Mangroves are formed on several strata of rocks. These rocks are the perfect place for visitors to relax.
Of course, they must be extra careful while trying to step between the strata of rocks. From here there is a panoramic view of the hills on top of which is situated the famous shrine of St. Thomas and the imposing Western Ghats.
The Periyar flows from east to west through Malayattoor and Kalady in the north and Edamalayar and Perumbavoor in the south. The reserve forest area here comes under the jurisdiction of the Divisional Forest Office, Malayatoor. The forest headquarters is at Kodanad, nearly 10 km from Poru.
The water here is a veritable death trap. Though the water may not be very deep at most places there are strong undercurrents that can sweep you away. Many have lost their lives after being swept away and crashing against the rocks. Efforts are on, with the initiative of the Vana Samrakshana Samithy, to form rescue teams and guides. On holidays, two policemen from the Kuruppampady police station, nearly 15 kilometres away, are posted at this place to curb anti-social activities.
There are no houses around except for a small shop that also doubles up as Poochakkara Rajan's residence. It is therefore advisable that tourists carry food packets and drinking water. Rajan also provides this service if he is contacted well in advance. Despite all these limitations tourists flock to this place, especially during Sundays and holidays.
Buy
Wild honey and other forest products like eucalyptus oil, incha, kalloor vanchi, kasthoori manjal, thelli, gramboo, elachi, sandal, sandal oil are available at the Vanasree counter.

Eat
Carry your own food and water as there is only ice cream available near the entrance.

Sleep
Lodging
Nearest available lodging is at Perambavoor town. The newly opened Kodanad-Malayattoor bridge connects this place to Malayattoor and Kalady. There is one hotel available at Malayattoor and few hotels are available at Kalady as well.
Whispering Waters is a premium resort at Paniyeli Poru. Elephant Pass is another resort near the Kodanad elephant training centre, which is about 10 km from this place.
phone: +91 9744555606

address: Paniyeli

Farm stay at holiday home

Thaaliyola resort and wellness centre

phone: +91 0484 2611877

Ecotourism resort and Ayurvedic wellness centre that offers recreation, Ayurvedic spa and massage along with a lot of activities including trekking, jeep safari, etc.
Camping
phone: +91 9744555606

address: Paniyeli Post

. Over 30 campers can camp.
Backcountry
Stay safe
Though Paniyeli Poru is of stunning scenic beauty, it's one of the most dangerous water bodies in Kerala. The strong water currents and deep vortex formed between the strata of rocks and mangroves can be dangerous. Youths in inebriated condition have fallen here fatally. Beware of the strong under currents before stepping into the water. The slippery rocks and pebbles may lead to danger. The deep shafts between the rocks are tricky and if you lost into this, it's difficult to be saved. Nearly 150 people have died here during the last one decade, the latest casualties being the death of three Delhi students and a homestay owner on 16 December 2016.
No amenities here - please bring your water and food.

Respect
Kerala Forest Department urges you to follow a no trace left behind policy. What ever you bring, please keep every waste in your own carry bag and throw to a garbage box in the next human inhabited area.

Go next
Abhayaranyam is located at Kaprikkad village, which is about 9 km from Paniyeli. This is an eco-tourism centre where rescued wild animals are sheltered and protected in about 200 acres of natural forest. Visitors are allowed Tu-Su from 8AM to 5PM.
Kodanad Elephant Training Centre - about 11 km from this place. This was a popular tourist destination in the past with several elephants and hundreds of animals and birds. Most of the animals were moved to Abhayaranyam and birds were moved to various other places. As per new government orders, capturing elephants is no longer allowed, so no elephant training is going on here. There are some parks and places for picnics which get a lot of use.
Haritha Bio Park - 5 km from Paniyeli Poru.