Panjin
Panjin
(盘锦; Pánjǐn) is a city in
Liaoning
Province in
China
.
Understand
Located on the wide flat wetlands near the mouth of the Liaohe River, Panjin has become famous for its birds and wildlife. The city is also a major oil producer. Phone code for the city is 0427.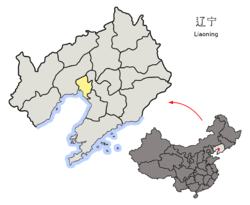 Get in
There are Chinese day tours from Shenyang and Panjin (right at the Railway Station's Square) to see the red beach.

By train
Panjin has two train stations and connect to most Chinese cities. Panjin North Railway Station is far away from city center, and Panjin Railway Station is more convenient for visitors.
Trains from Shenyang to Panjin take from 1h15m (G train) to 2h30m (K train). Keep in mind if one arrives at Panjin North Railway Station, prepare one more hour to get into the city center.

By bus
There are three long distant bus stations in Panjin. Buses serve to most northeastern Chinese cities and towns.
Panjing Long Distant Bus Station 盘锦长途客运站: right next to the Railway Station, phone: 0427-2823997
Panjin Bus Station 盘锦客运站: at XinLongTai District, Taishan Rd 145, phone: 0427-2812172
LiaoHeYouTian Bus Station 辽河油田客运站: at XinLongTai District, Shuangxing Rd 199, phone: 0427-7802472

By plane
Panjin is 120 km from Shenyang TaoXian International Airport, 260 km from Dalian ZhouShuiZi International Airport, 100 km from Jinzhou XiaoLingZi Airport.

Get around
With sights spread out, bus and taxi are usually needed.

See
Red Beach Scenic AreaThis is a National Nature Reserve area covering 20 square kilometres. Rare birds can be found here. The site gets its name from the unusual colour of the beach seaweed which is bright red. A local delicasy is crabs. Most tours of the Red Beach will include a change to sample one of these crustations yourself.
For advanced travellers who refuse to join tours, there are minibus to Red Beach Resort at the front of LiaoHeYouTian Sport Center 辽河油田体育馆 (add: No.110, Xinglongtai St). The bus departs daily at 7, 11, 15, 17:10 at sport center, and is back from Red Beach Resort at 6, 8, 13, 16. Minibus costs 7 RMB and takes around an hour. From the Red Beach Resort, tuktuk, taxi or minibus are required to reach the Red Beach, and bargain is necessary. By July 2015, the golf carts in the beach area are not running anymore, and visitors need to hire their own vehicle in the beach (tuktuk, taxi or minibus).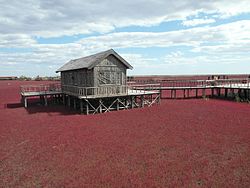 Panjin Forest Park

Liaohe River Forest of Steles

Xin Yuan Ecological Park

Panjin Equestrian Club

phone: +86 2921001

address: Xinglongtai District (兴隆台区; Xīnglóngtáiqū

Lakeside Park

First Sino-Japanese War Martyr Cemetery

Liaohe River Forest of Steles

Zhong Xing Park

phone: +86 2881028

address: 100 Mount Tai Road, Xinglongtai District

Clams Kong Scenic Area

The Zhang's Cemetery

address: Dongfeng Town Ye Village 东风镇叶家村

Family cemetery for Marshal Zhang XueLiang.
Eat
Panjin's rice and river crab are famous. At bus and train stations one can see people bringing bags of Panjin rice back home.

Go next
Shenyang
, the capital of
Liaoning
Province, and
Dalian
, the seaside city, are both conveniently connected to Panjin by train and bus.
At the southwest,
Huludao
, which has
Xingcheng
Ancient Town,
Qinhuangdao
,
Tianjin
and
Beijing
are all easily reachable by train and bus. At southeast,
Dandong
, which is the border city with North Korea, is also reachable.