Paphos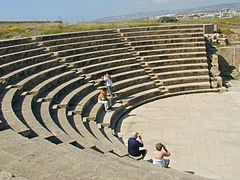 Paphos
(
Greek
: Πάφος, also
Pafos
;
Turkish
:
Baf
) is a town at the southwestern tip of
Cyprus
, between the coast and the Troodos Mountains. The city is inscribed on the
UNESCO World Heritage List
.
Understand
Paphos is renowned as the birthplace of Greek goddess
Aphrodite
. Modern-day Paphos is divided in two, with the upper section up the hill being the commercial center, and lower
Kato Paphos
containing the main archaeological points of interest, as well as most hotels and tavernas.
The local government seem to be ploughing a lot of money into improving the lower
Kato Paphos
area which combines hotels, bars and restaurants along a coastal strip a few km long. Most of the work is now finished as of November 2008. There is a newly built front leading round to the marina and a long coastal path with amazing views - perfect for a morning or evening stroll.
Paphos is the European Capital of Culture for 2017, together with
Aarhus
in
Denmark
.
Get in
By plane
Paphos AirportThe small airport serves mostly charter flights. Flights to Paphos are widely available from charter flight companies from many of the UK's regional airports, from Exeter in the South-west to Glasgow and Edinburgh in the North. Many tour operators including First Choice and Thomson fly regularly. Flights to Paphos are also available using the scheduled services from British Airways and Cyprus Airways. This can be one busy airport, particularly departures on Wednesdays. The airport is relatively small and can have 6 or 7 flights taking off around the same time, it can be murder!! Once you have managed to check in and make your way into the departure lounge, you will need to keep your eyes and ears open to listen to the rather 'muted' announcements. If the thought of a busy Paphos airport puts you off then why not head off to Larnaca - and have the same problems on a bigger scale - really though the problems appear no worse than any other airport in the world on a busy day! A highway connects to Limassol (68 km) and from there onward to the rest of Cyprus, and shared taxis (€5-10) run reasonably often. Ryanair also has flights from Paphos int. airport to many European airports for example to Budapest,to Thessaloniki, to Kaunas etc....
Get around

Paphos town is small enough to navigate on foot however the travelling around the region of Paphos will require motorised assistance! Local bus services are available however hiring a vehicle (bike/quad/car) is common place and allows for going off the beaten track to find small villages in the hills. It gets hot and humid in summer (33 °C and 90% humidity) from between late June through to early September. The rest of the year is relatively mild, with colder spells in January & February.

See
Paphos Archaeological Park

phone: +357 26 306217

Houses a number of attractions, including the House of Dionysos and the House of Theseus, both ruins of large Roman villas famous for their mosaics.

The Tombs of the Kings

phone: +357 26 306295

Whilst not actually the burial place of ancient royalty, is worthy of the name nonetheless. Within this vast expanse of land, instead of the kings, would have instead been other high officials and rich citizens. Although all of the tombs have been plundered, what is left is still a very impressive impression of life (after-life?), back in the fourth century. The larger tombs in this "complex" are awesome, carved out of solid rock and with a view for the inhabitants that would make anyone among the living jealous!

Paphos FortAt the tip of the marina, is a squat box with a colourful history as a fort and prison under many administrators. The present incarnation was built by the Turks in 1586 and was last actively used by the British.
Do
Paphos ZooA large animal park located in Pegeia (Πέγεια), north-west of Paphos.

The OdeonA classic Greek amphitheatre within the archaeological park, occasionally holds plays and musical performances.

phone: +357 26 913638

A large, impressive, and very nicely themed, water park. Plenty of slides to keep all ages amused, as well as lazy river rides, wave machines, and everything else you've come to expect from the best water parks.
Buy
Leather goods, Lace, Yeroskipou delights, Beware of stores selling copy DVDs these appear a bargain but are often poor quality and a waste of money. Also check the store's 'returns policy'. Some do not offer refunds or exchanges on faulty goods!
Overall shopping in Paphos is a pleasurable experience, with its shops spread out from the numerous quality furniture stores on the road to Polis to the small independent tourist shops on the harbourside.
There are a number of supermarket companies in Paphos:
Orphanides

Papantoniou

Carrefour

LidlDiscounted products.
Eat
Paphos offers a wealth of choices to eat from world known Western KFC & McDonalds to five-star dining at
iL Classico
,
Colosseum
etc and at many of the hotel restaurants. There are limitless choices from Chinese to Mexican and from traditional Cypriot meze to Pizza/Pasta. You must try traditional Cypriot fare, but if at all possible venture out a little into one of the villages surrounding Paphos town for not just authentic food but great atmosphere, either NE towards the mountains or should you want to travel a little further West call into Kathikas village where there are a multitude of traditional tavernas.
Koh-i-noor

phone: +357 26 965544

A very good restaurant with Indian, Italian, Greek menu. Situated near Venus beach hotel. The average bill for supper - 40 euros for 2 people with glass of wine.
Drink
Accompany any traditional Cypriot dish with wine from the Nelion Winery, Vasilias Nikoklis inn offers a variety of local wines starting from Cyprus aperitif zivania, the Refreshing roze, the dry white wine the medium sweet white and red, the ofthalmo and the shiraz.

Sleep
Palm Tree Oriental House & Homestay

phone: +357 9676 1124

address: 7 Agiou Georgiou, 8728 Skoulli

Stone and marble villa originally made in 1680s. Available for long-stay, too.
Go next
Tala Village - found high up north west of Paphos, Tala is a pretty traditional village, now with a large expat population but with beautiful Agios Neophytos Monastery nearby and a good range of popular restaurants.
The Akamas Peninsula - located in the far west of Cyprus. Paphos is the closest major city to this area of outstanding natural beauty. A day may not be enough to explore the deep gorges the wild landscape and the sandy bays. This is an area of great biodiversity and ecological significance. Home to 530 plant species, a third of the total for Cyprus, 126 of which are endemic to the island Cyprus. It remains largely unspoilt to date mainly thanks to its inaccessibility.
The Diarizos river valley an unspoiled paradise for birdwatchers and nature lovers. Drive through Nikoklia village towards Troodos mountains and enjoy the views.Scenic little villages, family runed inns and wineries.