Papua
Papua
, also known as
Western New Guinea
and formerly
Irian Jaya
, is the easternmost part of
Indonesia
. It comprises the western half of the island of
New Guinea
, the world's largest and highest tropical island, while the eastern half is the independent country of
Papua New Guinea
.
Papua retains many traditional cultures and is home to some of the richest biodiversity in the world.
Lorentz National Park
, a UNESCO World Heritage Site and the largest protected area in the Asia-Pacific region, ranges from Papua's southwest coast to its central mountains.
Cities
- the capital and largest city
- staging post for one of the world's largest mines
- gateway to the Baliem Valley
Other destinations
- the home of the famous penis-gourded Dani warriors
- the largest national park in Asia
- home of the world's richest reefs
- home of the world-renowned Asmat woodcarvers
Understand
Papua
consists of the provinces of
West Papua
and
Papua
in Indonesia.
History
Like the rest of Indonesia,
West Papua
was part of the Dutch East Indies before World War II. However, after Indonesian independence, the region remained under Dutch rule for some time. Elections were held in the territory in 1959 and an elected council took office in 1961, in preparation for full independence from the Dutch. However, the Dutch handed the area over to a UN temporary administration, who in turned gave it over to Indonesia in 1963. A controversial plebiscite known as the
Act of Free Choice
, held in 1969, resulted in an improbable 100% vote in favor of joining Indonesia. The region, renamed first as
Irian Barat
(West Irian) and then
Irian Jaya
(Glorious Irian) has been under heavy Indonesian military control ever since, with the outgunned
Free Papua Movement
(
Operasi Papua Merdeka
or
OPM
) fighting for independence.
The name
Papua
was restored in 2000 in a sop to the nationalists. The province was split into two in 2003 in a very controversial move, with the Bird's Head Peninsula and surrounding islands becoming
West Papua
(
Papua Barat
). A further split, to create a third
Central Papua
province, was abandoned due to fierce opposition.
Culture
Comprising the western half of the island of New Guinea, the world's largest and highest tropical island, Papua is incredibly diverse and different from the rest of Indonesia (or, for that matter, anywhere else in the world). Despite of a population of under five million, Papua is home to over 250 languages and retains many traditional cultures that were until very recently "still in the Stone Age". Cannibalism and headhunting were practiced in some areas until the 1970s or later.
Terrain and ecology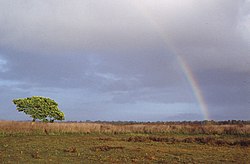 A vital tropical rainforest with the tallest tropical trees and vast biodiversity, Papua's known forest fauna includes marsupials (including possums, wallabies, tree-kangaroos, cuscuses), other mammals (including the endangered long-beaked Echidna), many bird species (including birds of paradise, cassowaries, parrots, cockatoos), the world's longest lizards (Papua monitor) and the world's largest butterflies. The island has an estimated
16,000
species of plant, 124 genera of which are endemic.
The extensive waterways and wetlands of Papua are also home to salt and freshwater crocodile.
The interior of Papua is home to some of Indonesia's highest mountains, including snow-capped ones.
Large parts of the equatorial glacier fields in the highlands remain largely unexplored. Protected areas within Papua province include the
Lorentz National Park
, a
UNESCO World Heritage Site
, and the
Wasur National Park
, a RAMSAR wetland of international importance.
Get in
Travel permits
(
surat jalan
) are required for all travel in Papua beyond the main coastal towns. The list changes randomly, but
Jayapura
and
Biak
are generally permit-free, and
Sentani
,
Manokwari
and
Sorong
are usually fine. Permits are mostly easily acquired in
Jayapura
and
Biak
, where they're usually obtainable in one day, although they are usually available at the other non-permit towns as well. Two passport photos and a token administration fee (
Rp
5000 or so) are required.
The permit must list
all
the places you're planning to visit, no changes allowed, unless you get a new one in a main town. Whenever you arrive in a new town in Papua, you have to get your permit stamped at the police station. Make lots of copies, you'll need them for hotels and such.
Despite the claims of some embassies to the contrary, no permits are required for travel
to
Papua. It's best not to mention Papua at all when applying for a visa.
By plane
Although Papua can be accessed either by water or air, almost all travellers travel by air. The main gateway is Sentani Airport in
Jayapura
(
DJJ
), but there are also frequent flights from some major Indonesian cities to Biak (BIK), Manokwari, Sorong (SOQ) and Timika (TIM). There are some direct flights to Papua from Jakarta, but for most destinations and carriers a stopover is necessary, usually in Makassar.
Wamena Airport (WMX)

By boat
Pelni boats also stop at Jayapura and Farfak, among other destinations. This is a relaxing and interesting way to arrive if you have the time.
PT. Pelayaran Nasional Indonesia (Pelni) operates ferry services from other parts of Indonesia and within Papua, with serviced places on the island including Biak, Serui, Nabire, Sorong, Fakfak, Timika and Merauke. (Reports indicate it takes approximately 2 weeks from Jakarta to Jayapura; it takes 2½ days from Jayapura to Nabire)
provides 3-class service, consisting roughly of economy, premium and first class. Economy class lodging and service provides for a 2.5 x 7ft bed arranged side-by-side with other beds and comes with minimal meals and sanitary facilities (public bathroom). Premium class service consists of a 4-bed room with basic meal services and small private bathroom. First class service nearly identical to premium class, except that the room features a window for a view outside.
Each ferry ship also features a mini-movie theater, restaurant (for those who prefer to eat something more than the provided meals).

By land
The only land border crossing between Papua and Papua New Guinea open to foreigners is on the north coast between Jayapura and Vanimo (PNG). There is no public transport across, so car or motorbike hire for some of the distance is required. Advance visas are required.

Get around
Most of Papua's main cities are not connected by road, but Trans Papua Sorong-Manokwari-Bintuni with almost 600 km length has been finished (the other sections of Trans Papua are being built). Cars can drive easily along the route, but should be prepared by own for any car troubles (tyres, machine, parts, mechanic) and also fuel fullfilment. Flying is a practical option for covering longer distances. Boat charter for river travel is surprisingly expensive, the price going from USD50/day for a simple canoe to a whopping USD500/day (including gas) for a motorized outboard, but the price is downward gradually, because the subsidised fuel price nowadays is same in all over Indonesia since 2017. The problem in Papua is there are only limited formal fuel pumps, but private fuel vendors are available and the prices are different from place to place and depends on how far the nearest formal fuel pump is available.
Since most cities which are scattered across the island, usually almost all travel within the Papua region is done by air. Big airlines such as Garuda, Sriwijaya and Wings Air (a subsidiary of Lion Air) hop between major cities in Papua. Smaller airlines including Trigana Air Service, Aviastar, Nusantara, Susi Air, Xpress Air and quite a few others do regional hops between small cities and towns. By special request, special charter flights to one of the more than 300 very remote villages can be scheduled with charter airlines such as Susi Air and Mimika Air or with flight organizations such as Associated Mission Aviation (AMA), based in Jayapura. If you are very lucky, you might be able to catch a cargo plane ride (no seat belts!) from Wamena in the
Baliem Valley
to Jayapura for a mere Rp 50,000-100,000. But for safety, Wings Air and Trigana Air Service have scheduled flights between those two cities.
Susi Air to local destinations across Papua. +62 811 211 3080
Trigana Air. +62 967 535 666
Lion Air provides budget flights to and from various parts of Indonesia, and regional flights between major cities in Papua. +6280 4177 8899
See
Do
Wear a koteka - the traditional Dani dress for men.

Eat
Native Papuan food usually consists of boar with tubers such as sweet potato.

Stay safe
The
Free Papua Movement
(
Organisasi Papua Merdeka
or
OPM
, pronounced "Oh Peh Em") continues to operate throughout Papua and all of Papua's major cities have seen violently suppressed riots. The OPM has also kidnapped Western hostages on two occasions, although their targets are mining company employees and Indonesian security personnel, not tourists. OPM now focuses on Timika (Freeport Mining City) to kill the army and shoot the Freeport convoy which carries Freeport personnel. Other areas including Jayapura, the islands surrounding Papua and West Papua Province are relatively more safe. There are also some tribes who fight with bows and arrows, but visitors are very unlikely to be injured in the crossfire.
Drunks
can be encountered virtually anywhere especially during nighttime. Avoid contact and/or confrontation with them, but if this is unavoidable, never engage in a fight.
Use caution when driving around the streets in a vehicle. The traffic can sometimes become heavily disorganized, and in addition, there may be many
juveniles without driver's licenses
driving motorcycles on the roads. Should an accident, major or minor, occur, be aware that often, the non-local would be blamed for the accident unless police intervene, regardless of whether the accident was really his/her fault. Always wear a helmet when driving a motorcycle.
The electricity service in Papua is not reliable in many places, and blackouts and brownouts do occur at times. As a precaution, make sure that any valuable electrical or electronic devices are protected with a protection unit such as a mini travel adapter with built-in fuse.
Large
saltwater crocodiles
can be encountered in all low-lying waterways and beaches.
Malaria
is endemic to the province. Precautions are highly recommended.
Streetside "kaki lima" food vendors often prepare food in unsanitary conditions. Eating from these vendors is not recommended unless one's immune system has been accustomed to these conditions through previous experiences.
E. coli
or
typhoid
may be contracted from contaminated food in the region.
Go next