Pará (Brazil)
Pará
, the second largest state in
Brazil
by area, is located in the
north of Brazil
and encompasses the mouth of the Amazon River.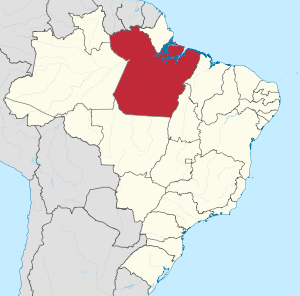 Cities
- the capital and terminus for a trip down the Amazon
- Henry Ford moved his rubber cultivation project here after he failed in Fordlândia
- a historic city where Henry Ford once tried to cultivate rubber.
- a small city near the end of navigable part of the Tapajós river.
- famous for some nearby ancient rock paintings.
(also known as Salinas) is a beach resort some 300 km from Belém.
- a small city located where the Tapajós river pours into the Amazon River
Get in
Val de Cans International Airport (BEL

)

Santarém-Maestro Wilson Fonseca Airport (STM

)
Eat
Among all the Brazilian states Pará has by far the heaviest influence of indigenous cooking. Many of these dishes will taste strange to an average European, but all are quite worth a try
Tucupí: A yellow gravy boiled from manioc, quite bitter, goes in many dishes.
Maniçoba: A distant cousin of the all-Brazilian Feijoada, easily shortlisted for worst-ever-looking-food. Mostly pork and manioc, served with rice.
Pato no Tucupí: duck with jambú (vegetable) cooked in tucupí.
Tacacá: soup with tucupí, dried shrimps and jambú.
Açaí: soup-like dessert made from the Açaí fruit.
Brazil Nuts: A nut native to the region.