Parañaque
Parañaque City
is in
Metro Manila
, in the
Philippines
. It contains the
Entertainment City
(E-City), the Little
Las Vegas
of Manila containing four huge casinos, and
Baclaran
, a residential and commercial neighborhood containing bustling flea markets, the Baclaran Church, backpacker inns and some nightclubs.
Understand
Parañaque lies to the southwest part of Metro Manila, surrounded by
Pasay
to the north, Manila Bay to the west,
Las Piñas
and
Muntinlupa
to the south, and
Taguig
to the east. It is largely a residential community just south of the
Ninoy Aquino International Airport
, full of large subdivisions, notably the affluent BF Homes, also a barangay in its own right. BF Homes also includes areas in Las Piñas and part of Muntinlupa.
The
Entertainment City
area, administratively part of barangay Tambo and Baclaran, houses the large casino complexes in the city, in sharp contrast to the chaotic scenes to the east. The area, developed by the national gambling corporation and regulator, Philippine Amusement and Gaming Corporation (PAGCOR) from 2002, lies on reclaimed areas on Manila Bay created during the Marcos administration through the 1970s and 1980s. The area is flourishing with the ongoing casino construction, which also causes a rise in land prices.
Baclaran
, once a peaceful fishing village, is a bargain hunters' paradise and a congested residential neighborhood today. It is home to the National Shrine of Our Lady of Perpetual Help (Baclaran Church or Redemptorist Church), a shrine dedicated to the Our Lady of Perpetual Help, and flea markets (
tiangges
) selling cheap goods at bargain prices. First time visitors, especially those from the airport, are easily overwhelmed by street scenes and the people, with peddlers, beggars, buskers, and vagrants sharing space with slow-moving cars and crowds of shoppers, residents and students, but behind the chaos are a laid-back nightlife scene and some backpacker accommodations.
The
Kabihasnan
area is the city's historic district, but is largely a congested residential area, with scattered slum areas.
The rest of Parañaque is characterized by large subdivisions, many being barangays on their own, and interspersed slums and family-owned compounds.
Sucat Road
(Dr. A. Santos Avenue), a tree-lined six-lane avenue, is the area's major thoroughfare. Shopping malls and most food destinations, including those in the subdivisions, lie on this part of the city.
The city has some visible foreign populations, mostly Chinese and some Westerners. White residents, often spouse of locals, often live behind the security of the large, self-contained subdivisions. Chinese migrants, generally workers, gambling operators and land developers, on the other hand, are mostly concentrated near Entertainment City and Baclaran, though their influx is not without negative effects to local businesses and land prices.
Get in
By plane, one arrives here at
Ninoy Aquino International Airport
, which straddles the city limits into nearby
Pasay
. Provincial buses, then from Cavite and Western Batangas – and soon, on all carriers that terminate at
Pasay
– come at the new multi-story airport-style bus station near the Entertainment City.
By bus
Provincial buses
Parañaque Intermodal Terminal Exchange

address: Diosdado Macapagal Boulevard, Don Galo

This is one of the three common bus stations being built to replace the scattered company-owned bus stations throughout Metro Manila; this one aimed on trips to southern Luzon and interisland routes that once depart from Pasay. It was formally opened in November 5, 2018 by President Rodrigo Duterte as one of his major infrastructure projects, and is expected to handle 200,000 passengers a day.
Until the opening of PITX, provincial buses terminate at the
Southwest Integrated Public Transport Station
(SWIPTS) on the derelict Uniwide Coastal Mall. Some buses by several companies still continue to Pasay; for example, DLTB travels to
Nasugbu
from Pasay via South Luzon Expressway and Carmona Exit. See
Pasay#Get in
for listings.
Provincial trips arrive at the second floor, and departing trips are at the ground floor. Tickets for outbound trips, regardless of distance, from PITX are prepurchased from the ticket booths. Buses depart from any of the 59 bays on the terminal's 10 gates. Watch for overhead screens for the gate and bay where you must board the bus.
Some provincial bus companies that now use PITX are:
There are
point-to-point buses
to/from Ninoy Aquino International Airport on UBE Express, and Makati CBD and Ortigas Center on DNS Transport.
The bus station provides more-than-average amenities, with air-conditioned waiting rooms, a interfaith prayer room, and elevators. Shops are slowly springing up at the terminal.
City buses
City buses elsewhere from Metro Manila also serve Parañaque, with the majority stopping at Baclaran or NAIA Road (MIA Road). Many ordinary (non-air-conditioned) city buses using SLEX make a stop at Sucat, where connections to jeepneys are available.
Bus routes serving Parañaque
Route
Termini
Operator
Service area
Notes
Alabang—Lawton via Coastal Road
Festival Alabang (Reinalyn Transport only, during mall hours), South Station (all times); Park N' Ride
Reinalyn Transport, Igan Transport, Alabang Transport Service Cooperative
Muntinlupa, Las Piñas, Parañaque, Manila
Alabang—Malanday via EDSA
Starmall Alabang; Puregold Malanday
CEM Transport; Roval Transport
Muntinlupa, Parañaque, Makati, Mandaluyong, Quezon City, Caloocan, Valenzuela
Ordinary buses only.
Alabang—Navotas via EDSA
Starmall Alabang; Navotas Bus Terminal, C-4 Road, Navotas
Muntinlupa, Parañaque, Makati, Mandaluyong, Quezon City, Caloocan, Malabon, Navotas
Ordinary buses only.
Baclaran—Navotas via EDSA
Starmall Alabang; Navotas Bus Terminal, C-4 Road, Navotas
Precious Grace Transport
Parañaque, Makati, Mandaluyong, Quezon City, Caloocan, Malabon, Navotas
Buses make stopovers on Diosdado Macapagal Avenue (DFA, Uniwide Coastal Mall) before terminating at Baclaran
Grotto—NAIA via EDSA, Fairview
Our Lady of Lourdes Grotto (San Jose del Monte, Bulacan); NAIA Terminals 1 and 2
San Jose del Monte, Caloocan, Quezon City, Mandaluyong, Makati, Pasay, Parañaque
Airport bus
If you are coming from
Ninoy Aquino International Airport
, you may take the
Airport Loop
minibus service to Line 3 Taft Avenue. Most Airport Loop services stop at Baclaran.
Minibuses ("baby buses")
The colorful minibuses (sometimes called "baby buses") serving coastal Cavite also serves Parañaque. Passengers alight either on NAIA Road or at the Baclaran minibus terminal.
By jeepney
There are many jeepneys in and out of Parañaque, most terminating at
Baclaran
From
Manila
, there is the
Baclaran-Divisoria
route, which plies Taft Avenue, but is suspended due to problem with drivers ending trips midway along the route.
From
Muntinlupa
, the
Alabang-Zapote-Baclaran
route has frequent service, but they take over a hour as they make many stops.
There are services from
Cavite
as well, most commonly ending at
Dasmariñas
. They ply the expressway on the final leg to Baclaran, but are not considered express services (there is no route from Cavite that completely uses surface roads).
Express service
There are a few
express jeepney services to Parañaque
; most use a surface road for most of the route, and taking the expressway for the remaining part of the trip.
Alabang-Baclaran via Coastal Road - Leaves South Station in Alabang, Muntinlupa, plies Alabang-Zapote Road and Quirino Avenue/Diego Cera Avenue and enters Manila-Cavite Expressway ("Coastal Road") at Kabihasnan, and makes a loop at Baclaran for the return trip, where they enter the expressway from Roxas Boulevard and exit at Bacoor. Service frequency is every 15 minutes, but often they are rush-hour service only.
Pacita-Sucat via South Superhighway - They leave San Pedro every 30 minutes and head for Sucat Exit. They really do not enter Parañaque, but there is a transfer to a jeepney headed for Baclaran from there.
By car
The
NAIA Expressway
(NAIAx), an elevated toll expressway opened in 2016, terminates at Paranaque, making this easily reachable by car from
Ninoy Aquino International Airport
. The older
Manila—Cavite Expressway
(CAVITEx, or its older name, Coastal Road), terminating at NAIA Road, is the major road access from the south. The
South Luzon Expressway
(SLEX) and
Skyway
also serves Parañaque, with exits at Sucat and Bicutan, but the Skyway exits are only accessible southbound.
From
Manila
, you might take
Roxas Boulevard
which terminates at the city, then continues as CAVITEx. A toll-free alternative from the south is
Route 62
(
Quirino Avenue
), which includes Diego Cera Avenue in
Las Piñas
, but it is a narrow four-lane highway through the coastal barangays of San Dionisio, La Huerta, Don Galo, and Tambo, which forms the "Kabihasnan" area.
Get around
If you use public transportation try
sakay.ph
, it will show you the right type to your destination.
By jeepney
Of among the public transport options to take, the ubiquitous jeepney is the common way to go around. Jeepneys ply the major thoroughfares of the city, and are almost commonplace, except in the affluent subdivisions and minor roads, where tricycles or walking is the option. You can find the route through their route names promimently displayed outside, in addition to the destination signs. The jeepney routes through Parañaque are as follows:
Alabang-Baclaran (via Kabihasnan or Coastal Road)
Sucat-Baclaran (via Sucat Road)
By taxi
By car
Bringing a car is not recommended because of its traffic jams, especially in its main thoroughfares, Dr. A. Santos Avenue (aka Sucat Road) and Ninoy Aquino Avenue, as well as lack of convenient parking spaces.
See
Despite having good transport conditions, Parañaque is not much a city with a good collection of sights, due to its sprawling and squalid nature. All that said, there are some few scattered sights around.
Baclaran Church

address: Redemptorist Road, Baclaran

This Modernist Romanesque church completed in 1958 is an important landmark for Baclaran, and provides a serene atmosphere away from the area's gritty side. Every Wednesday, devotees to the Our Lady of Perpetual Help and the international Redemptorist movement flock this church to pray.

Parañaque Cathedral

address: Quirino Avenue, La Huerta

The original church was founded 1580, but were torn down in preparation of the invasion of the Chinese pirate Koxinga. The present cathedral was rebuilt somewhere in the 18th century.

Battle of Don Galo monumentParañaque locals led by Don Galo, who became the namesake of the barangay nearby, helped the Spaniards to ward off an attack by the Chinese pirate Limahong off Manila Bay, but the waters nearby is now buried by land reclamation since the 1970s.

Manila Memorial ParkFounded in 1964, it is the first cemetery in the Philippines to open to cremations after the Catholic ban on cremating human remains. Among the most notable buried here are Ninoy Aquino, who was assassinated in 1983 upon arrival at Manila International Airport, which was eventually renamed in his honor, and Corazon Aquino, the first female president of the Philippines and also of Asia, who died in 2009 due to colon cancer; both lie together at a covered tomb at a block off Bouganville Avenue.
Do
Events
Gamble
Parañaque is a growing destination for gambling, and can be called a "Little
Las Vegas
of Metro Manila" for being home to enormous resorts and casinos that became integral to the city's economy. Integrated resorts and casinos are being built in the Entertainment City development on reclaimed portion of Manila Bay.
address: 1 Aseana Avenue, Tambo

Opened in 2013 as the first resort and casino constructed in Entertainment City. Solaire Resort and Casino houses 5-star hotels and a casino, as well as a theater and other entertainment facilities.

address: Aseana Boulevard

Originally planned as the Belle Grande Manila Bay, it is the second resort and casino to be built in Entertainment City. It houses six five star hotel buildings and a casino, as well as a animated movie-oriented theme park named DreamWorld Manila built with collaboration with DreamWorks Animation.

Okada Manila

address: Diokno Boulevard

It houses a large fountain and a man-made indoor beach.
Buy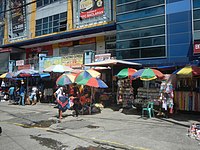 Perhaps one major destination in Parañaque is its major shopping center,
Baclaran
, home to its numerous
tiangges
(flea markets) flocked beside the streets. From the surroundings of Baclaran Church to the main streets of that area (Redemptorist Road, Taft Avenue Extension, and Quirino Avenue), you can find vast numbers of vendors selling almost anything, which you can purchase through haggling and bargaining for the best price. Indoor malls around the Line 1 Baclaran station also hosts numbers of
tiangge
vendors. Not also to forget are the
ukay-ukay
(used clothes) stores where you may find high-end brands at the least cost.
SM City Sucat

address: Sucat Road, San Dionisio

The first mall by the SM mall chain at the south of Manila, it has two buildings, connected together by a skybridge across C-5 Road Extension. Building A has a SM Hypermarket, and is larger, while Building B houses the anchored department store.
Eat
Tapa at Maty's Tapsilog in Don Galo
Sinangag Express

address: Phase 3 bf Homes Pque, President Ave Pque

A cheap place to get Tapsilog (fried beef strips, egg, and fried rice) for roughly . Different kinds of silogs (essentially just replace the beef strips with fried fish, corned beef, hotdogs, etc.) are also available.

A Veneto Pizzeria Ristorante

phone: +63 2 807-1028

address: 57 Aguirre Ave, BF Homes

Great pizzas for less than . Their Garlic and Anchovies pizza is to die for.
Drink
Jive Bar

address: Borakay, N. Aquino Ave.

Great food and music at an affordable price.
Sleep
Green Mango Inn

address: 365 Aguirre Ave

BF Homes, Sucat +63 2 8208730, 7102223 or 4151692. E-mail gh_realty@yahoo.com. Metro Manila's only garden-style bed & breakfast guesthouse with charming colonial-style architecture and handmade mother-of-pearl "capiz" seashell windows. Free WiFi for your laptop computers, also affordable internet computer. air-conditioning and free locker, or for each private room good for 2 persons. Hot & cold showers. All new rooms and facilities with international cable TV channels. Nice extensive free library. Big clean guests' kitchen, elegant patio for dining room under giant Mango tree (eat free delicious mangoes if in season!) and also beside organic vegetable garden (you can eat fresh vegetables here), lounge & social areas in reception lobby and in the veranda with orchids and hanging plants on pillars and walls. hot meals and also ice-cold delicious beers for sale 24-hours daily. No curfews.

phone: +63 2-8516934

address: 4227-4229 Tomas Claudio Street, Baclaran

36-bed fan dorm. Near the Manila Airport. You can book the MYH via email. A 24 hour a day jeepney from the end of the street goes to NAIA 1-2-4 is . It is looking very run down now days.

Cozee Monkey Backpackers Manila

phone: +63-9177132916

address: 10 Galatia street. corner Patmos street.

Four- to ten-bed fan or a/c dorms. Fully equipped Kitchen. Free Breakfast. Free Wi-Fi. Near the Manila airport. If you check in from 1AM till noon you pay .

The Town House Hostel

phone: +63 2-8331939

address: 201 Roxas Blvd

Fan double rooms, all with shared bathroom. You must leave to pay a deposit to stay which is hard to get back before 9AM. near Manila airport.

8817 Guest house

address: 8817 San Juan Street

8/13 bed fan dorms. 30 min jeepnry ride south of Manila airport.

Flor-Al Mansion

address: 1303-527 EDSA avenue

A/C single/double rooms with own bathroom and 40-inch cable TV. Free Wi-Fi.
Stay safe
Be cautious when venturing in Baclaran, as petty crimes are common, and better avoid entering unfamiliar areas that are home to criminals, street thugs, delinquent youth, and unsanitary and unsafe conditions.

Go next
Las Piñas - residential suburb, home to the Bamboo Organ church.
Muntinlupa - another residential suburb with a growing central business district and mid to high-class communities.