Paracel Islands
The
Paracel Islands
(Chinese: 西沙群岛, Xīshā Qúndǎo; Vietnamese: Quần đảo Hoàng Sa) are an archipelago in the South China Sea, administered by
China
as part of
Hainan
Province, but also claimed by
Taiwan
and
Vietnam
. They are a minor destination for patriotic Chinese citizens, not yet open to visitors from other countries.
Understand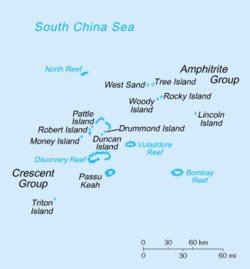 The Paracels now have a small population of Chinese residents, mainly fishermen, who are encouraged to move here in order to bolster the Chinese government's territorial claims. (Each resident receives a daily subsidy from the government.) The islands also receive cruises from mainland China; they're seen as a patriotic destination for Chinese tourists eager to help defend their country's territory.
China has announced plans to open the islands to resort-style tourism.
This tropical archipelago, about one-third of the way from central Vietnam to the northern Philippines, is composed of 130 small coral islands and reefs divided into the northeast Amphitrite Group and the western Crescent Group. It is surrounded by productive fishing grounds and by potential oil and gas reserves. In 1932, French Indochina annexed the islands and set up a weather station on Pattle Island; maintenance was continued by its successor, Vietnam. China has occupied the Paracel Islands since 1974, when its troops seized a South Vietnamese garrison occupying the western islands. The islands are claimed by Vietnam and Taiwan.
The weather is hot and humid.
Get in
Due to the sensitive security situation, China only allows Chinese nationals to visit the islands. Access is denied to foreign visitors and to residents of Hong Kong, Macau and Taiwan.
If you're dying to set eyes on these islands, at best you might be able to get a glimpse of them from the air. Flights between the
Pearl River Delta
(
Hong Kong
,
Guangzhou
, and
Shenzhen
) and
Kuala Lumpur
or
Singapore
sometimes fly over them.
By boat
There are cruises to the Paracels from
Sanya
, but again, they're only open to mainland Chinese citizens. Most of the cruises last four or five days and include visits to Yagong Island (鸭公岛), Quanfu Island (全富岛), and Yinyu Island (银屿).
By plane
It's possible for mainland Chinese citizens to fly to Yongxing Island (永兴岛, aka Woody Island) for day trips.
See

Singing and dancing performances are put on for cruise passengers.

Do

The islands themselves aren't very interesting. Until the planned resorts get built, the draw here is patriotism, not beachgoing. But you can participate in a Chinese flag-raising ceremony, sing the national anthem, and watch a film about the battle over these islands in 1974. And go for a swim.
Some cruises include diving.

Eat

Yagong Island has a seafood restaurant.

Buy

Handicrafts (bracelets and necklaces) and seafood are sold by the fishermen on Yagong Island.

Sleep

There are no hotels in the Paracel Islands. Cruise passengers sleep on the ship.