Paradise Island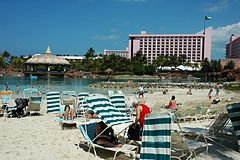 Paradise Island
is a small island just off of
Nassau
,
Bahamas
. It is dominated by the Las Vegas-style Atlantis resort, which is responsible for an amazing 11% of the Bahamas' GNP.
Get in
Paradise Island is connected to
New Providence Island
(Nassau) by two bridges (one incoming, one outgoing). There's an entrance fee of $2 per vehicle.
There is also a ferry from Paradise Island to the main land. The schedule for the ferry is somewhat regular, but they try to wait until it is filled before departure.
If you're sailing your own yacht, you can dock at
Hurricane Hole Marina
, which has 90 slips for yachts that can be over 200 ft in length.
Get around

Most people get around the island by taxi, plenty of which can always be found hanging around outside the resort entrances. Since this island is small, many choose to walk. There are car companies available for those who have ether large parties, have trouble getting around, or like to make a grand entrance. There's Bahamas Experience and Majestic Tours Unlimited Hillside Manor.

See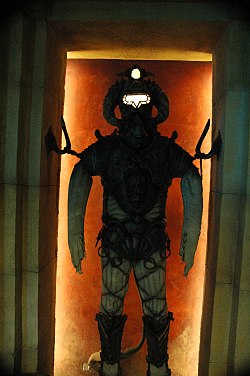 Sights within Paradise Island are concentrated almost exclusively in the Atlantis resort, and are accessible only to resort guests or to those who rent a day room for $220 and up (usable by a maximum of 4 people). While it's not too hard to sneak in even without a pass, the guards keep an eye out for visitors without pass bracelets and the odds of getting busted are high.
The Dig, Atlantis. As you may know, Atlantis was rumored to be a lavish island that existed many, many years ago that happened to submerge underwater. While no one can actually prove that it ever existed or where, people like to believe that maybe it was located in The Bahamas where this resort now resides. The dig is an underwater tour of the supposed ruins. There are several logoons that house sharks and manta rays including The Predator Lagoon as well as The Mayan Temple Shark Lagoon.

Joker's Wild Comedy Club

address: Between Beach & Coral Towers

Comedians perform.

Atlantis LIVEA concert series that The Atlantis Resort puts together. They feature popular performers from all different genres.
Do
Watch a Junkanoo Rush on Friday and Saturday evenings at Marina Village.
Take a walk To the Versailles Gardens and French Cloister. About a 15 minute walk from the Atlantis resort. The beautifully manicured gardens are part of the One and Only Ocean Club of "Casino Royale" fame but they don't mind visitors. Its the perfect place to have a picnic or a photo shoot. If you have a few extra minutes walk north through the Ocean Club and find the beach access. Walking back to your hotel along the beach is a great way to spend an evening.

Dolphin CayHome to a group of dolphins, sea lions, and manta rays. There are seveal different activities that you can partake in that will allow you to interact with the animals. From meeting the dolphins on the shallow end of the Cay to deep sea diving with them. You can see what it's like to train the sea lions or see what it's like to be an aquarist for a day. There is also a beach attached to the cay for those who would rather just sit back and spectate.

Aura Night Club9,000 square foot club with a glass dance floor. Located above the casino, adults may go to mingle with other guest on the island. The dance floor is surrounded by banquette seating and VIP areas.

Golf CourseEnjoy rounds of golf no matter what your skill level. There is the traditional 18 hole course with that poses a challenge to the experienced player. They also offer lessons at the Ocean Club Golf Academy for those who would like to sharpen their skill level.

SpaOffers Massages, Facials, Body Treatments, a Salon, and Teeth Whitening.

Family FunThere is plenty to do with everyone in the family no matter what the age range. There is a state of the art artificial rock for climbing, a library, a pottery house, and Gamers' Reef, an underwater arcade.

CasinoAtlantis offers a gaming casino with lots of different ways to play including card tables, slots, tournaments, and horse racing.

Walk with the sharksRight where the infamous Leap of Faith Slide is located, you can swim with the sharks that are in the tank that you shoot through when you go down the Leap of Faith. For ten minutes you get to walk on the floor of the tank with the sharks surrounding you, along with all the other fishes. A ten minute walk with the sharks is something you will remember for a lifetime!

Lazy RiverThe lazy river is for all ages where you travel around the whole outskirts of the water slides. You will enjoy the scenery of the resort along with waterfalls, rapids, and relaxation.

Water ParkTwo sets of water parks are located on the resort. You can race family members, go through shark tanks, take a leap of faith, or go to the power tower where you will enjoy four different sets of slide that takes you all the way down to the lazy river and back up again.

Pool GamesEvery day there are activities around the pool that the whole family can play and win Atlantis souvenirs. There are many games such as family feud, bingo, trivia challenge games and many more that the whole family can play against other families relaxing around the pool!

LagoonAt the lagoon, you can play around on many different boat toys or you can snorkel in the lagoon and look at all the colorful and exotic fishes that swim right up under your feet.

Water ActivitiesOn the beach of the Atlantis, you can do a variety of different things such as jet skiing, parasailing or banana boating.
Buy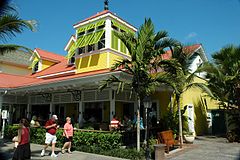 Marina Village, next to Atlantis. A shopping street built according to plans originally made for rebuilding Bay Street, the main shopping street in Nassau. A confection of pretty pastel houses, it's very pretty indeed and well worth a stroll, but the shops within are exceedingly pricey — you can find most of what they sell in Nassau at much lower prices.

Crystal Court ShopsThese shops offer some of the island's finest men and women's fashions.

Atlantis Logo StoresFor those who like the more traditional souvenirs plus something extra.

Pro ShopSports equipment and apparel available for rental and purchasing along with Tennis lessons.
Eat
Dune, Ocean Club. Good food, good service, great views and an incredible price tag: a fruit platter costs $22 and a bottle of water $10. But if you want to eat where James Bond did... Open to non-guests, just tell the gate attendant that you're eating there.

Asian CuisineNOBU. Chef Nobu Matsuhisa's famed restaurant. The restaurant's theme is a tribute to the Chef putting his own spin on traditional Japanese fare. A large bar and entryway provide seating for dinner guests as well as those simply looking to relax with a glass of wine or cocktail.
CHOP STIX. The cuisine is a mix of Chinese and Pacific taste.

French CuisineCAFE MARTINIQUE. Famed chef Jean-Georges Vongerichten brings his culinary expertise to the re-invention of the historic Cafe Martinique.

GrillBAHAMIAN GRILL. Traditional caribbean cuisine. MESA. Another option for traditional foods mixed with Southwestern taste. Celebrity Chef, Bobby Flay.

Italian CuisineCASA D'ANGELO. Enjoy a mix of Italian Tuscanny flavors with the original cuisine of the island.

MediterraneanCOUTYARD. Contemporary cuisine under the stars.

BuffetThere are several buffets for those who would rather enjoy a more casual setting. Mosaic, The Market Place, and Water's Edge.

Italian CuisineCARMINES a family style restaurant with huge portions for the whole family to share and enjoy.

GrilATLAS BAR AND GRILL- right in the heart of the casino, enjoy a delicious meal with all sports channels in the entire restaurant with a bar right in the middle to enjoy some drinks later on in your night.
Drink
Dune Bar, Ocean Club. If you want to check out the Ocean Club without paying through the nose for a room or dinner, this is your cheapest option. Open through the day and great sea views onto the beach. Drinks from $10, or go for the Royale Martini at $15.
Hurricane Hole, just east of the bridge (in the marina). Officially the Waterfront Bar and Grill, this is an un-touristy outdoor drinking joint frequented by a motley mix of locals and yachties from the marina. Very generously poured rum-based drinks from $3.50.
Sleep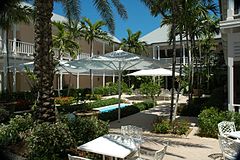 *, Standing on a spectacular 3-mile stretch of white sandy beach, the Hotel Riu Paradise Island has a prime location next to Atlantis. Riu Paradise Island offers the ultimate all inclusive Bahamas vacation coupled with Riu's outstanding services and features. At the Riu we're all about you—anything you need, at any time.
Stay safe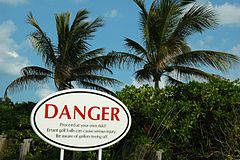 Signs around the Ocean Club warn of the danger of getting bonked on the head by an
errant golf ball
, which is indeed probably the main security risk on this heavily policed patch of prime property. By Bahamian law, all beaches are public property, but you can expect to get hassled if you go as much as one step on to private manicured lawns.
Go next