Paranaguá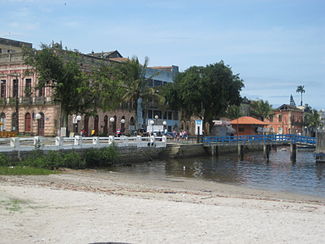 Paranaguá
is a port city in
Paraná
.
Understand
Paranaguá means "big round sea" in the Tupi-Guarani language, a reference to the wide bay that affords the city optimal conditions to function as an important port. The city was founded somewhere around 1550 on the island of Cotinga, and later expanded onto the mainland. The city preserves many of the oldest colonial remnants in
Paraná
. It also serves as a convenient departure point for
Ilha do Mel
.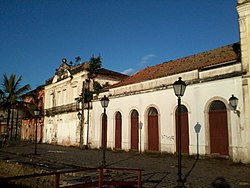 Get in
By car
By train
By boat
Paranagua is linked by passenger launch to
Guaraqueçaba
,
Ilha do Mel
, and Ilha do Superagui.
See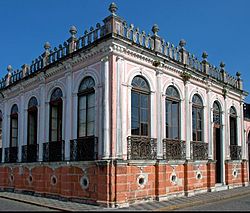 Beach roadThe road along the beach downtown holds the highest concentration of colonial remnants, including the Elfrida Lobo House, the Cecy House, the Monsenhor Celso House, and the former Customs House.

Church of Nossa Senhora das MercêsIt was built in 1677 and then demolished 22 years later, this hilltop church was reconstructed in 1955. 365 steps leading up to the church offer a charming view of the city and the sea.

Church of Nossa Senhora do Rosário

address: Largo Monsenhor Celso - Centro

Built by slaves in 1578, it was the first church in the state.

Church of São Benedito

address: Rua Conselheiro Sinimbú - Centro

Built by slaves between 1600 and 1650.

Elfrida Lobo House

Mathias Böhn PalaceBuilt in the late 18th century and renovated in the late 19th.

Museum of the Historical and Geographic Institute of Paranaguá

address: Rua XV de Novembro - Centro

Houses a collection of weapons, instruments, furniture, and other items dating from the 17th and 18th century.

Old FountainBuilt in the 17th century to furnish water to the people, this fountain is the among the oldest constructions in the city.

Padroeira do Paraná Sanctuary

address: Praça Padre Tomás - Rocio

Finished in 1813.

Paranaguá Archeological and Ethnological MuseumInstalled in a former Jesuit college completed in 1755, this museum has a collection of archeological finds and items from indigenous peoples of the area.

Visconde de Nácar PalaceFormer governor's palace, constructed around 1840.
Buy
Popular items to pick up here include handicrafts and black pottery casserole dishes made as in colonial times for slow cooking the local stews.
Armazém do Artesanato

phone: +55 41 3422-6278

address: Rua João Estevã 580

Local handicrafts.

Brasilian Souvenirs

phone: +55 41 3423-2532

address: Rua Faria Sobrinho 1488

Mercado do Artesanato

phone: +55 41 3423-2155

address: Rua General Carneiro, no number

Mercado Municipal Basílio Abud

phone: +55 41 3420-2924

address: Rua João Estevão 18

A typical Brazilian municipal market with food items, handicrafts, household items, and a whole range of other items.
Eat
Sea food can be had fresh daily. As in much of Brasil the best/economical places to eat are the "por quilo" or all you can eat restaurants; these are sprinkled throughout the downtown area.
Casa do Barreado

phone: +55 41 3423-1830

Specializes in the local version of barreado.
Drink
For the interested, there are many artesanal cachacas (sugar cane liquor) coming to market in Paranaguá.

Sleep
Several reasonable places downtown including a hostel right on the waterfront next to the passenger boat ticket office.
Hotel Camboa - Rua João Estevão, S/N. - Centro.
Hotel San Rafael - Rua Julia da Costa - Centro.
Hotel Palácio- Rua Correia de Freitas- Centro. Tel: +55 41 3422-5655
Hotel Lider - Rua Julia da Costa - Centro.
Hotel Monte Líbano - Rua Julia da Costa - Centro.
Go next