Parassinikkadavu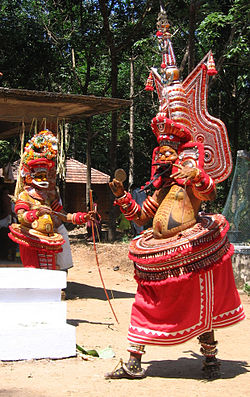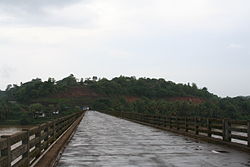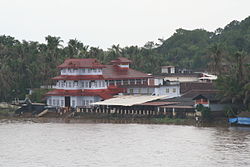 Parassinikkadavu
is a small riverside tourist town in
Kannur District
,
Kerala
,
India
. This is the only temple where the mild alcoholic drink called 'Toddy' is offered to the God at the temple.
Get in
Parassinikkadavu is half an hour by bus from
Kannur
. The nearest railway station is
Kannapuram
13 km.
See
Amalolbhava Matha Church

address: Pappinishery

Ganapathy Mandap

address: Puthiya Theru

Kerala Folk Lore Academy Museum

address: Puthiya Theru

Muthappan Temple

address: On the riverside

You can get an auto (₹20) for a ride down the winding road to the temple. Alternatively there is a direct footpath with wide steps. The temple has a simple layout and cute look. Unlike other Kerala temples, non-Hindus are also welcomed inside the temple because this temple is governed by an atheist organization who want to continue the traditions and get the income. The surrounding villages are dominated by Hindus of atheist variety. Very often, the womenfolk of these villages are deeply religious. This temple has no idol to worship, rather a ritualistic art-form (Muttappan Theyam) to worship.

Snake Park

Vellikkeel Eco ParkYou can go across the Vellikkeel Bridge by hiring an auto-rickshaw from Bakkalam to Pattuvam (₹200). Very beautiful mangrove swamps and an estuary.

Vismaya Park

address: Main Road

Kuttikkol Juma Masjidh

address: Taliparamba Road

Scenic mosque in the middle of a paddy field.

Munambu KadavuTraditional blacksmith workshop is the main attraction. There is a lighthouse in this island.

Parakkal Boat JettyTourist spot

Narath Boat JettyPhotogenic Place

Bhagath Singh IslandPicnic spot

Pamburuthy IslandVery silent place

C.H.IslandThe lighthouse is the main attraction here

Kolachery IslandOld cycle repair shop attracts many visitors

A.K.G.Island.Spectacular views from the tree house
Do
Island Walk

address: Kolthuruthy Island,

All coconut and arecanut. Beautiful bridge wide enough for a small car.

TrekkingTake the road left immediately before the Parassini bridge. Climb the little to the centre of the town. (4 km)

Village walk

address: Bakkalam

Bakkalam is an ideal village for a leisurely stroll. There are coconut plantations and paddy fields wherever you look. Walk on the Morazha road until you reach Vellikkeel bridge which is an extremely scenic place.

Vismaya Water Theme Park

address: Main Road

Parking facility for 100 cars, several rides, shops selling swimming clothes etc. This business venture is owned and managed by the local Communist Party.

Walk across the scenic Parassini bridge

address: Mayyil Road

Watch the Theyyam danceTheyyam is performed in the temples of Parassinikkaavu and surrounding cities during certain times of the year.
Buy
Jeyes World

address: Temple Road
Eat
Capane Bamba Restaurant

address: Puthiya Theru

Motel Aaram KTDC

phone: +91 4972780220

address: Dharmasala

Run by the government

Temple Dining HallFree food is given to all visitors. They offer tea with fried mung beans for breakfast. Lunch is traditional Kerala style vegetarian thali on a plantain leaf.

Village teashopsThere are two village tea shops in Parassinikkadavu bus terminus. Even though the seating arrangements are basic, the food is very clean, tasty and cheap. In Kerala, smaller restaurants of the villages offer good value for money. You can see people in big cars visiting these humble restaurants because the city restaurants offer a stereotype fare.

Indian Coffee House

address: Dharmashala

Two big restaurants: one is vegetarian and the other has meat options.

Vazhiyoram Restaurant

address: Dharmashala

Orchid Restaurant

address: Puthiyatheru

Highway Palace Restaurant

address: Near Koyili Hospital
Drink
Beer parlour at Motel Aaram KTDC Dharmasala 04972780220
Cafe Coffee Day

address: Dharmashala
Sleep
Hotel Park View

address: Temple Road

K.K.Lodge

address: Temple Road

phone: +91 4972780220

address: Dharmasala

Run by the government.

Sri Muthappan Tourist Home

address: Temple Road

Sri Shylam Tourist Home

phone: +91 497 278 4355

address: Temple Road

phone: +91-94000 08685

address: Parassinikkadavu

Government property.

Thai Resort

phone: +91 497 278 4242

address: Near Parassini Bridge

Thapasya Heritage

phone: +91 497 278 2944

address: Opp. AKG Building

Malabar Lodge

address: Dharmashala

Indian Coffee House Lodge

address: Dharmashala

Sneha Inn, Dharmashala
Go next