Paravur
Not to be confused with North Paravur, which is approximately 175 km to the north.
Paravur
is in Quilon/Kollam district,
Kerala
,
Southern Travancore
,
India
. It is a municipal town connected to Trivandrum and Quilon by trains and bus.The population is around 50000. Famous for calm, clean back waters and coir related small scale industries. The place is also connected via waterway with the other major towns in Kerala. Paravur was once a major commerce hub that has withered after the waterways lost importance. It has a forgotten look about it in places.
The place is serene. Get a bike, wander around, hit the mile long seafront and walk up to the lagoon. The beach is sandwiched between the lake and the sea. So you can walk around in the lake, it's about a foot deep and has clear white sand.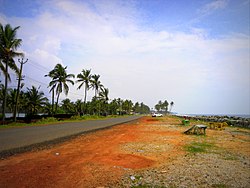 Get in
By road
From
Trivandrum
— Take the road off of Varkala, Paripally, or Chatanoor. Paravur is a municipality town and has excellent bus service.
By train
The train from Bangalore seems to stop at this station. There are also local trains shuttling between Trivandrum and Quilon that stop here.
See
St. Jude Church

phone: +91 8137 070968 (mobile)

A famous religious place. This church's festival takes place at the last week of October every year. Sunday mass is 7:30 am
St. jude Church

address: Kurumandal

and then to St. Jude Church
Temple festivals
Beaches
Fly Fishing: You will find a lot of local anglers hitting the lake and the lagoon. Excellent place to fish.
Boating
Laze around