Paris/10th arrondissement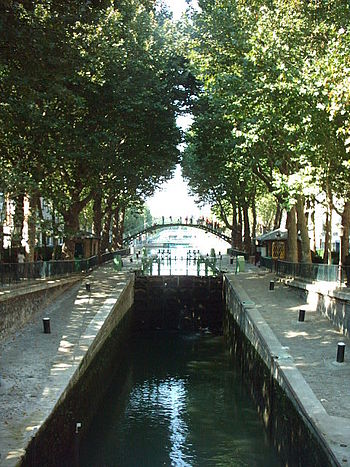 The
10th arrondissement
of
Paris
centres on the
Canal Saint Martin
and the restaurants and cafés which line its banks. Part sleepy
faubourg
— as suburbs were called in 18th century Paris — and part industrial centre, the 10th arrondissement has lately enjoyed the benefits of both the booming nightlife scene in the neighbouring 11th, as well as the Parisian cycling and roller-blading boom. The streets lining the canal become car-free for the later half of the day each Saturday, and all day on Sundays for your cycling and strolling pleasure.
There is another, more bustling side to the cosmopolitan 10th, however, as it is the location of two primary entry / exit points for the city, in the form of the two great train stations
Gare du Nord
and
Gare de l'Est
.
One final focus to the 10th is the historic
Place de la République
in the far south of the
arrondissement
, its many bars, restaurants and cafés.
Get in
By Métro
As it is everywhere in Paris all metro stations are not equal. Stations such as Place de la Republique connect to many lines but can be time consuming for a first time visitor. A smaller station such as Goncourt is easier to get in and out of. You may walk a bit more on the street but that's easy and a lot more fun.

Do
phone: +33 1 4202 0525

address: 37, rue du Faubourg-du-Temple

Grand palace with two theatres, the Palais des Glaces (Palace of Mirrors) features two shows, often two comics, simultaneously, and sometimes shows for children.

Promenade Canal St. MartinEnjoy a leisurely stroll along the water's edge while viewing amazing sunsets over the canal. Linger over a coffee and tuck into a pastry while feeling that you are experiencing the true Paris.
See
Porte Saint DenisA triumphal arch built in 1672 for Louis XIV, in the former city wall.
Buy
The
Boulevard de Strasbourg
, between Place de la République and Gare de l'Est, is known for supporting the
coiffure
or hairdressing trade, with dozens of shops selling hairdressing equipment and supplies. Interestingly the African hairdressers of Paris have set up shop right alongside their suppliers. So if you're interested you can have your hair done up in dreadlocks, pearly braids or another African style and can have your nails done too!
Meanwhile
rue de Marseille
has a number of trendy clothing shops. Another good spot to explore the slightly dilapidated
Passage Brady
. It's full of Indian and Pakistani restaurants, for which it's sometimes called "le Petit Bombay". Stop in at the Bazaar Velan for incense, spices, and kitsch souvenirs.
Artazart

phone: +33 1 40 40 24 00

address: 83, quai de Valmy

A bookshop, specialized in design & graphic design. Lots of imports.

Marché St-QuentinMarket that offers a variety of goods from flowers and produce to antiques and candies.

address: 34, rue Yves Toudic

One of the best new bakeries in Paris.
Eat
phone: +33 1 40 40 07 11

address: 112, quai de Jemmapes

Offers a selection of first class meats from all over the world (From American Angus and French Aubrac to Argentine Angus and Simmental from Bavaria), along with natural wines. The result is a friendly, warm space to meet friends, enjoy delicious food and converse against a soothing musical background of jazz and pop.

phone: +33 1 44 84 37 70

address: 10, av Richerand

A small and charming restaurant with delicious Cambodian offerings. Order your selections by writing on the note card provided. Artistically inclined diners can see their orders memorialized as artwork on the walls.

Chez Prune

phone: +33 1 42 41 30 47

address: 36, rue Beaurepaire

Primarily a drinking establishment, but serves food as well. The cheese plate, which is served with bread and fruit, is particularly good. Often quite crowded with locals. Waitstaff not necessarily proficient in English.

Julien

phone: +33 1 47 70 12 06

address: 16, rue du Faubourg-St Denis

The original 1890 decor of this Parisian dining classic is a mix of Cuban mahogany and Art Nouveau paintings and fixtures - an atmospheric treat. The cuisine is mostly south-western French: lots of foie gras and the speciality, cassoulet d'oie (goose in white beans).

Restaurant La Strasbourgeoise

phone: +33 1 42 05 20 02

address: 5, rue du 8 Mai 1945

One of the good "choucroutes" in Paris, with nice décor.

phone: +33 1 42 49 03 21

address: 51, quay de Valmy

A cute and comfortable little bistro with numerous vegetarian options, including an awesome vegi lasagne. The stove is warm and the staff are full of smiles.

La Vigne Saint Laurent

phone: +33 1 42 05 98 20

address: 2, rue Saint Laurent

Tiny wine bar, good choice of classic country food (beautiful charcuterie) & good choice of reasonably priced wines.
There are lots of Indian restaurants (very often owned by Pakistanis) in rue du Faubourg Saint Denis, between rue du Château d'Eau & rue de la Fidélité (Métro Château d'Eau). They offer cheap, tasty vegetarian and tandoori food that is typically €5. In Passage Brady (between boulevard de Strasbourg and rue du faubourg Saint Denis)
Shalimar
is a good choice for a great night out.
In the same rue du Faubourg Saint Denis but higher up, between Gare du Nord & boulevard de la Chapelle (Métro Gare du Nord or La Chapelle), try out some Tamil food & Pondicherry specialities.
phone: +33 1 42 05 78 43

address: 24, rue Cail

Serves excellent Indian vegetarian dishes from the southern state of Tamil Nadu and Sri Lanka. First timers can consider trying the Thali, a combo platter consisting of steamed rice served with 5 different curries.
Drink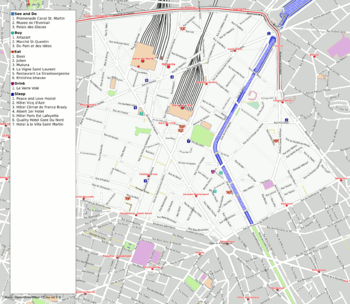 phone: +33 1 42 02 99 71

address: 21, rue Juliette Dodu

A lounge bar restaurant with a bobo environment and rich dishes. A new romantic lounge bar with a very nice patio.

Le Verre Volé

phone: +33 1 48 03 17 34

address: 67, rue Lancry

A part wine bar-part wine shop, an excellent address for nice, simple food & wines. You can take home a bottle you've sampled during meal if you wish!

phone: +33 7 87 06 19 98

address: 2, rue Hauteville

A beer-bar coming with a new concept: one beer-pump on every table. Each table have its own distinct beer in the pump, so you have to meet people to taste other beers.
Sleep
Budget
There are a number of real cheapies in the 10th which seem to be worth checking out.
address: 79, rue de Maubeuge

Simple and decent.

address: 41, rue des Petites Ecuries

The Hôtel Paradis, in the west part of the 10th near Gare du Nord and the Opéra Garnier has garnered mostly positive reviews over the years. Many travellers note that it seems to be a good value for money.

phone: +33 1 40 36 95 50

address: 27, rue de Saint Quentin

Quiet location in a little street, just in front of the Gare du Nord.

Hôtel Vicq d'Azir

phone: +33 1 42 08 06 80

address: 21, rue Vicq-d'Azir

This little cheapie is in the process of a renovation under its new management. Most of the rooms overlook a nice little courtyard with a tree.

phone: +33 1 46 07 65 11

address: 245, rue Lafayette

Travellers who have a lot of hostel-staying experience mostly find the Peace and Love to be well within the high quality range for hostels. As usual in Paris the rooms are pretty small, the staff in general gets high marks, but the manager has been known to be crabby. Apparently the pub is good enough that there's some danger you might not go out. Must be between 18 and 35, and want to party to stay here. They suggest that if you want to sleep, this may not be the place for you.
Mid-range
Albert 1er Hotel

phone: +33 1 40 36 82 40

address: 162, rue Lafayette

The rooms are not too big but very clean and well-equipped. The staff are friendly and can send you an official reservation confirmation if you need it.

Hôtel Paris Est Lafayette

address: 175, rue Lafayette

Recently renovated, this 51 room hotel has modern furnishings decorated with warm colours. Staff are professional and efficient and there is 24 hr reception, as well as a tasty buffet breakfast each morning.

phone: +33 1 46 07 07 07

address: 27,rue des récollets

A 3 star hotel offering features such as free Wi-Fi , flat screen TV, fitness room.

Quality Hotel Gare Du Nord

address: 31/33, rue de Saint-Quentin

Housed in a historic building dating back to 1868, the Quality Hotel includes in all its rooms modem plugs, Wi-Fi access, and tea & coffee makers.
Splurge
phone: +33 1 83 62 55 50

address: 96, quai de Jemmapes

To an American, it will feel cramped, but it is well appointed and comfortable. Views of the canal locks are superb. Staff is extremely friendly and helpful, and daily breakfast is a magnificent start to the day.