Paris/12th arrondissement
The 12th arrondissement of
Paris
is one of the largest of the city's districts even without the 2,460 acre
Bois de Vincennes
, which more than doubles its size.
Gare de Lyon
in the 12th will likely be your arrival point if you are coming from
Switzerland
,
Italy
, or the south of
France
.
Get in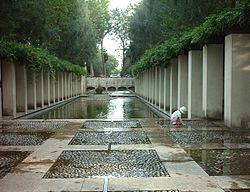 By Métro
The newest
Métro
, line 14, serves
Gare de Lyon
and
Gare de Bercy
.
Line 1 crosses the arrondissement east-west serving
Bastille
,
Gare de Lyon
,
Reuilly-Diderot
,
Nation
, and
Porte de Vincennes
.
Line 8 crosses the arrondissement east-west serving
Bastille
,
Ledru-Rollin
,
Faidherbe-Chaligny
,
Reuilly-Diderot
,
Montgallet
,
Daumesnil
,
Michel Bizot
,
Porte Dorée
, and
Porte de Charenton
.
Line 6 arrives from the left bank, serving
Bercy
,
Dugommier
,
Daumesnil
,
Bel-Air
, and
Picpus
.
The RER-A passes east-west through the 12th serving
Gare de Lyon
and
Nation
.
Get around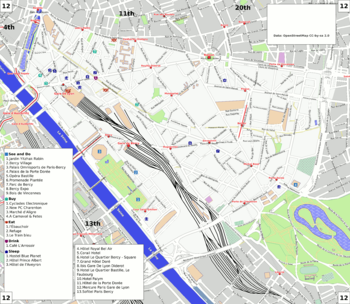 See
Landmarks
Jardin Yitzhak RabinNestled in the centre of the Parc Bercy (below) is a lovely, and truly peaceful, garden with several waterworks and other high-quality landscape-art pieces. If you are one of the many people visiting the 12th on business it would be well worth an hour of your time between meetings and dinner to explore the mound, the fountain, and the bridges, and to watch children play in complete peace, much like the peace to which the garden's namesake dedicated his life.

Bercy VillageFor a taste of the French countryside, a visit to Bercy Village brings to life the spirit of market shopping inside Paris.

AccorHotels ArenaAn indoor sports arena that seats around 17,000 for sports and slightly over 20,000 for major concerts; formerly known as Palais des Omnisports de Paris-Bercy and Bercy Arena. Home to numerous concerts and major sporting events, most notably the Paris Masters tournament on the ATP World Tour in men's tennis.

address: Place de la Bastille

One of the truly great venues for the performing arts anywhere in the world, Paris' new opera house actually managed to inspire some neighborhood protest during its planning and construction. Pretty much everybody is a believer nowadays though. Check out the website for upcoming shows, it might even make sense to plan a trip to Paris around one.

Promenade PlantéeIf you were a city planner in one of the great cities of our Earth and you discovered that a railroad right-of-way had been abandoned and would never be used again what might you do? Perhaps if you knew your stuff you'd convert it into a 4 mile long park, about half of which is elevated above street level on the old rail viaduct. This long narrow park pretty much allows the visitor to walk in carfree bliss from Place de Bastille to the Bois de Vincennes.
Parc de BercyBetween the River Seine and the rail yards attached to Gare de Lyon and Gare de Bercy is a green space which would seem pretty huge if the 12th weren't also the home of the Bois de Vincennes. The park is a good place to hang out waiting for the line to form for sporting events and concerts at AccorHotels Arena.

Bois de VincennesThere are many beautiful footpaths, a Buddhist Temple, and a lake with rowboats available for rental (about €10 as of Feb 2009). The lake has many different kinds of birds, and islands accessible by footbridge.

Picpus Cemetery

phone: +33 1 43 44 18 54

address: 35 Rue de Picpus

A must for anyone interested in the history of the American Revolution. This small cemetery includes three mass graves from the French Revolution plus a section that includes many of France's most noble families that lost members during the French Revolution and consequently have a continuing right to be buried there. In the farthest right hand corner is the tomb of General Lafayette the friend and fellow soldier of George Washington. Beside him is his beloved wife plus other members of her family, the de Noailles who were almost completely wiped out,during the French Revolution, because of their closeness to the Court. Since 1834 the American flag has apparently flown continuously over his grave, even, I was informed by the local expert, during the German occupation pf Paris during World War 2. A fascinating place well worthy of a visit.

Bercy Expo
Museums and Galleries
Palais de la Porte Dorée

address: 293 avenue Daumesnil

Housed in an amazing Art Deco building, purpose-built for the 1931 Colonial Exhibition, featuring an elaborate frieze across the front facade that depicts the achievement of French overseas territories. It houses an Aquarium and an Immigration Museum. The Aquarium can be seen in about an hour and is popular with families with small children.
Buy
There are any number of shops catering to the needs of travellers in and around
Gare de Lyon
, where you can easily replace a piece of broken luggage or even buy a suit if you suddenly find yourself with a business appointment.
The archways of the former railroad right-of-way which now support the promenade plantée are home to trendy restaurants, designer's studios, and art galleries. Taken as a whole it's known as the
Viaduc des Arts'
, and is well worth a stroll for those interested in art and design.
Another shopping highlight of the 12th is the amazing number of electronics and computer shops, mostly clustered around
rue Charenton
near the
Jardin de Reuilly
, as one would expect the intense competition keeps prices low (for Europe).
New PC Charenton

phone: +33 1 43 07 02 30

address: 171 rue de Charenton

This is just one example out of the many computer shops in the immediate area, included here to help you find them all. Check the prices here, next door, and across the street. When you find the lowest bidder plunge forward and add them here please!

Marché d'AligreThe cheapest open air market in Paris, on Rue d'Aligre. There's produce, carpets, clothes, antiques. Covered market, Marche Beauvau, is adjacent. North African influence, many food shops surround it.

A Carnaval & Fetes

phone: +33 1 43 47 06 08

address: 22 Av Ladru Rollin

During the spring time there is a carnival called the Foire du trône held in the Bois de Vincennes
Eat
l'Ébauchoir

phone: +33 1 43 42 49 31

address: 43-45 rue de Citeaux

A typical restaurant of the bo-bo (bourgeois - bohème) population of this district. Good traditional cooking with mid-range prices.

Refuge

address: 54 Avenue Daumesnil

This charming storefront bistro offers an adventurous take on traditional French cooking, and with a couple of good selections for vegetarians, including a €12 vegetarian menu. The indoor vineyard decor appeals for its artsy clutter; the only indications that the owner and chef is a former rugby star being the newspaper clipping on the wall and the almost hidden world championship medal behind the bar.

Le Train bleuLocated in the 1st floor of Gare de Lyon with colonial charm. Serves haute cuisine in amazing surroundings. Reservations strongly recommended

phone: +33 1 46 28 99 00

address: 35 rue Sibuet

An excellent find in a quiet back street. Good value food, with a selection wide enough to offer a good choice whilst allowing the chef to concentrate on perfecting a small number of dishes. Warm, friendly welcome and faultless service.
Drink
Café L'Arrosoir

address: 75, Avenue Daumesnil

Les Furieux

address: rue de la roquette

An alternative bar at the end of the Rue de la Roquette, punk, rock, metal, goth.
The
Bastille
area is quite well known for its many bars and clubs. Among them the
Barrio Latino
, a large latin music nightclub on the Rue du Faubourg Saint Antoine.
Sleep
address: 12 rue de Lyon 75012 Paris
Located very close to Gare de Lyon and a short walk from Bastille, it is a decent budget hotel with single, double, triple and quadruple rooms. Convenient to visit Disneyland as well as to the sights of Paris.
Budget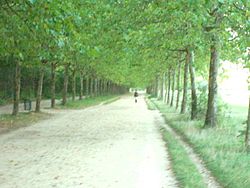 phone: +33 1 43 42 06 18

address: 5 rue Hector Malot

This hostel, within a block of the Gare de Lyon station, has bunk beds in shared rooms sleeping 4-6 people. Some rooms have showers and toilets. A basic breakfast of pastries and hot drinks is included in the price.

phone: +33 1 43 43 54 92

address: 38 boulevard Diderot

Hôtel de l'Aveyron

phone: +33 1 43 07 86 86

address: 5 rue d'Austerlitz

Hôtel Royal Bel Air

phone: +33 1 43 45 26 00

address: 10 Avenue du Bel-Air

phone: +33 1 43 43 23 54

address: 23 rue de Lyon

Hotel Le Quartier Bercy - Square

phone: +33 1 44 87 09 09

address: 33, boulevard de Reuilly

Hotel Le Quartier Bercy Square, located in the 12th arrondissement, is right between Metro stations Dugommier and Daumesnil (Lines 6 and 8). It has easy access to Palais Omnisports at Bercy, Cours St. Emillon with its lively area of shops, restaurants, and bars, and train stations Gare de Bercy and Gare de Lyon. And with Line 14 at Bercy station just down the road, the rest of Paris is only minutes from you.

phone: +33 1 47 00 62 00

address: 10, rue trousseau

Some sites (including their own) says they are a youth-only hostel, but there do not enforce any age restrictions. Wifi and a small non-buffet continental breakfast is included. Each room has a sink, but the top sheet for each bunk is not included and will cost extra if you don't just want the blanket. No alcohol is allowed in the hostel. The hostel is 24hrs but the rooms close between 11AM-3PM for cleaning.
Mid-range
Splurge
phone: +33 1 43 44 84 84

address: 2, place Louis Armand

phone: +33 1 44 67 34 00

address: 1, avenue Terroirs de France

The former Sofitel was demoted to Pullman, but has since been afforded a thorough renovation (finished in autumn of 2013) to bring it up to current Pullman brand standards along with other Pullman hotels in Paris. Friendly and helpful staff.
Connect
Internet Cafés
Les Meilleur des Mondes

phone: +33 1 43 46 01 64

address: 4 bis rue Michel Chasles

Internet access and office applications.