Paris/14th arrondissement
Although largely residential, the
14th arrondissement
is best known for its northeastern
quartier Montparnasse
, for the Paris Catacombs and the Parc Montsouris. The Cité Universitaire is also found in this district traditionally known for lively cafés and restaurants around the Boulevard du Montparnasse and the rue Daguerre.
The
Tour Montparnasse
and
Gare Montparnasse
are in the
15th arrondissement
, but they are described here for consistency.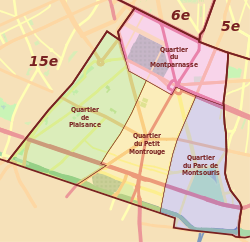 Get in
The station makes for a good entry point.

See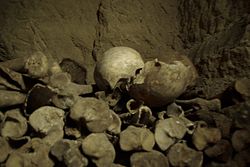 address: 1 place Denfert-Rochereau

One of the most eye-popping sights of Paris, the catacombs represent a network of labyrinthine tunnels, first excavated in the Roman period, that now house the remains of over 6 million burials removed here from the various overcrowded cemeteries and charnel houses all over Paris in the late 18th and early 19th centuries. Well worth a visit: the atmosphere is suitably morbid and gloomy (without being too scary), the dark tunnels containing neatly stacked piles of skulls and long bones. There is a limit to the number of visitors allowed within the Catacombs at one time (200 persons). So, if you arrive just after opening, you must wait until someone exits, approximately 45–60 minutes, before anyone is admitted. Steep stairwell on the exit of the catacombs. Can be challenging for the elderly or the unfit. Tickets can be purchased online at a small premium (€29, includes audioguide), allows you pick a date&time and to skip the long line

Cimetière de Montparnasse

phone: +33 1 44 10 86 50

address: 3, boul Edgar-Quinet

The burial place of existentialist philosopher Jean-Paul Sartre, feminist Simone de Beauvoir (both of whom lived nearby); musician Serge Gainsbourg; artist Man Ray; the poets Charles Baudelaire, Guy de Maupassant, Charles Sainte-Beuve, and Marguerite Duras; the founders of the Theatre of the Absurd Samuel Becket and Eugene Ionesco; the sculptors Constantin Brancusi and Ossip Zadkine; the composers Camille de Saint-Saens and César Franck; the actors Maria Montez and Jean Seberg; the French officer Alfred Dreyfus; the founder of the Larousse encyclopedia, Pierre Larousse; the industrialist André Citroen, and many others.

Cité Internationale Universitaire de ParisThe C.I.U.P. is a student quarter established in 1925, providing homes for about 10,000 students, scientists, and artists from 120 countries. It has 40 houses attributed to individual nations. The individual houses organise top quality cultural and political events. Among the most remarkable buildings are the Fondation Deutsch de la Meurthe, the Heinrich Heine House (Maison Heinrich Heine - Fondation de l'Allemagne), the Swedish Student House (Maison des Etudiants Suédois), and the Swiss Pavilion (Pavillon Suisse) which was built in 1933 on plans of Le Corbusier.

Fondation Henri-Cartier-Bresson

phone: +33 1 56 80 27 00

address: 2, Impasse Lebouis

The foundation opened its doors in May 2003. It preserves Henri Cartier-Bresson and Martine Franck's archives. Exhibition of photographs, paintings, sculptings, and illustrations.

Lion of Belfort

address: Place Denfert-Rochereau

This is a bronze replica in smaller scale of a monument created by Bartholdi, the sculptor of the Statue of Liberty, in order to commemorate Denfert-Rochereau, who defended the city of Belfort in the Franco-Prussian war of 1870.

phone: +33 1 40 51 22 21

address: 61, av de l'Observatoire, entrance: 77, av Denfert-Rochereau

The observatory was erected by Claude Perrault from 1667 to 1672 by order of Colbert. The building is oriented to the four cardinal directions. It is crossed in the centre by the Paris meridian (2° 20′ 14″ east of Greenwich). The observatory is not open to the public.

Parc Montsouris

address: boul Jourdan

Considered one of the most colourful Parisian parks, a local favourite, the Parc Montsouris was opened in 1878, having been designed by Alphand for Baron Haussmann. A large man-made lake and waterfalls are surrounded by long stretches of gently sloping lawns. Bronze statues are to be found studding the grounds, amongst the 1,400 trees, including such exotic varieties as the giant sequoia and the ginkgo. The park is featured in the film Cléo de 5 à 7. It is popular among families (there are two playground areas for children) and students.

Port-Royal Abbey

address: 123, boul de Port-Royal

Famous people who stayed here include Marie de Rohan, intriguer during the Fronde; Jeanne Baptiste d'Albert de Luynes, future mistress of a duke of Savoy; Marie Angélique de Fontanges, mistress of Louis XIV, died here giving birth to his child who also died. Today its main cloister (illustration) forms part of the modern Hôpital Cochin.

Barrière d'Enfer

address: Place Denfert-Rochereau

The two pavilions were built in 1784 to 1787 by the French architect Claude-Nicolas Ledoux, who erected many similar toll houses at the entrances to the city.

Cartier Foundation for Contemporary Art

phone: +33 1 42185651

address: 261 boul Raspail

A museum of contemporary art. It was founded in 1984 by the well-known jewel and watch manufacturer, Cartier. In 1994 it moved to the new building erected on plans of the architect Jean Nouvel.
Eat
There are a number of cheap eateries around Montparnasse, especially Breton crêperies. The district is also known for its traditional bistros.
L'Amuse Bouche

address: 186, rue du Château

Cheese soufflés (soufflé au fromage) and Soufflé au Grand Marnier are highly recommended.

Aquarius

phone: +33 1 45 41 36 88

address: 40, rue Gergovie

By all reports a nice casual 100% vegetarian restaurant with excellent hummus among other offerings.

address: 181, rue du Château

Reservation recommended.

L'Atelier d'Antan

address: 9, rue L.-Robert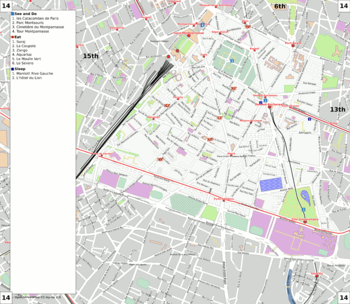 Le Bis du Severo

address: 16, rue des Plantes

Bistot du Dôme

address: 1, rue Delambre

Seafood.

phone: +33 1 53220901

address: 10, place Constantin-Brancusi

La Cantine du Troquet

address: 101, rue de l'Ouest

La Cerisaie

address: 60, boul E. Quniet

Reservation recommended.

La Coupole

phone: +33 1 43 20 14 20

address: 102, boul du Montparnasse

The famous Art Deco brasserie, convenient for a quick meal before or after a train journey to or from Montparnasse station.

Le Dôme

address: 108, boul Montparnasse

Le Duc

address: 243, boul Raspail

Les Grillades de Buenos Aires

address: 54, rue de Montparnasse

Small and intimate Argentinian restaurant. Amazing steaks. Everything about the food is wonderful.

Le Moulin Vert

Le Zeyer

address: Place d'Alesia

Famous Art Deco-style brasserie.
Sleep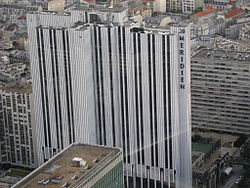 Budget
Hotel Formula 1

address: 23, av de la Porte de Chatillon

Dirt cheap private rooms, close enough to the metro to make it worth it. Rooms are very clean, and have TV, free Wi-Fi, and washbasin only. Shared showers and toilets. The showers are fine, but, there are no toilet-seats and no urinals (thus, the shared toilets get very nasty, very fast), so the quality of the bathrooms may keep this hotel chain out of reach for serious germ-a-phobes. It is, nevertheless, cheaper for two people to stay here than just about any youth hostel in Paris. Nice and safe neighbourhood, too, with several supermarkets and kebab vendors for eats.
Mid-range
Splurge
Marriott Rive GaucheA nice hotel and within two blocks of the St Jacques and Glaciere metro stations. Very friendly staff.

address: 19, rue du Commandant Mouchotte

The gargantuan former Le Meridien was taken over by Accor's upscale brand Pullman and saw a complete renovation of its massive building housing 953 hotel rooms (the largest room count in Paris) on 26 floors. It has all the pros and cons of a huge business hotel, plus the added value of sweeping vistas from its rooms, due to its unusual height (116 metres) versus the Paris average.