Paris/15th arrondissement
The
15th arrondissement
of
Paris
(also called arrondissment de
Vaugirard
) is in the city's southwest on the Left Bank of the Seine. Quite up-market and quiet, it is the largest arrondissement by both area and population. Housing over 230,000 inhabitants and providing around 150,000 jobs, it is dense with residential and office developments, including the high rise skyline of
Front de Seine
along the northern part of the 15th's bank of the river. On the other hand, it sees relatively little tourist traffic — but that does not mean it is devoid of attractions.
The famous skyscraper
Tour Montparnasse
and the neighbouring railway station
Gare Montparnasse
are on the eastern border of the 15th arrondissement, although the actual district of
Montparnasse
is right across the border in the
14th arrondissement
.
Understand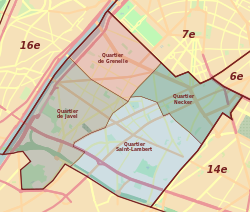 The 15th arrondissement is further broken up administratively into four
quartiers
: Grenelle, Necker, Saint-Lambert and Javel.
Grenelle
is the quarter closest to the
7th arrondissement
and thus directly neighbouring the
Champ de Mars
and the Eiffel Tower. Therefore, it houses many hotels advertising the proximity of the Tower. The waterfront part of Grenelle is home to the 1970s high-rise residential development of
Beaugrenelle
, and the eponymous shopping mall. The more inland parts of the quarter are filled with 19th-century
Haussmannian
buildings, interspersed with some more modern ones.
The quarter of
Necker
, situated between Grenelle and the quarter of
Montparnasse
of the
14th arrondissement
, is home to some of the locations named after Montparnasse, most notably the
Tour Montparnasse
and
Gare Montparnasse
. It also houses more large public service and commercial buildings, such as the expansive
Hôpital Necker-Enfants Malades
. Otherwise, it is full of late 20th-century residential buildings, with many fewer Haussmannian structures than Grenelle.
The southeast quarter of
Saint-Lambert
is most known for the
Parc des expositions de la porte de Versailles
, which is one of the largest and most important exhibition centres in France and Europe.
The southwestern
quartier Javel
had long been an industrial area of Paris, but has been reclaimed as office, residential, and recreational over the decades. It contains the
Parc André Citroën
, created over the former Citroën factory grounds, and the Heliport of Paris in its southern extremity.
Get in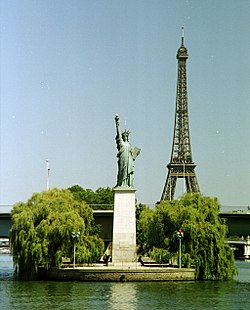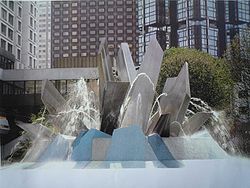 By train
The
Gare Montparnasse
is at the northeastern extremity of the arrondissement and offers many good connections within the district and all of Paris. Also a direct train to
Chartres
. The
Transilien N
ends its run here.
RER C
runs along the left bank of the Seine across the 15th arrondissement and beyond with stops including
Champ de Mars–Tour Eiffel
,
Musée d'Orsay
,
Saint-Michel-Notre Dame
and
Gare d'Austerlitz
. In the other direction it is a direct line to
Versailles
-Château.
Also to Orly airport through Pont de Rungis stop.
By metro
The following lines go through the 15th arrondissement:
crosses the northern part of the 15th from east to west over an elevated estacade. It forms a southern ring through Paris, running between Étoile and Nation and also stopping at Gare Montparnasse.
runs from the south of the 15th arrondissement northwards, continuing through the 7th onto the right bank of the Seine, including stops at Opéra, République and Bastille.
takes an southwest/northeast tangent through the 15th, connecting it to the 5th, 6th and Gare d'Austerlitz from one end, and the 16th as well as Boulogne-Billancourt from the other.
runs north-south through the eastern 15th, entering it at the north at Gare Montparnasse. It also stops further north at Saint-Lazare.
Major changeover stations:
(at the foot of Gare Montparnasse).
- also trams T2 and T3a pass here.
By tram
T2 from La Défense ends its run at Porte de Versailles, where it connects to T3a and M12
T3a runs across the south of the 15th arrondissement, starting from the Seine and continuing into the 14th, 13th and 12th
By bus
Lines: 39, 62, 42 (from Gare du Nord), 88, 80, 70, 39
By Batobus
Station Beaugrenelle, Port de Javel Haut
See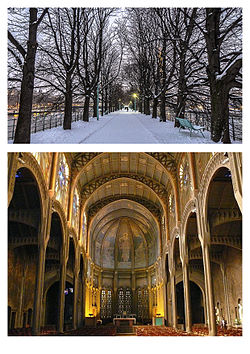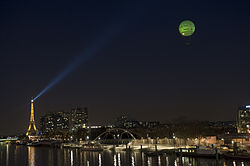 Landmarks
Tour MontparnasseIf the queues at the Eiffel Tower are just too much for you and your time is limited, consider a trip up the Montparnasse Tower. This is an office building with an observation and shopping area on the 56th floor, where the elevators stop, and an open viewing area on the roof. Arguably the view is better than from the Eiffel Tower: you are not so high up so things are more visible, and you can see the Eiffel Tower!

Île aux CygnesOne of the three islands on the river Seine

Square Béla Bartók

address: Front de Seine

A small park between two highrises on the Front de Seine featuring two interesting sculptures dedicated to the musician

Statue de la LibertéReplica on the site where Bartholdi had his workshop

St Christophe de Javel

phone: +33 1 45 78 33 70

address: 28 Rue de la Convention

The first concrete church

Pont de Bir-HakeimTwo-level bridge.

Pont Mirabeau19th-century bridge.
Museums and galleries
Parks
There are several parks, the biggest of which is the Parc André Citroën.
Jardin atlantique

address: 1, place des Cinq Martyrs du Lycée Buffon

Suspended above the train tracks this garden is surprisingly calm and chilled-out.

address: 2, rue Cauchy

The large park occupies the 14 ha formerly occupied by a Citroën factory. Several gardens have specific themes, including water games. On sunny weekends or vacation days many people chill out or jog there.

Parc Georges-Brassens

address: rue des Morillons
Other
Do
Learn
phone: +33 1 85 65 15 00

address: 13-15 Quai Andre Citroen

Le Cordon Bleu is the world's largest hospitality education institution, with over 50 schools on five continents serving 20,000 students annually. Its education focus is on Hospitality Management, Culinary Arts, and Gastronomy. Offering Diplomas in Cuisine, Pastry and Bakery for the aspiring chef as well as short courses, workshops, and guest chefs demonstrations for gourmet enthusiasts. Julia Child, who famously popularized the art of French cuisine in America, graduated from this school in the 1940s, as portrayed in the movie Julie & Julia by Merryl Streep.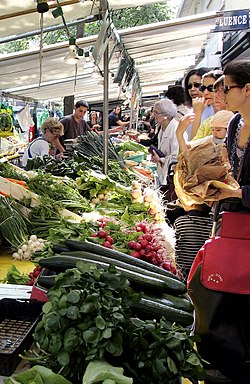 Buy
phone: +33 153952400

address: 12 rue Linois

The mall has 10 movie theaters, shops and restaurants.

Fromagerie aux produits d'Auvergne

phone: +33 1 45 78 70 58

address: 244 Rue de la Convention

The small shop sells delicious cheese from all over France plus excellent organic eggs. The owners give hints according to ones taste.

address: 2 Rue de Lourmel

The cheese shop has a number of choices and let you taste their newest. Plus usually one gets interesting personalized guidance.

Marché du livre ancien et d'occasion

address: 104 Rue Brancion, Parc Georges Brassens

Antique and second-hand books are sold.

phone: +33 145797247

address: 129 bis rue Saint Charles

Meringues and meringues, all colors, all sizes.

phone: +33 1 40 58 12 22

address: 5 Rue Humblot

The bike shop repairs any kinds of bikes. They are specialized in selling folding bikes.

Rue du CommerceA shopping street.

address: 78, avenue de Suffren

Quality antique dealers and galleries.
Eat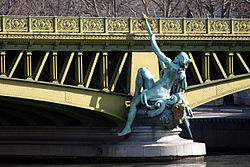 The quarter of Saint-Lambert contains many cafés and small restaurants, some of them in nice and quiet pedestrian streets or squares. You get out on the Metro station Convention and explore the myriads of small streets. Ideally not wandering too far off Vaugirard street, which fully traverses the 15th arrondissement. If you choose to go up to Montparnasse, there are several good places with fair prices before getting to the train station. On the other hand if you go in direction of Porte de Versailles you will have more choice, but with very fluctuating quality.
Budget
Café Zinc-Zen

phone: +33 1 45 58 08 40

address: 114, rue de la Convention

Small café with 2 seating areas - seats in the windows and a darker back room. Elegant but not expensive, great lunches/dinners, and superb crème brûlée for a night cap with coffee.

phone: +33 1 47 83 26 67

address: Intersection rue Jean Rey and quai Branly

Street food + haute pâtisserie française = sweet food in a designer "kiosk".

phone: +33 1 45 77 72 21

address: 89 rue St Charles

Brasserie on lively Place Charles Michels
Mid-range
phone: +33 1 45 75 03 27

address: 51, rue du Commerce

Authentic French food and ambience. (Be sure to go to number 51 rue du Commerce, as there is another place nearby with a similar name.)

phone: +33 1 40 59 41 00

address: Port de Javel ht

Along the River, rather pleasant. They also offer cocktails at their bar.

Le Volant

phone: +33 1 45 75 27 67

address: 13 rue Beatrix Dussane

The Basque restaurant excels in meat. If you are lucky the soup of the day is the "soupe au marron". There is a possibility to get a 3-course evening menu including entrée, plat and dessert. The home-made "mousse au chocolat" is really big. Also the bistro is generous on the sides: Usually one gets "purée", rice and polenta. Inside the restaurant, the former tricot of the famous French football player Zinedine Zidane is on display. As the small place fills rapidly, reservation is recommended.

phone: +33 1 47 43 48 50

address: 59 rue Lecourbe

Belle-Epoque decor, true bisto spirit

phone: +33 1 45 78 83 62

address: Centre commercial Beaugrenelle, Ilôt Verseau - 3rd floor, 7 rue Linois, 75015

Eat or drink. View of the river even better in the evening.

phone: +33 1 77 36 70 00

address: 2 Rue Linois, 75015 Paris

Brasserie fashion. Decor Tom Dixon

Le Baribal

phone: +33 1 47 34 15 32

address: 186, rue de Vaugirard, 75015 Paris

40-year-old neighborhood bistro run by Louisette and her partner George. Traditional simple fare.

phone: +33 1 44 38 57 77

address: 28, rue Jean Rey, 75015 Paris

Californian-style restaurant : a new take on the traditional Parisian brasserie.

phone: +33 9 83 31 80 86

address: 59 Rue Letellier
Splurge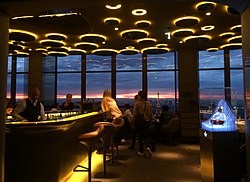 Drink
Celtic Corner Pub

phone: +33 1 42 50 74 11

address: 21 Rue Lakanal

A nice little irish pub with charming service and fair price. Sports men from the nearby Gymnase "Croix Nivert" like to hang out here for a beer or two.

Crocodile Vert

phone: +33 1 56 08 15 4

address: 6 Rue du Hameau

The small hidden Cuban bar is a bit away from rue de Vaugirard. It is quite popular for the salsa music on the weekends. At later times you'll recognise it by the number of people standing outside.

Le square café

phone: +33 1 43 06 80 84

address: 139 Boulevard de Grenelle

In spring time sun is shining on the outdoor terrace. It is a nice spot for a tea with soft background music.

phone: +33 1 45 44 46 20

address: 23 Avenue du Maine

Diner and show - Parisian cabaret show and dancing.
Sleep
Budget
phone: +33 1 42 73 03 03

address: 1, Rue Borromée

No membership card required.

phone: +33 1 48 42 04 05

address: 6 pl. Etienne Pernet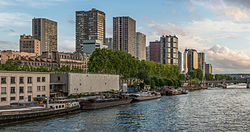 Mid-range
Campanile Paris XV - Tour Eiffel

phone: +33 1 45 78 61 33

address: 30, rue Saint Charles / 21 Rue Sextius-Michel

English & Spanish spoken at reception.

phone: +33 1 45 78 14 81

address: 140, boul de Grenelle

phone: +33 1 40 58 14 81

address: 35 rue Sebastien Mercier

Though it is off centered, It is new, clean and somewhat affordable

Hôtel Oceania Paris Porte de Versailles

phone: +33 2 98 44 38 38

address: 52, rue d'Oradour-sur-Glane

Mercure Paris Centre Tour Eiffel

phone: +33 825 80 17 17

address: 20, rue Jean Rey

A relatively large mid-range hotel very close to the Eiffel Tower, in a nice, quiet and green area of Grenelle. Despite the closeness, only about a quarter of the rooms, designated as such and commanding higher rates, feature a view of the tower itself. All of the rooms and common spaces have been renovated and feature modern decor inspired by the tower and the metro. The rooms are very functional and feature operable windows, but the amounts of plastic and the violet theme may not provide for a romantic Parisian experience.

Mercure Paris Tour Eiffel Grenelle

phone: +33 1 45 78 90 90

address: 64, boul de Grenelle

Not to be confused with the other Mercure, this one is not far away but in quite a different setting, facing the busy Boulevard Grenelle and the overground Metro 6 line. Neither as quiet nor as modern or comfortable as the other Mercure. On balance it is one of the cheaper hotels in its class close to the core tourist centre of Paris.

Novotel Paris Tour Eiffel

address: 61 Quai De Grenelle

The largest Novotel in the world was built as a Japanese hotel Nikko, and retains many interesting design elements of the former, like the capsule-style windows, and the Japanese restaurant Benkay. It is by now not ageing that well though and awaits the long-overdue renovation.

Novotel Paris Gare Montparnasse

address: 17 Rue Du Cotentin

Located in a quiet corner of Montparnasse, and if you don't mind a 10-min walk to the Metro, this is a nice and relatively new hotel. Easy access from the Montparnasse-Bienvenüe Metro: just take the stairs all the way up to the train platforms, exit on Boulevard de Vaugirard, take a left and follow the street up to the hotel. There is a Velib' City Bike Rental park just outside the hotel.
Splurge
phone: +33 1 40659595

address: 94 Boulevard Garibaldi

Funky decorated rooms located within 15min walk from the Tour Eiffel.

phone: +33 1-44385600

address: 18 avenue de Suffren

The former Hilton was taken over by Accor's upscale business hotel brand Pullman and underwent extensive renovation to its rooms and public spaces. It continues to offer close-up views of the Eiffel Tower from the balconies of its relatively spacious for Paris Deluxe (32 m²) and Superior (26 m²) rooms, while the Classic rooms (26 m²) face the courtyard.
Connect
Paris Wi-Fi is free of charge and accessible in a number of parks (Parc Georges Brassens, Parc André Citroën, Jardin Atlantique, Jardin Nicole de Hautecloque) or squares (Saint Lambert, Violet, Clos Feuquières, rue Blomet, Alleray Labrouste), and in the Starbucks and rather fancy McDonald's on Place Charles Michels.

Go next