Paris/16th arrondissement
This large district occupies most of the West of Paris, extending east-west between the bends of the Seine from the Jardins of Trocadero immediately facing the Eiffel Tower to the expansive
Bois du Boulogne
(which occupies a larger part of the 16th's territory), and north-south from the
Etoile
to the southern border of Paris. It is known to be the residence of choice for affluent Parisians, and for hosting numerous internationally famous events, such as the
Roland Garros
French Open tennis tournaments, as well as the home stadium of the
Paris Saint-Germain
football club.
Get in
By Métro
runs along the northern border of the arrondissement, stopping in the 16th (from East to West) at Charles de Gaulle-Etoile, Argentine and Porte Maillot
has its western terminus in the 16th - the stations within the arrondissement are (from East to West) Charles de Gaulle-Etoile, Victor Hugo and Porte Dauphine (said terminus)
traverses the 16th north-south, with stations between Alma-Marceau and Porte de Saint-Claud falling within the arrondissement.
loops through the southern part of the 16th, starting at Mirabeau
goes from the Etoile southwards through the 16th, exiting it by crossing the Seine towards the 15th between Passy and Bir-Hakeim
See
Museum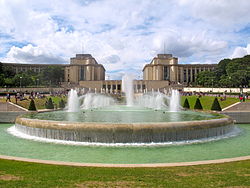 Parks
Jardin d'AcclimatationThe northwest corner of the Bois de Boulogne is occupied by the oldest operating amusement park in the world, the Jardin d'Acclimatation, which is mainly known for offering a wide range of amusements which are appropriate even for very small children. They have miniature roller-coasters for children as small as three years, and the usual range of pony rides etc.

Jardins du TrocadéroTourists cross this park with the large fountain on the way to the Place du Trocadéro viewpoint to the Eiffel Tower.
Le Corbusier world heritage
17 buildings by Le Corbusier have been inscribed on the
UNESCO World Heritage List
and in the 16th arrondissement of Paris you can find three of them:
Villa La Roche

address: 10 Square du Docteur Blanche

Villa Jeanneret

address: 8 Square du Docteur Blanche

Immeuble Molitor

address: 24 rue Nungessor & Coli
Do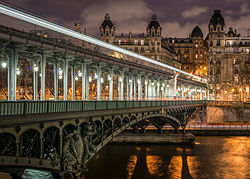 Bois de BoulogneA park along the western edge of the 16ème arrondissement of Paris, near the suburb of Boulogne-Billancourt. The Bois de Boulogne has an area of , which is 2.5 times larger than Central Park in New York, and 3.3 times larger than Hyde Park in London. At night time, the area welcomes a different scene, and becomes one of Paris' most prominent red-light districts.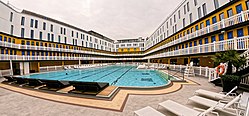 phone: +33 1 56 07 08 93

address: 13 rue Nungesser Et Coli

A stunning classical swimming pool complex. The pool is known for its Art Deco designs and the popular introduction of the bikini by Louis Réard on 5 July 1946. The character Pi Patel in the novel/movie Life of Pi was named after this pool. Nowadays it houses a 5-star hotel as well. Access for non-hotel guests is very pricey — you must book a spa package for €230.
Spectator sports:
Work
Buy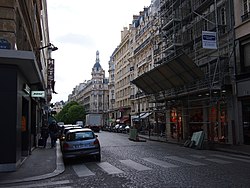 Rue de PassyLined with high-end clothes and homewares shops

address: 53 rue de Passy

Includes a large supermarket and several mid-range retailers

Centre Commercial des Belles Feuilles

address: 14 Rue des Sablons

This shopping centre features a vast Casino supermarket and a number of smaller shops, and is very useful for self-caterers. Several other supermarkets are located nearby.
Eat
Budget
Carette

phone: +33 1 47 27 98 85

address: 4. Place du Trocadéro

This Pâtisserie and Salon de thé also has great food. The salads are amazing, and there is delicious cakes for dessert.
Mid-range
La Gare Chaussée De La Muette

Le Malakoff

phone: +33 1 45537527

address: 6 place du Trocadéro

Just take the menu of the day

Le Coq

phone: +33 1 47278952

address: 2 place du Trocadéro

A hip and trendy modern brasserie where the 16th arrondissement's posh population meets

phone: +33 1 45 53 21 63

address: 37, ave. Kléber

Very nice cafe with good lunch and dinner. Lots of people go their for business lunch
Splurge
phone: +33 1 4050 8440

address: 4 rue Beethoven

3 Michelin stars. Considered one of the best restaurants of Paris. Do not go there, if you are hungry and want to get full.
Drink
phone: +33 1 44 05 30 15

address: 17 Place du Trocadero

Get a fantastic view of the Eiffel Tower from this restaurant-tearoom opposite the Champ de Mars. Just next to the Musee de l'Homme, there certainly are worse spots to grab a drink or two. Bad service towards tourists according to online reviews.
Sleep
Budget
Best Western Hotel Victor Hugo

phone: +33 1 45 53 76 01

address: 19 rue Copernic

phone: +33 1 42 88 47 55

address: 48 rue de Passy

Clean, quiet and good value hotel located in the centre of the Passy area
Mid-range
Splurge