Paris/17th arrondissement
The 17th arrondissement of Paris lies slightly off the beaten path, directly north of the Arc de Triomphe. However, if you want to see real Paris at some of its finest and wealthiest, this is where to go. There are no major sights to see, museums to go to, just amazing Haussmannian architecture, real French people, and that atmosphere of the quintessential Paris you've always imagined.
Beyond this the southwest and northeast ends of the arrondissement have quite different characters, with the southwest mainly known as a mid-range to high-end shopping district named for two major avenues which are lined with shops:
Wagram-Ternes
, feeling much like an extension of the Champs Élysées.
The northeast end, known as
Batignolles
is quite different, with a grungy bohemian feeling and lots of bars and bistros which are popular with
bobos
(short for
bohemian-bourgeois
aka "hipsters") from the 17th and elsewhere.
Get in
By plane
Although the 17th is not particularly close to any of the Paris airports, it is there where airport buses from
Charles de Gaulle Airport
(Les Cars Airfrance) and Beauvais-Tille Airport (the official shuttle bus) land, stopping at Porte Maillot (Les Cars also stop at Place de l'Étoile). If you want to start exploring right after getting off your airport shuttle bus, or head to the hotel without having to transfer further, the 17th is where you can start your Paris adventure.
By Transiliens
The suburban Transiliens train lines J and L cross the district on their way to
Gare Saint-Lazare
, but only Transilien J stops within the 17th at
Pont-Cardinet
. If you arrive on Transilien L, you have to go back a short distance from
Saint-Lazare
to find yourself in the 17th.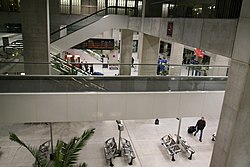 By RER
RER lines A and C cross in the 17th, but do not share a common station - the Line A runs from west to east along the southern boundary of the district, with a station at
Place Charles de Gaulle
, while the Line C runs from South to North closer to the western border of the district with stops at
Neuilly – Porte Maillot
,
Pereire – Levallois
and
Porte de Clichy
.
By Métro
Line 3 has stops at
Pereire
,
Porte de Champerret
, and
Wagram
among others.
See
Make sure you admire the many luxurious townhouses along the avenues, and relax in hidden small parks and squares sprinkled throughout the area. Many of Paris's upper class live in this district, and the architecture proudly shows this!

Do
Buy
Marché des BatignollesThis covered market is known for its organic produce, and has fish and meat and a supermarket (G20) as well.
Eat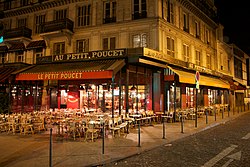 Though the diversity of cuisine is definitely a notch below the rest of Paris, the 17th arrondissement represents probably the best opportunity to experience true Parisian and French food. The area does house some of the finest Algerian and World cuisine in Paris. If you want a twist on French wine and food, go try some!
l'Abadache

phone: +33 1 42 36 37 33

address: 89, rue Lemercier

A French-English collaboration, the cooking is mostly in the French tradition, but with English cheddar and quite a bit of English inventiveness. Go for the polenta with sun-dried tomatoes.

Aux Couleurs du Monde

address: 118, rue Truffaut

A Lao/Honduran restaurant with superb atmosphere, trendy decor, friendly service, and good food. It's not hard to understand why it's one of the most popular places with Batignolles bobos as well as people from outside of the quarter, at least judging by the number of taxis queued up late in the evening.

Le Bistral

phone: +33 1 42 63 59 61

address: 80, rue Lemercier

Inventive cooking in the Spanish tradition and an intimate atmosphere are what distinguishes this little place from the dozens of bistros in the neighbourhood, but it's probably the genuinely caring, warm, service which will bring you back again and again.

Bistrot des Dames

phone: +33 1 45 22 13 42

address: 18, rue des Dames

The romantic bistro offers simple seasonal plates and has a charming garden in summer time.

phone: +33 1 45 22 13 42

address: 14, Place de Clichy

Excellent service, open late, Seafood specialities.

Jaipur

phone: +33 1 42 94 13 14

address: 25, rue des Dames

The brothers who operate this Indian/Mexican restaurant are actually from Sri Lanka, but that doesn't seem to impact their ability to deliver on both of their favourite ethnic cuisines. When asked why Mexican, the youngest of the three (and the usual waiter) explained "because we like it". You will too.

A Joy in Food

phone: +33 1 43 87 96 79

address: 2, rue Truffaut

Vegetarian home cooking which leans heavily into Laurel's Kitchen territory. It's not the Potager du Marais (see Paris/3rd_arrondissement), but it's a close runner-up.

Niv's

phone: +33 1 42 36 37 33

address: 8, rue des Batignolles

A Franco-Italian bistro with high-end Italian dishes.

Le Réfuge

phone: +33 1 42 93 46 16

address: 34, rue Lemercier

The drinks speciality here is an assortment of flavoured vodkas. The food, served in the spacious seating area in back is traditional, including a huge cheese platter.
Drink
Le Bar Belge

phone: +33 1 44 70 06 07

address: 75, av Saint Ouen

Opened in 1954 as Paris was finally recovering from the occupation, the Bar Belge serves dozens of different Belgian beers, ales, and lambics in a locals-dominated, but very friendly room. They also have Vlaams Frites, the original "french" fries. Free Wi-Fi.

Les Caves Populaires

address: 22, rue des Dames

A major bobo hangout, this one specialized in wine as opposed to the more beer-oriented Lush.

phone: +33 1 44 09 70 32

address: 71, boul Gouvion St Cyr

Also serves standard Irish pub food. They screen Irish and English football and soccer.

Le Kloog

phone: +33 1 42 29 59 18

address: 63, rue Guy Môquet

This cosy and well-designed little space specializes in wholesome organic treats. Vegetarian deli and free Wi-Fi.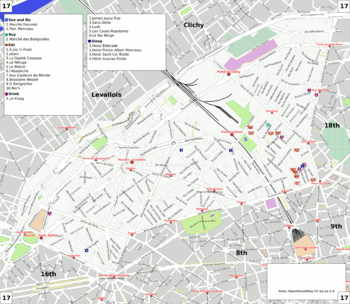 phone: +33 1 46 27 67 82

address: 112, rue Legendre

The name means "without annoyance", but given the shared toilet space perhaps it should be rethought. Still this second location for the popular Oberkampfian drinking spot has a lot going for it including clean trendy decor and more importantly free Wi-Fi.

Lush

phone: +33 1 43 87 49 46

address: 16, rue des Dames

Grungy atmosphere and a well thought out selection of beers and tunes have made this a popular space with the bobo crowd. There's not much in the way of furniture, so it's standing room only when the place gets hopping. Of course that means you can fit more hipsters per square meter.
Sleep

Hotels and other accommodation facilities in the 17th are mostly to be found clustered at the extremities of the arrondissement, near the attractions - the Place de l'Étoile the Palais du Congress and Place de Clichy (Montmartre). Those provide reasonable connections to the rest of Paris, especially Place de l'Étoile. While cheaper accommodation can be found deeper into the 17th, do make sure that it has effective transportation connections you will need to visit your points of interest.
Budget
Mid-range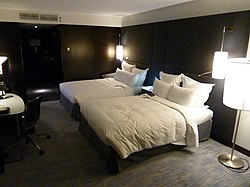 Splurge
phone: +33 1 40 68 12 34

address: Place du Général Kœnig 3

The tallest hotel in Paris is the lone skyscraper in the northwest of Paris, adjacent to the Palais du Congres. It enjoys an unobstructed line of sight towards the Eiffel Tower from the rooms facing it and its top-floor bar. After Hyatt took over the property, it is being gradually updated, but still not entirely up to the best Hyatt worldwide standards.

phone: +33 1 40 68 34 34

address: Boulevard Gouvion Saint Cyr 81

The very first Le Meridien in the world, built in 1972 to cater for Air France passengers arriving on the newly-acquired widebody jets. Behind the distinctive 1970s facade are updated rooms and common areas with contemporary design and facilities. The hotel faces the Palais du Congres and caters mostly for business travellers and less so to tourists than other Starwood properties in Paris. This is the largest hotel by room count in Paris, with 1,025 rooms of various types. The less expensive Classic and Deluxe rooms have more dated decor, the Urban and Executive rooms have been thoroughly updated to 21st century standards.

Renaissance Paris Arc de Triomphe

address: Avenue de Wagram 39

The Renaissance is a thoroughly modern property with floor-to-ceiling windows in the posh Avenue Wagram, just a short walk from Place de l'Étoile. The building was designed by the same Christian de Portzamparc who gave the Palais du Congres its current appearance.
Connect
Le Bar BelgeFree Wi-Fi for customers.

Le KloogFree Wi-Fi for customers.