Paris/19th arrondissement
The
19th arrondissement
of
Paris
is in the north of the city, and is a peaceful, green and family-friendly refuge from the otherwise quite stuffy and/or shabby city. It is a very leisurely area which can provide fun for all ages, especially in the warmer months, and make one easily forget it is the site of the former slaughterhouse district of the city.
Two large, wide canals (
Canal Saint-Denis
and
Canal de l'Ourcq
) traverse the district and intersect in its middle, where the large Parc de La Villette can be found, housing the science-themed
Cité des Sciences et de l'Industrie
, interesting for all ages, while the
Cité des Enfants
section is a boon for the kids. On the opposite end of the park, the
Cité de la Musique
will provide other kinds of sensual stimulation, while further south one can find another park, the romantic
Parc des Buttes Chaumont
. And you can of course stride - or kayak - along the canals.
Get in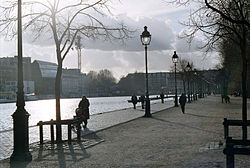 By Métro
Three metro lines run east-west through the 19th arrondissement - the M5, M7 and M7bis.
the M5 runs through the middle, providing a convenient connection with Gare du Nord
the M7 branches to M7 and M7bis right before the border of the 19th arrondissement, at Louis Blanc.
M7 goes to the northern part of the arrondissement, stopping in. al. at Porte de la Vilette, where most people begin their visit to Parc de La Vilette
M7bis goes to the southern part and includes the Buttes-Chaumont station, which is right at the entrance of the namesake park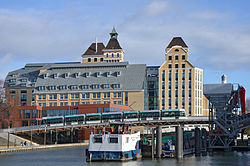 Additionally, two metro lines run along the borders of the 19th arrondissement:
the M2 runs along the western border, with the stations of Stalingrad and Jaurès allowing for changeover the M5 and M7 or M7bis (respectively), as well as entering the 19th arrondissement at the Rotonde de La Vilette
the M11 runs along the southern border - you can change to M8bis at Place des Fêtes and to T3b at Porte des Lilas
By tram
The
T3b
tram runs along the northern and eastern borders of the district, stopping in. al. at
Porte de la Vilette
and allowing changeover to M11 and M12 - as well as providing a relatively scenic ride.
By RER
Although the RER tracks cross the northern part of the 19th arrondissement, there is no station within it. Your best bet is to change to M5 at
Gare du Nord
(RER B and D). From RER E, get off at
Magenta
and walk 350 m to
Gare du Nord
for the connection.
See
Canal de l'Ourcq

phone: +33 1 4239 1500

address: 13, quai de la Loire Bassin de la Villette

Built in the 19th century by Napoléon to provide Parisians with drinking water. On sunny days, tourists can cruise along the canal or kayak its length.

Cité des Enfants

phone: +33 1 40 05 12 12

address: Cite des Sciences et de l'Industrie, 30, av Corentin-Cariou

An interactive science museum for children with the aim of arousing their curiosity, answering the questions they ask, and providing quality time for exchanges with parents or teachers.

Cité des Sciences et de l'Industrie

phone: +33 1 06 10 77 50

address: 30, av Corentin-Cariou

Opened in 1986 and continuously upgraded, substantially damaged by a 2015 structural fire. This attraction drew over 7 million visitors a year who come to explore the world of science, technology and future possibilities. Includes the Louis Lumière 3D cinema.
Do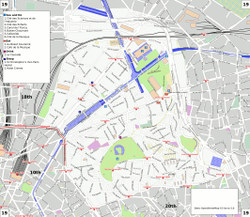 Buttes-Chaumont

address: rue Botzaris

Popular city escape for nature lovers and walkers who can spend hours wandering around this lush green paradise. Biggest, most hilly, and least touristy park in Paris, here you still find a real Parisian atmosphere, far from the crowds at the city's centre (it still is crowded in summer during weekends as many Parisians come to sunbathe on the grass). Climb on top of the hill and overlook the north of Paris with the Montmartre hill right in front of you. The park has an almost enchanted feel, with its waterfall (water is pumped from the nearby canal Saint Martin), stream, lake and its steep cliff, topped with a "temple" which can only be reached via a suspension bridge. A true oasis indeed

address: 92 bis, quai de la Loire

A café for kids, the Cafezoïde a fully weekly calendar of events for kids from 2-16 years old. An English-language sing-along happens on Thursday afternoons at 16ː00.

phone: +33 1 4484 4600

address: 221, av Jean-Jaurès

Music museum that focuses on the culture, the listening and the learning of music. With headsets, visitors can enjoy listening and learning about the history of music.
Eat
address: 12 bis, rue de la Villette

A restaurant for parents and kids, close to Buttes-Chaumont. Home cooking and organic products.

Au Boeuf Couronné

phone: +33 1 42 39 44 44

address: 188, av Jean-Juarès

Charming and laid-back, this restaurant serves quality food alongside a somewhat old fashioned decor, (think hard leather chairs, etc.). All portions were incredibly generous and the service friendly and warm.

Café de la Musique

phone: +33 1 48 03 15 91

address: 213, av Jean-Jaurès

Its varied selection of music is what draws the crowds here en massse, at any given night you're likely to hear soulful jazz tunes, or a hip DJ spinning robotic techno. Under chef Alain Podou's watch, the food here is sophisticated, yet light, think lobster-studded risotto and brochettes of shrimp with spinach. Highly recommended.

Rosa BonheurThis buvette near the south edge of the Parc des Buttes-Chaumont offers a range of tapas and drinks in a charming relaxed atmosphere. Hang out on a sunny day and watch the kids run around and play.
Drink
La Cascade

address: 2, place Armand-Carrel

Quiet bar that serves its beers cold and has an extensive wine list.

Draco

address: 90, quai de la Loire

Péniche AnakoCanal d'Ourcq barge, this one specializing in shows celebrating cultures from around the world.

Péniche AntipodeA barge in the Canal d'Ourcq hosting magic acts and music.
Sleep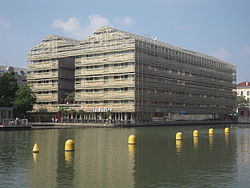 Budget
Mid-range
Hotel Crimee

address: 188, rue de Crimée

Close to the Metro, the hotel boasts a quick and easy connection to downtown Paris.

Holiday Inn Express Canal d'OurqA quite unusually interesting Holiday Inn Express, sharing the building facing the Bassin de La Villette with St. Christopher's Inn. Some rooms have terraces with views of the bassin.
Splurge