Paris/2nd arrondissement
The
2nd arrondissement
of Paris is one of the financial centres of Europe, being home to the
Bourse
(stock exchange) and thus the CAC 40 index you hear about in world financial news. Other major activities in the neighbourhood are journalism and fashion.
Understand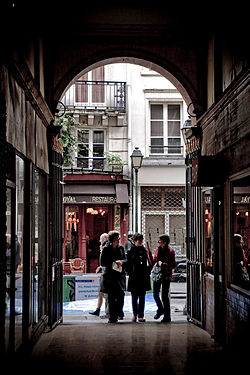 The 2nd is home to the galleries—covered passages lined with shops—which are quite possibly the prototypes of today's shopping malls. One finds shops, cafés and hotels inside.
While the aforementioned are all daylight activities, the east end of the arrondissement has an entirely different reputation, having been home to Paris's red-light district since sometime in the early renaissance.
Get in
By Métro
Being right in the middle of the city, the 2nd arrondissement is well served by the
Métro
system. 5 lines provide direct access to the district via 10 different stations.
and both run east-west right across the northern edge of the arrondissement with 4 stations, distanced every 200 to 400 meters. Take your pick, all of the stations are small, and unless you're making a connection just as good as another.
runs east-west right through the centre of the arrondissement, with 5 stations down rue du Quatre Septembre and rue Réaumur.
runs north-south along the eastern edge.
running north-south, has one stop () near the west edge of the arrondissement.
Get around

As the 2nd is the smallest arrondissement, it is easy to travel many places within it on foot. It's possible to comfortably walk the entire perimeter of the district in around an hour. Much of the SE corner is closed to traffic.

See
Museums
Architecture
The 2nd
arrondissement
covers some of the nicest old parts of Paris.
Notre Dame des Victoires17th century church.

Place des VictoiresBeautiful round "square" with an equestrian statue of King Louis XIV and matching 17th century buildings.
History
There have been dozens of attempts by various regimes at all levels including the city, the state, and the church to chase the working girls away from the east end of the 2nd arrondissement, but for some reason they always come back. Interestingly, the word "bordello" originates here, from the boards that the women used to subdivide the rooms they rented in houses along the
rue Saint Denis
and others.
The press has had nearly as long a run in the neighbourhood just to the west, and several of France's major newspapers still maintain offices here.
La Tour Jean-sans-Peur

address: 20, rue Étienne-Marcel

One of the last remnants of medieval Paris outside of the 4th, this tower was once part of a castle called l'hôtel de Bourgogne.
Do
Théâtre national de l'Opéra-Comique

phone: +33 1 42 44 45 40

address: 5, rue Favart

The théâtre national de l'Opéra-Comique (National Opéra Comic Theatre) is an opera company and opera house.
Buy
Rue Montorgueil pedestrian areaRue Montorgueil is like a scene from a movie. Closed to traffic, the street is a food-lovers delight, with cafes, bars, and all types of fresh produce for sale in the open air.

Terroirs d'Avenir

phone: +33 1 45 08 48 80

address: 6-7-8, rue du Nil

Slow food distribution on three different stores: a grocer, a fish monger and a butcher. They all source fresh, quality, mostly organic produce.

phone: +33 1 43 54 37 27

address: 92-96 rue Montmartre

The book shop is specialized on books for chefs, interested cooks or foodies.
The galleries
Prototypical indoor shopping malls, the galleries got their start in 1786 when the Duke of Orleans realized that there was money to be made by renting out his cloistered garden to small shops. With their glass roofs and tiled floors they were a welcome respite to the newly emerging middle-class shopper of the early 19th century, in the days before electric light and sidewalks.
A walking tour of the galleries can easily be accomplished in an hour or so, and is worthwhile even though they are long past their glory days.
La Gallerie VivienneStart with the best preserved of the galleries and whose décor has been maintained in authentic colours from the era. It's really the mosaic floor which is the star of the show. The shops are distinctly upscale, and all about conspicuous consumption: a wine seller, a tea shop, and a dealer in antique books are among the highlights.

Passage ChoiseulA considerably more down-to-earth gallery, the passage mainly serves traders on their way to the bourse, with the same class of shops that one might find in a pedestrian tunnel in New York or Chicago: a shoeshine stand, a newsstand, and little almost-but-not-quite fast-food restaurants.
You can find more galleries throughout the arrondissement, namely
Passage des Panoramas

Passages des Princes

Passage du Grand-Cerf
Eat
Budget
address: 44, rue d'Argout

French meat with home made ketchup.

Le Bougainville

phone: +33 1 42 60 05 19

address: 5, rue de la Banque

This comfy little bar offers home cooking from the Auvergne region, and after-work drinks for the financial set.

Exki

phone: +33 1 42 61 06 52

address: 9, boul des Italiens

High quality fast food with an emphasis on freshness and a slight bent for the exotic.

phone: +33 1 40 39 96 19

address: 9, rue du Nil

The restaurant from Gregory Marchand has bacon or hot dogs to go or interesting sandwiches.

Grillé

address: 15, rue Saint-Augustin

A fast food restaurant that makes a "healthy" version of kebab (good herbs, better salad). Three cooks, Marie Carcassonne, Hugo Desnoyer, and Frédéric Peneau worked on this creation.

Rani Mahal

phone: +33 1 42 97 53 24

address: 9, rue Saint-Augustin

This Indian restaurant is raved about by vegetarians. It serves meat as well.
Mid-range
L'Assiette a Carreaux

phone: +33 1 9 53 27 33 83

address: 45 rue des Petits Carreaux

A small little charming French restaurant.

Café Etienne Marcel

phone: +33 1 45 08 01 03

address: 34, rue Etienne Marcel

A Costes brothers creation but with lower prices than many of their other restaurants. The Etienne Marcel combines a creative menu with hip interior design and hip musical ambiance. Vegetarians: The crispy risotto balls (risotto croustillant) are amazing, and pretty much impossible to make at home.

phone: +33 1 53 40 84 10

address: 40, rue Notre-Dame-des-Victoires

phone: +33 1 40 13 08 35

address: 42, rue Tiquetonne

The White Wolf is interesting not only for the fact that it's directly across the street from another restaurant called the Three Little Pigs, but also for the quality of the dishes in a style that the chef likes to call "world food". There is a vegetarian offering.

Le Tambour

phone: +33 1 42 33 06 90

address: 41, rue Montmartre

The really distinguishing feature of the Tambour is its very late hours.
Splurge
phone: +33 1 42 65 15 16

address: 16-18, place Gaillon

Anthony Clémot is reigning this French kitchen.
Drink
Sleep
Budget
phone: +33 1 42 36 02 29

address: 10, rue de la Ville-Neuve

phone: +33 1 42 33 21 61

address: 6, rue de la Ville-Neuve
Mid-range
address: 2, rue Monsigny 75002 PARIS

Short walk from the department stores Printemps and Galeries Lafayette, Opéra, Place de la Madeleine, and the Louvre.

phone: +33 1 45 08 42 42

address: 17, rue Beauregard

Old world charm.

address: 8-10 rue d'Amboise

In the heart of the very lively opera district with its many restaurants, cinemas and theatres.

phone: +33 9 77 21 75 04

address: 21, rue du louvre

Hôtel Vivienne

phone: +33 1 42 33 13 26

address: 40, rue Vivienne

Tiquetonne Hôtel

phone: +33 1 42 36 94 58

address: 6, rue Tiquetonne

Closed during August, and between Christmas and New Year's.

Tryp Hôtel Paris François

phone: +33 1 42 33 51 53

address: 3, boul Montmartre
Splurge
phone: +33 1 80 02 30 04

address: 16, rue d'Antin

phone: +33 1 42 36 41 08

address: 56, rue de Montorgueil

phone: +33 1 58 71 12 34

address: 5, rue de la Paix

Palatial hotel with a residential feel and personalised service. Within walking distance of Place Vendôme.

Hotel Stendhal Place Vendôme Paris - MGallery Collection

address: 22 Rue Danielle Casanova