Paris/4th arrondissement
The 4th is a good chunk of what used to be medieval Paris, and you'll find a lot left from that time on both islands and in the narrow streets of the lower Marais. Meanwhile there's lots that's contemporary to look at especially at the
Centre Georges Pompidou
where you'll find a lot of the very best contemporary art.
At night the 4th has several of the most active bar scenes most travellers will have ever seen, including the lower
Marais
district which is sometimes known as
gay Paris
although there are no shortage of bars catering to straight singles or a mixed crowd, or, in the early evening, families.
The 4th has the eastern end of the
Axe historique
, which extends westwards to
La Défense
.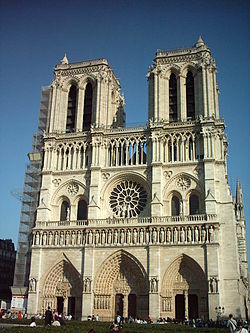 Get in
The 4th is a central arrondissement, right between the Châtelet and Bastille areas, two of Paris' main transportation (metro, RER and bus) hubs.

By car
Being such a touristy district, it is very hard to find parking spaces. It's much easier to use the Metro.

By metro
(La Defense/Chateau de Vincennes, and Chatelet/Mairie des Lilas respectively) - Access from near the junction of Rue de Renard and Rue de Rivoli.
(Porte d'Orleans (General Leclerc)/Porte de Clignancourt) - Access off the Boulevard du Palais (infront of Palais de Justice on the Ile de Cité).
(La Defense/Chateau de Vincennes) - Access off the Rue de Rivoli.
(Chatelet/Mairie des Lilas) - Access from near the junction of Rue de Renard and Rue Rambuteau.
(Villejuif - Louis Aragon / Mairie d'Ivry/La Courneuve - 8 mai 1945) - Access from Quai de l'Hotel de Ville
(Villejuif - Louis Aragon / Mairie d'Ivry/La Courneuve - 8 mai 1945) - Access near the junction of Boulevard de Henri IV and Quai des Celestins.

By bus
Unlike the metro, buses can be a great way of moving around and seeing the city's landscape, although you risk being caught in traffic. The most useful lines are 70, 72 and 74, which stop at the Hôtel de Ville, and lines 75 and 76, which run through Rue de Rivoli.
The neighbouring Châtelet and Bastille stations are also served by the Noctilian (night bus), running from 00:30 to 05:30. Lines 33, 34 and 132 run between these two stations with no intermediate stops, but there are many others arriving and leaving from both to several destinations around town.

Get around
Walk, walk and walk! This arrondissement is compact enough to be explored on foot and that's probably just what you'll want to do anyway. Otherwise, the metro may be not be too useful for covering short distances, but you may still want to use the bus line 76 for the Châtelet-Bastille itinerary or line 67 for Châtelet - Île St. Louis, especially if you have a card for multiple trips or a Carte Orange.
The RATP network has
bicycles
(
vélos
) for rent next to the Bastille station:
phone: +33 1 54 54 97 10

address: 37, bd Bourdon
See
Places and Areas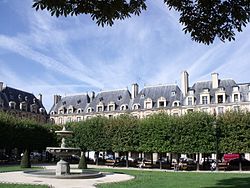 Le Marais

Place des VosgesThe oldest planned square in Paris, and what many tourists as well as locals consider the heart of the Marais area.

Rue des RosiersThe Jewish quarter, with many small delis and shops. Lively on most days except for Saturdays.

Île Saint-Louis
Landmarks
phone: +33 1 42 34 56 10

address: Ile de la Cité 6, Place du Parvis Notre Dame

The early Gothic Cathédrale de Notre Dame (Our Lady) has a 12th century design but wasn't completed until the 14th. Still it is a good example of the development of the style, though the west or main portal is a bit unusual in its rigidity. The April 2019 fire caused severe damage, but the main structure of Notre Dame, and its two towers, have been saved. The area around the remains of the building will be unsafe and off limits for an undetermined period.

address: Place de la Hôtel de Ville

Many feel that this, Paris' town hall, is one of the loveliest buildings in the city. You might not get that from the front view, but try watching the light change on its roofs and towers during sunset from one of the cafés on the Ile de St. Louis, the Lutece for instance. Alternatively, go to the top floor of the Bazar de l'Hôtel de Ville (BHV) department store opposite, on rue de Rivoli and walk up a flight of stairs to the roof terrace (terrasse), from which there is a dramatic view of both the roof of the Hôtel de Ville and the immediate surroundings and river. The present Hôtel de Ville replaced the 16th century original which was burned down during the Commune in 1871. A pastiche of its predecessor, but on a far larger scale, it was designed by the architects Ballu and Deperthes, chosen after a competition, and was mostly completed by 1882. The building is lavishly, and some would say heavy-handedly, decorated both inside and out, and finished in an arrestingly white stone, similar to that used for the even more eye-catching Sacre-Coeur basilica. The statue on the garden wall on the south side is of Etienne Marcel, the most famous holder of the post of "prevôt des marchands" (provost of merchants) which pre-dated the office of mayor. Marcel came to a sticky end, lynched in 1358 by an angry mob after trying to assert the city's powers a little too energetically. The Hôtel de Ville was for many years the private fiefdom of Jacques Chirac, France's president before Sarkozy, and was the site of a scandal centring on both illegal jobs given to Chirac's party members and an immense entertainment budget. General de Gaulle greeted the crowds from a front window in 1944 when Paris was liberated from the Germans and Robespierre was shot in the jaw and arrested in the original building in 1794. Admirers of Hôtel de Ville's architecture will want to know that Ballu also built the Church of La Trinité in the 9th arrondissement and the belfry of the town hall of the 1st arrondissement, opposite the Louvre's east façade. Ballu also restored the Tour St Jacques (see below), which was uncovered after restoration work lasting over a decade.

Tour St Jacques

address: Rue de Rivoli

A Gothic church tower in a square 150m to the west of the Hôtel de Ville was restored by Ballu, is all that remains of Eglise Saint-Jacques-de-la-Boucherie, which was the meeting place in Paris for pilgrims heading to Santiago de Compestela. As such it is included on the UNESCO World Heritage List as part of the Routes of Santiago de Compostela in France.
La BastilleEnter Bastille station through any entrance or on any train and then make your way to the Bobigny/Pablo Picasso-bound platform. All that's left of the fortress whose front steps used to lead up from place de la Bastille are some foundation stones which you can see while waiting for a north bound train on this metro platform. There are maps and explanations showing where the fortress used to be relative the place and surroundings (basically the location of the old front steps are now occupied by Café des Phares).

phone: +33 1 42 77 44 72

address: 17, rue Geoffroy l'Asnier

Opened in January 2005, the Holocaust Memorial comprises a major documentation centre and a wall bearing 76,000 names of Jews deported from France to the Nazi camps between 1942-1944. Includes an archive of a million artefacts, including 55,000 photographs. Excursions are run from the memorial to French internment camp sites such as Drancy.
Museums and Galleries
address: Place George Pompidou

Those who are unfamiliar with conceptual art sometimes don't know quite what to expect, or how to approach it. Such travellers should rest assured that the curators at the Pompidou Centre have assembled a marvellous introduction consisting of mostly approachable works which delight, amuse, and entertain. The art is far from the only reason for a visit, as the building also contains a vast public library and a fine restaurant (run by the Costes brothers) on the roof. In fact the place is literally surrounded by some of the nicest pavement cafés in the city, in its superb location between the car-free above ground part of Forum Les Halles and the Marais art district.

phone: +33 1 42 72 10 16

address: 6, Place des Vosges

The house in which the famous French novelist Victor Hugo once lived.

address: 62 rue Saint-Antoine

Built in 1625, the Hotel de Sully is an interesting house with some sculptures in a beautiful courtyard. The house features special exhibitions, so check listings when in Paris.
Do
Most of the things to do in the 4th are covered in other sections of this guide, with the main thing to do being to explore. Of particular interest is the Île Saint Louis (complete with having an ice cream or sorbet from Berthillon), the Hôtels Particuliars, and the Pletzle particularly rue des Rosiers and the area around Place du Marché Sainte-Catherine.

Buy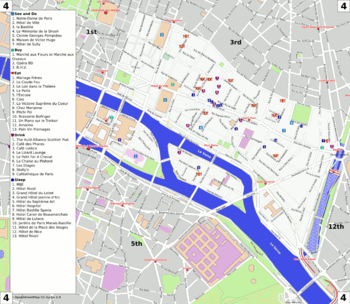 Over the last decade, the rue des Francs-Bourgeois has become a shopping destination for clothes and accessories. Go during the July or January
soldes
(sales) and pick up some Anne-Fontaine outfits, Camper shoes, or trendy men's clothing at Melchoir at bargain basement prices.
Marché aux fleurs Reine-Elizabeth-II

address: Place Louis Lepine

On the north side of the Ile de la Cité, the main island at the centre of Paris you'll find a burgeoning daily flower market, where you can buy just about any type of flower, and oddly enough, a range of exotic tropical birds.

phone: +33 1 44 54 95 12

address: 2 rue des Tournelles

Comics (Bandes Dessinées) are a serious art form in France and even regular corporate bookstores have a good selection, but it's much better to look for them where they are really appreciated, in one of Paris's many private BD dealers. This one is friendly, well stocked, and keeps late hours so pay them a visit if you would like to pick up a copy of one of the many volumes of Lone Wolf and Cub in French.

Mariage Frères

address: 30 & 35 rue de Bourg-Tibourg

If you love tea, you'll love this old salon de the in the Marais.

phone: +33 1 42 74 90 00

address: 52 rue de Rivoli

Is a general store with most of everything: clothes, perfumes, furniture, you name it—it's especially famous for its basement section, dedicated to handiwork & DIY think of it as a small Home Depot in a basement, though with French hardware and house and garden accessories that look distinctive in other settings.
Eat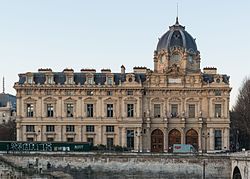 For dinner or a sit-down lunch there are over a thousand restaurants in the 4th catering to all tastes - many more deserve to be listed than this or any other guide has space for. There are nice places, trendy or traditional throughout the district, but most of the really fancy bistros are clustered around the NW corner of Place de Bastille. You'll really enjoy walking around and checking out the menus, especially during the week when only the most exclusive places require a reservation. That said, here are some ideas:
Budget
If you are looking for a snack or a quick lunch you could do a lot worse than any one of the kosher falafel stands along the rue des Rosiers near Place des Vosges. If you are on the île de la Cité though, a closer choice is just to hop across the little pedestrian bridge to the
île Saint-Louis
for lunch at any one of the many charming cafés.
Mid-range
Splurge
Ice cream
French ice cream is famous for its sorbet and there are excellent ice cream parlours to choose from:
Drink
In the 4th it's really hard to say whether a given place is somewhere to
Eat
or somewhere to
Drink
. Most of the places on this list serve dinner, and some serve lunch as well.
The Auld Alliance Scottish Pub

phone: +33 1 48 04 30 40

address: 80, rue Francois Miron

Friendly staff and customers help create a welcoming atmosphere at the original Scottish pub in Paris. Excellent food is served every day including a hearty brunch. In late 2008 the menu promised a 'Scottish Ploughmans' that was 'coming soon' but this project appears to have been hit by R&D snags or the global downturn and has been quietly dropped. Instead the pub is selling quality British crisps at just €0.50 per packet, even smokey bacon flavour. A wide selection of whisky is on offer. Sporting events are shown on eight large television screens. Regular darts and pool competitions take place and Monday night is quiz night.

Café des Phares

phone: +33 1 4272 0470

address: 7, place de la Bastille

Since 1992 this otherwise very attractive but fairly standard Parisian café has been host to a lively discussion of contemporary philosophy and attendant issues every Sunday night. There's a political discussion too, on the first Thursday of each month.

Café Lutèce

address: 33, quai de Bourbon

This little bistro would be totally unremarkable if it weren't for the location, on the north bank of Ile Saint-Louis, where you can watch the colours of the sunset light play over the towers of the Hôtel de Ville as you enjoy a glass or three of beer or house wine, or maybe a cognac.

Le Lizard Lounge

phone: +33 1 42 72 48 34

address: 18, rue du Bourg-Tibourg

Le Petit Fer A Cheval

phone: +33 1 42 72 47 47

address: 30, rue Vieille-du Temple

La Chaise au Plafond

phone: +33 1 42 76 03 22

address: 10, rue du Trésor

The Chaise is one of those truly warm and welcoming cafés. The proprietor usually makes an effort to spend at least a couple of minutes at each table, and somehow manages to remember visitors even years later.

Les Etages

phone: +33 1 42 78 72 00

address: 35, rue Vieille du Temple

Stolly's

phone: +33 1 42 76 06 76

address: 7, rue Cloche-Perce

phone: +33 1 52 01 83 84

address: 52, rue de l'Hôtel de Ville

Coffee in Paris is usually found to be lacking, but not in this mini temple to coffee. A gem tucked into a backstreet by the river in le Marais roasts their own beans from around the world and has a small laid-back café area with armchairs. Staff are passionate about great coffee, not just a scaldingly hot coffee! They have some cakes and wine, and speak Spanish and English.

address: 53 bis, rue De Francs Bourgeois

Wake Up Paris

address: 31, boul Henri IV

A wonderful little bar with a Brazilian tilt that serves excellent caipirinhas. The staff is friendly and eager to strike up a conversation, especially about cachaça, the Brazilian liqueur that forms the base of their signature drink. It's a wonderful spot for catching a football match as well.

Queen Ann

phone: +33 1 42 78 00 07

address: 5 rue Simon le Franc

The "salon de thé" serves soufflés and cakes. The small place has 12 tables. The hot chocolate makes the place highly addictable.
Sleep
There are tons of hotels, hostels, furnished apartments and guest houses in the 4th. Even still you should book ahead if possible as there is also tons of demand.
Budget
phone: +33 1 42 74 23 45

address: 6, rue de Fourcy, 12 rue des Barres, and 11 rue du Fauconnier

Consistently given the highest possible ratings this organization actually runs three hostels in the Marais. The only possible drawback is that they have an afternoon lockout for cleaning. The MIJE Maubuisson on rue des Barres gets the nod of the three for being in an historic Tudor-style building.

Hôtel Rivoli

phone: +33 1 42 72 08 41

address: 44, rue Rivoli

In the heart of the city with cheap doubles. Terrific view from 5th floor single room.

Grand Hôtel du Loiret

phone: +33 1 48 87 77 00

address: 8, rue des Mauvais Garçons

A good value for the price and location.

phone: +33 1 48 87 62 11

address: 3, rue de Jarente

In the calmer part of the Marais, not far from Place de Bastille and Place des Vosges, this little hotel fills up well in advance, so you'll need to book ahead.
Mid-range
Hôtel du Septième Art

phone: +33 1 44 54 85 00

address: 20 rue Saint-Paul

A little place done up in all black and white in homage to the cinema, the 7th Art offers a good value on comfortable rooms, and polite, quality service. Single rooms include air conditioning, WC, and shower. A 5min promenade to the Rue de Rivoli.

phone: +33 1 44 32 01 00

address: 1, Place du Parvis Notre Dame-Galerie B2, 6F

You can't beat the location of this no-star but midrange offering on the Ile de la Cité located on the 6th floor of the Hospital Hôtel-Dieu a functioning hospital which is also classified as an official historical monument. Hôspitel offers quite a bit of service and comfort.

phone: +33 1 42 72 04 01

address: 1, rue de la Bastille

This lovely little three star is at the far end of the 4th bumped right up against Place de Bastille. The place is inviting and the rooms are quite comfy and air conditioned. The location is good especially if you are interested in fine dining, as the place is surrounded by some of the better bistros on the right bank.

phone: +33 1 42 72 34 12

address: 12, rue Vieille-du-Temple

These are of the expected (small) size for Paris though elegantly appointed in 18th century style. Equipment includes air conditioning. Tea and coffee at the reception. The courtyard is a two-by-two metre light shaft, so rooms facing it have no view, and are quite dark on the ground and first floors. A simple request to avoid them on booking will suffice. The staff speak English well.

phone: +33 1 43 26 23 52

address: 65, rue Saint-Louis-en-l'Ile

address: 19, rue Maître Alberte

On a typical and quiet little street, looking out on the Seine and facing Notre Dame Cathedral. Every room is uniquely styled and decorated and equipped with a complete, marble bathroom.

Jardins de Paris Marais-Bastille

phone: +33 1 44 59 28 50

address: 14, rue Neuve-Saint-Pierre

Hôtel Central

phone: +33 6 71 24 76 98

address: 5, rue saint Paul

phone: +33 9 77 21 78 62

address: 12 rue de Birague

The rooms are tiny, as is the staircase, but they are also pristine, some of the rooms have been renovated recently with shiny new marble bathrooms. The staff also gets high marks for professionalism and for general helpfulness.

address: 42bis, rue de Rivoli

Just two blocks from the Ile de St. Louis, the Hôtel de Nice offers tiny but lovely rooms. Ask for one with a balcony, some of which have a view of Notre Dame. The furniture is hand-painted with a floral theme which continues throughout the room. The area can be a little loud though, so if you want peace and quiet look elsewhere.

Hôtel Rivoli

phone: +33 1 42 72 08 41

address: 44 rue de Rivoli

Great location next to the Hôtel Rivoli. Can be noisy if you have a room which faces the street.
Connect
Bibliothèque Publique d'InformationThis library in Centre Pompidou offers free Internet for 40 min. It's very popular so expect a queue for getting in and at least one hour waiting time to use the computers. The entrance to the museum isn't the same as the one to the rest of Centre Pompidou, but is around the back of the building.