Paris/7th arrondissement
The 7th arrondissement is perhaps the most expensive area to live in
Paris
. The Eiffel Tower, one of the most famous tourist sites in the world, is here, as well as many government buildings (ministries, the National Assembly and so on). Many dignitaries and VIPs populate this arrondissement.
Get in
By Métro/RER
serves Bir-Hakeim (Eiffel Tower).
serves stations Invalides (Les Invalides), Varenne (Les Invalides, Musee de Rodin), Ecole-Militaire (Eiffel Tower), Latour Maubourg (Hotel des Invalides).
serves Sèvres-Babylone (Le Bon Marche).
serves stations Assemblée Nationale, Solférino, Rue du Bac, Sèvres-Babylone.
serves Invalides (Les Invalides).
RER serves stations Invalides (Les Invalides), Champ de Mars-Tour Eiffel (Eiffel Tower), Musee D'Orsay (Musee D'Orsay).
By boat
Batobus, the hop-on hop-off service serving tourist sites on the Seine has stops at Tour Eiffel and the Musée d'Orsay.
See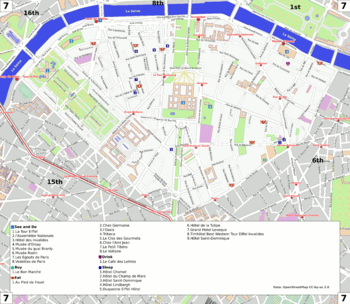 Landmarks
Eiffel Tower Light Show
From dusk till 02:00 there is a light show for ten minutes on the hour.
phone: +33 8 92 70 12 39

A symbol of Paris and one of the most famous landmarks in the world. Built by Gustave Eiffel in 1887-1889, the tower was almost torn down in 1909 and only saved due to its use as a telegraphy antenna. Note that the queues can be very long. The tower has recently begun allowing online reservations at its website, allowing visitors the choice of a date and time frame. Bear in mind that if you miss the time on your ticket, it's useless. The north, west, and east pillars have elevators that go to the first and second floors; the south pillar has stairs that can be climbed to the second floor. To reach the top floor, an additional elevator ride is required, and the wait for this can be very long as well. Unfortunately, disabled visitors are not allowed beyond the second floor due to safety concerns. Taking the Métro as far as Ecole Militiare and then strolling up the Champ de Mars is a lovely way to arrive at the tower. Another phenomenal approach is to exit the Metro at Trocadero and see the Eiffel Tower from the other side of the Ecole Militaire.

phone: +33 1 40 63 60 00

address: 33, quai d'Orsay

Guided tours conducted all day, ID required. Formerly the Palais Bourbon, this building has housed the National Assembly, the French parliament's lower house, since 1827. Some interesting architecture and the library features the painting l'Histoire de la civilization by Delacroix. Visitors may be interested in attending assembly debates.

address: 6, boul des Invalides

Founded in 1671 by Louis XIV as a hospital for 6,000 wounded soldiers—this function explaining the name of the building—the golden-domed Hôtel des Invalides still functions as an infirmary and now also houses the Musée de l'Armée. The church attached, l'Eglise du Dôme, houses the tomb of Napoleon.
Museums and Galleries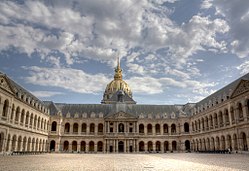 Other attractions
phone: +33 1 53 68 27 81

For an interesting take on Paris, check out the underground sewers of Paris. See swords found in the sewers over the years and get an appreciation for what it takes to keep Paris running.
Do
Buy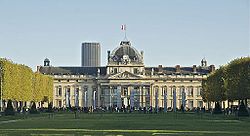 phone: +33 1 00 09 00 93

address: 24, rue de Sèvres

One of the world's first department stores, the oldest and one of the largest in modern Paris.

phone: +33 1 42 60 72 15

address: 3, quai Voltaire

In 1887 Gustave Sennelier founded this house next to the Ecole des Beaux Arts.

Rue Cler

address: rue cler

Market street 10 minutes from the Eiffel Tower. The market is at its best on Tu–Sa, 08:30–13:00 or 15:00–19:30; Su, 08:30–12:00; closed on M.
Eat
Expect high prices at cafés and restaurants.
Budget
Chez Germaine

phone: +33 1 42 73 28 34

address: 30, rue Pierre Leroux

It's all about home-cooking, like your grandma would do if she were French and trained in cooking.

l'Oasis

address: 162, rue de Grenelle

An authentic take on Moroccan cuisine.

Au Pied de Fouet

phone: +33 1 47 05 12 27

address: 45, rue de Babylone

It's an appropriate name for a restaurant renowned for its unapologetically rude wait staff. Some people say that this is part of the charm of the place, perhaps that fits your definition of the word "charm" as well? Or perhaps not. One way or the other it's cheap and the food is good.
Mid-range
Chez l'Ami Jean

address: 27 Rue Malar

A sensational little restaurant featuring food and wine from the Basque region.

Le Clos des Gourmets

phone: +33 1 45 51 75 61

address: 16 avenue Rapp

A great little restaurant, elegant without being stuffy, popular with foreign visitors and American diplomatic staff. French cuisine with a twist. Try the avocado millefeuille with orange sauce for dessert, a surprisingly good combination.

Tribeca

phone: +33 1 45 55 12 01

address: 36, Rue Cler

A very nice terrasse on the rue Cler (pedestrian area). The food is simple, but good and reasonably cheap.
Splurge
phone: +33 1 76 64 14 64

address: Tour Eiffel 1st floor

The restaurant in the first floor of the Eiffel Tower. One pays of course for the view, not so much for the food.

phone: +33 1 47 05 49 75

address: 58 rue Saint Dominique

Chef patisser Ludovic Chaussard, who had previously worked with Alain Ducasse is designing the cakes.

Le Petit Tibéro

phone: +33 1 45 48 76 25

address: 132 rue du Bac

Le Voltaire

phone: +33 1 42 61 17 49

address: 27, quai Voltaire

Le Voltaire has always been tres chic and with customers like Helene Rochas and the Rothschild family, you know you are dining with the right set. Peaceful wood paneling and lighting that flatters, it is an intimate and romantic setting, where newcomers feel that they belong to an exclusive club. Be sure to dine upon the tenderloin in pepper sauce.
Drink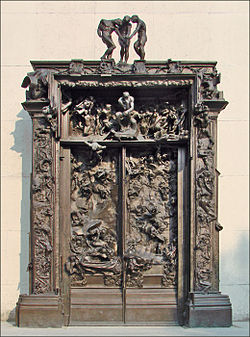 Le Cafe des Lettres

phone: +33 1 42 22 52 17

address: 53, rue de Verneuil

The charming cobblestoned courtyard makes this an ideal place to sit down and linger over a glass of wine. Excellent cocktail list.
Sleep
Budget
address: 32 rue de l'Exposition

5-10 min from the Eiffel Tower and a couple of minutes from Rue Cler. The amenities you expect from a 3 star hotel, but with 2 star rates.

address: 19, quai Voltaire

View of the Seine and the Louvre. Single, double and triple rooms.
Mid-range
Duquesne Eiffel Hôtel

phone: +33 1 44 42 09 09

address: 23, ave Duquesne

phone: +33 1 47 05 49 15

address: 29, rue Cler

Near the Eiffel Tower, on a charming pedestrianised market street. The rooms have recently been renovated, and some have a view of the Tower.

Hôtel du Champ de Mars

phone: +33 1 45 51 52 30

address: 7, rue du Champ de Mars

Great value for money in an affordable location.

phone: +33 1 45 48 55 52

address: 15, rue Chomel

Basic but clean 3 star hotel.

Hôtel Lindbergh

phone: +33 1 45 48 35 53

address: 5, rue Chômel

address: 93, rue de Lille

Staying here is a convenient way to visit both the right and left banks.

phone: +33 1 47 05 51 44

address: 62, rue Saint-Dominique

Charming decor and attentive staff.

phone: +33 1 45 51 67 21

address: 33, rue Malar

Timhôtel Best Western Tour Eiffel Invalides

phone: +33 1 45 56 10 78

address: 35, boulevard de La Tour-Maubourg
Splurge
Hotel Le Bellechasse Saint-Germain

phone: +33 1 45 50 22 31

address: 8 rue de Bellechasse

The Bellechasse converted into a delightful hotel, full of character, being altogether impressive and intimate, entirely dressed by Christian Lacroix. In the heart of the left bank, between the 7th aristocratic and the 6th artistic districts, this elegant private hotel is now a real jewel of "haute couture".

phone: +33 1 47 05 51 44

address: 62, rue St Dominique
Stay safe
The Eiffel Tower is a well-known
hotspot for pickpockets
, to the extent that warnings are regularly read over the tannoy system on the observation platforms reminding tourists to keep a hold of their belongings. The bottom of the tower and the lifts also have many reports of such activity. You must
never be complacent
about the chances of having your items stolen, as thieves will usually operate in a manner that leaves the victim with no idea that they have lost their possessions until it is too late. Keep all valuables close and bags sealed, as in any tourist destination.