Paris/9th arrondissement
The
9th arrondissement
of
Paris
is a diverse, "in between" section of the French capital. The
Grands Boulevards
area of shopping thoroughfares and flagship department stores (as well as the original
Opera
- hence the common name for the district) is to be found in the southern part of the arrondissement (shared with the
2nd
and the
8th
). By way of contrast, the fading
red-light
and cheap shopping district of
Pigalle
is in the north of the 9th, closely adjoining Montmartre on the hill above in the
18th
. In between the two, relatively-speaking, lies a traveller's no-man's-land /
terra incognita
- though the streets around St Lazare used to be the Impressionists stronghold in Paris.
Get in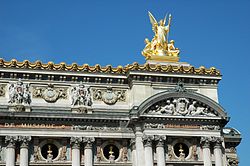 By Métro
Main stations are: , , , , , .
See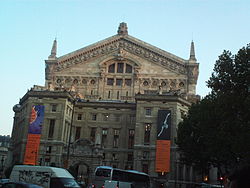 As with the other 19 arrondissements of Paris there are a lot of little commemorative plaques scattered around on the houses of the 9th. One example is the site of the first public demonstration of the Lumiere brother's moving picture projection system which is marked by a pair of commemorative plaques at 14, boul des Capucines between rue Scribe and rue Edward VIII.
Do
Admire the skyline from the roofs of
Printemps
or the
Galeries Lafayette
. There's also a hot air balloon at Parc André Citroën (southwest Paris), but not on windy days.
les Grands BoulevardsGo shopping at the grands magasins (department stores).

address: 28, boul des Capucines

A music hall, which houses concerts for an older crowd. Be sure to tip the usher €2 or so.

phone: +33 1 47 42 35 71

address: 10 place Édouard VII

French theatre, for those with command of the language.
Buy
Particularly interesting in this area are the covered passageways built in the 19th century, charming early versions of the shopping mall. There are several in the vicinity of boulevard Haussmann and rue Vivienne, including passage Jouffroy and passage Verdeau, and across the boulevard Haussmann in the
2nd arrondissement
, the passage des Panoramas.
The department stores along the boulevard Haussmann are overpriced compared to smaller specialty shops. For a more interesting selection and better quality-price ratio, venture out to the innumerable shopping streets in Paris. Make sure to say
bonjour
on entering and
merci, au revoir
on leaving. For more information on common courtesy in Paris, see the main
Paris
article.
address: 40, boul Haussmann

The gourmet section is a Paris institution that takes up an entire floor, featuring (among many other things) several competing vendors of deluxe baguettes, a few hundred types of cheese, and an entire aisle devoted to mustard. Depending on your home country you may be eligible for a 10% discount for all goods (you just need to show a flyer that is attached to tourist office Paris maps).

address: 64, boul Haussmann
Eat
If you're in the southern part of the neighbourhood, you might also consider arrondissements
2
or
8
- neither are more than a short walking distance. You could also visit the food section of any of the
grands magasins
, or one of the smaller
traiteurs
(shops selling prepared food), and pick up the ingredients for a
piquenique
in the square Louis XVI on boulevard Haussmann and rue Pasquier; square de la Trinité, at the top of rue de la chaussée d'Antanfree concerts in the church at 12:30 most Thursdays; or the square du Montholon on rue de la Fayette between rue Cadet and rue du faubourg Poissonière. Otherwise, here are some good eating options:
Au Relais

phone: +33 1 45 23 25 22

address: 7, rue Cadet

Downstairs is the local bar with a few tables; most patrons know the two women behind the bar by name. Upstairs is a low-ceilinged dining room. On weekdays they have a €12 lunch menu for two courses and a small pitcher of wine. The food is traditional and very good.

phone: +33 1 47 70 86 29

address: 7, rue du Faubourg Montmartre

Since 1896. Menu changes daily, historic building. Nice and cheap food. Plain cooking; don't expect haute cuisine. Usually the line is bigger than the reputation.

Corneil

phone: +33 1 49 95 92 25

address: 18, rue Condorcet

Good French restaurant, reasonable prices. The côte de boeuf pour deux (steak for two) is a classic.

address: 5, rue Henri Monnier

Good, reasonably priced Indian restaurant. Alcohol is not sold, so locals often bring their own wine.

La Marmite

phone: +33 1 42 55 83 42

address: 2, boul de Clichy

Nice sunny place for having lunch.

phone: +33 1 42 68 86 80

address: place Jacques Rouché

A modern restaurant designed by Odile Decq opened in the 19th century Opéra Garnier and convenient to Galeries Lafayette or Printemps.

Pizzeria Da Carmine

phone: +33 1 48 78 28 01

address: 61, rue des Martyrs

Good (real) Italian restaurant/pizzeria. Does not accept credit cards.

Pizza Marzano

phone: +33 1 47 70 33 33

address: 30, boul des Italiens

UK travellers will be familiar with the above-average pizza / pasta menu, speedy table service and very reasonable prices. This outlet has a large al fresco area for the warmer months.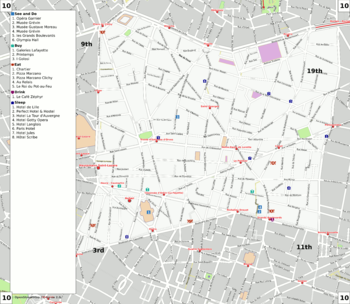 Pizza Marzano Clichy

phone: +33 1 40 16 52 30

address: 10 bis, place de Clichy

On the site of an old Paris restaurant, La Champagne, this second "Pizza Express" outlet (they're both in the 9th) is close to the Moulin Rouge and Montmartre.

Le Roi du Pot-au-Feu

phone: +33 1 47 42 37 10

address: 34, rue Vignon

The menu is very short, but the meals are big and good. The best pot-au-feu in the world. Very nice, typical Parisian atmosphere.
Drink
Bar des Roses

phone: +33 1 49 70 09 22

address: 1, rue de Vintimille

Le Café Zéphyr

phone: +33 1 47 70 80 14

address: 12, boul Montmartre

A typical brasserie with a fine choice of simple food (salads, etc.).

I Golosi

phone: +33 1 48 24 18 63

address: 6, rue Grange Batelière

On a quiet side street, a good Italian wine bar and shop where you can buy the wines you will have tasted.
Sleep
Budget
Hotel de Lille

phone: +33 1 47 70 38 76

address: 2, rue du Montholon

Family-run, fairly Spartan, near the Gare du Nord. The area around this train station, worked by street prostitutes, is not very pleasant at night.

phone: +33 1 42 81 18 86

address: 39, rue Rodier

The Perfect advertises bargain rates for backpackers and families.
Mid-range
Hotel Best Western Opéra d'Antin

phone: +33 1 48 74 12 99

address: 75, rue de Provence

When you exit Hotel Best Western Opéra d'Antin and leave the large department stores behind you (Galeries Lafayette & Le Printemps), just cross boulevard Haussmann and you will find yourself before the Opera Garnier.

phone: +33 1 48 74 03 29

address: 46, rue Notre Dame de Lorette

Friendly and English speaking staff. Free Wi-Fi in the rooms.

phone: +33 1 47 70 12 90

address: 11, rue de Trevise

A three-star on a quiet street, yet close to bistros, supermarkets.

phone: +33 1 42 85 05 44

address: 49-51, rue La Fayette

3 star hotel between Gare Saint Lazare and Gare du Nord.

phone: +33 1 48 74 78 24

address: 63, rue Sant-Lazare

They serve a decent breakfast in the morning, but there is also a boulangerie and a bar down the street.

phone: +33 1 53 16 33 33

address: 2 rue de Parme 75009

Boutique hotel of 29 rooms.

phone: +33 1 48 78 61 60

address: 10, rue de la Tour d'Auvergne

On a street full of surprises. A few steps away from Montmartre, rue des Martyrs, Opéra, and avenue Trudaine.

Paris Hotel

phone: +33 1 42 85 43 43

address: 23, rue Henri Monnier

3 star near Pigalle. The rooms are of decent quality and the views of the street are charming and typically Parisian (lots of balconies and shutters at the front, and a pleasant garden view at the back.) There's free Wi-Fi in the rooms and a nice breakfast room. The street can get a little noisy at night, but that's typical of the area and probably not enough to keep you awake but you should be aware in case you happen to be a light sleeper. There is a Renault parking garage round the corner which charged €52 for 72 hours.

address: 15, rue Montyon

phone: +33 1 42 66 60 38

address: 35 rue Caumartin 75009

Founded in 1860, this elegant historic hotel was upgraded in 2016 to become a four-star hotel after a refit of some of its most important sections.
Splurge
Hôtel Scribe

phone: +33 1 44 71 24 24

address: 1, rue Scribe

Crown jewel in the Sofitel chain and owned by Pakistan's national carrier PIA, this elegantly redecorated 4 star hotel hasn't lost any of its charm since it was first opened in 1895. All rooms are sound proofed and come with Wi-Fi. The apartments have a separate entrance and they can provide you with a nanny if needed.

Intercontinental Paris Le Grand

phone: +33-1-40073232

address: 2 Rue Scribe

This 4.5 star hotel is equipped with a health and fitness center, spa facilities, and standard internet service. It has a classic Parisian feel and a views of the Eiffel Tower.