Paris/La Défense
La Défense
is a collection of modern high-rise office and residential buildings built according to an evolving central plan on the western outskirts of
Paris
, beyond the last Parisian loop of the river Seine. La Défense is the site of the Grande Arche, one of Paris' most modern and imposing landmarks, situated at the western end of the grand axis formed by the
Champs-Elysées
, the
Place de la Concorde
and the
Arc de Triomphe
.
La Défense makes up the western end of the
Axe historique
, a route of monumental buildings extending to the Louvre and the Bastille.
Understand
La Défense is a purpose-built business district; in the 1960s, Charles de Gaulle led an effort to level the area and concentrate skyscrapers in a single business district, rather than altering the character of Paris with large commercial buildings. Despite being officially and popularly recognised, and invariably associated with Paris, La Défense is neither an official administrative unit nor is it within Paris' city limits. The area of La Défense is actually on the borders of three communes of the Hauts-de-Seine department beyond the borders of Paris proper - Nanterre, Courbevoie and Puteaux.

Get in
By métro
La Défense (ligne 1, and RER line A)
Esplanade de la Défense (ligne 1)
Note: Both stations are in zone 3, but the line 1 stations can also be accessed using a T+ ticket or a zone 1-2 only pass.
By train and tram
La Défense can be reached on RER A, Transilien L, Transilien U, Tramway T2, which all stop at the eponymous La Défense station. The RER A and Transilien stations are in zone 3 and therefore cannot be accessed with a T+ ticket.
The station layout can be very confusing but
Les Quatres Temps
shopping centre is colour-coded.
See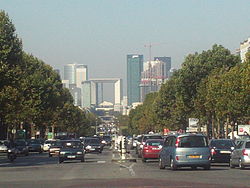 In La Défense
phone: +33 1 49 07 27 27

address: 1 Le Parvis de La Défense

A high-rise building that looks more like a hollow cube than an actual arch. The viewing platform on its top reopened in May 2017 after having been closed due to a 2010 elevator incident.

Centre des nouvelles industries et technologiesThe largest unsupported concrete span enclosed space in the world.

Musée de La Défense

phone: +33 1 47 74 84 24

address: 15, place de La Défense

The museum presents the history of the development of La Défense, with many plans and scale models
Architecture
Each of the buildings of La Défense tells a story of architectural trends that were
en vogue
at the times of its construction and design. A tour of La Défense can be a quick overview through the most recent period in the history of architecture
Art
There are over 60 works of art displayed in the open air throughout La Défense, interspersed within public spaces and freely accessible, and authored by some of the biggest names in modern art.
Le pouce, a giant statue of a thumb by César Baldaccini, stands between the CNIT and the Grande Arche
The abstract Spider by Alexander Calder simply cannot be missed on the Esplanade
The Bright Trees by Vassilakis Takis visually enclose the Esplanade
Beyond La Défense
Nanterre
Tours AillaudSouth-west from the Grande Arche you can find these tall cylindrical concrete residential towers, painted in various colours. Representing a 1970s urbanistic experiment, the 18 towers remain controversial and unique, and continue to house thousands of inhabitants in over 1600 apartments.

Parc André MalrauxThe expansive, calm park around a lake extends westwards behind the Tours Aillaud, and is to La Défense what Central Park is to Downtown Manhattan. You can take spectacular pictures of the skyline juxtaposed against the park's greenery from there.

Nanterre Cathedral

address: 28 Rue de l'Église

Built in the 1920s, it is no match for the Notre Dame de Paris in either historical importance or architectural detailing, but it can be an interesting destination for those interested in sacral architecture.

address: 99 Jardin de l'Arche

A domed stadium near the Grande Arche. It opened in October 2017, and its main tenant is the rugby union club Racing 92. The facility can host everything from court sports to concerts, with configurations ranging from 10,000 for court sports, 32,000 for rugby, and 40,000 for concerts. It will host gymnastics events when Paris next hosts the Summer Olympics in 2024.
Courbevoie
Pavillon des IndesThe wooden Indian pavilion was moved from Paris to Courbevoie following the Universal Exhibition of 1878, and remains a curiosity amidst the much more modern architecture of the commune.
Puteaux
Théâtre des Hauts-de-SeineA 19th-century theatre building
Do
Buy
phone: +33 1 47 73 54 44

address: 15 Le Parvis de La Défense

The "Quatre Temps" shopping mall, which when constructed was the largest shopping centre in Europe, has numerous big name as well as small stores, several cinemas (showing French and subtitled foreign movies) as well as a large supermarket and grocery store. It is accessible from an entrance to the left of the "Grande Arche" or via the metro station. 230 stores (Auchan, C&A, Darty, Virgin, Zara, Go Sport, H&M, Uniqlo, Toys'R'Us), 16 movie theater screens, 40 restaurants.
Eat
Besides the 40+ food and snack places at the 4 Temps,
rue de Bezons
has a few budget eateries, including a good bakery, a couple of Turkish joints and a McDonald's that normally stays open until midnight.
The La Coupole underground gallery, accessible through exit G of the metro station, is somewhat depressing but convenient for its restaurants and express cafés.
More fancy (and expensive) restaurants are located inside the hotels of La Défense:
phone: +33 1 46 92 10 10

address: 2, pl de la Défense

Quinte & SensUnder the direction of chef Jean-Paul Corbillet, the Quinte & Sens offers modern cuisine, including two-course "power lunches" for €29
Drink
address: 21 esplanade du Général de Gaulle

Apogé is a dynamic, all-in-one stop for French wine. Part bar, part merchant, part oenology school, its passionate, friendly founders are happy to share their expert advice. Not only are over 100 wines available by the glass, but every bottle for sale can be tasted before purchase. A beautiful terrace and frequent tastings with producers.
Sleep
Staying in the La Défense area may be a good option for exploring Paris - the Line 1 of the Metro gives you a direct connection from Grande Arche to central Paris in 15 minutes. La Défense is also located favorably for visiting
Versailles
. As an added benefit, you will get the unique sights from Esplanade de la Défense towards Paris when entering and disembarking the metro, but on balance you will be staying in a jungle of steel and concrete with next to no nightlife.
As this is a business district, most hotels are business-oriented, so do not expect any kind of Parisian flair, but perhaps a swifter service - and larger hotel rooms - than in central Paris. Unless you choose to locate yourself farther from La Défense proper, do not expect bargains, but you will probably get a higher standard for the same price as a much smaller and less comfortable hotel in downtown Paris.
You can also choose to stay farther from La Défense proper, within one of the three municipalities which share the La Défense area. This may significantly add to your transit times and complicate your transit, but then you may get really good rates there.
Unexpectedly for a business district, La Défense is neither close nor well connected to either of the airports serving Paris. Bear this in mind planning your travel.
Central La Défense
Unless you are very familiar with La Défense's system of underground motorways and parkings, driving to hotels there is not recommended. Take the metro, RER or tram and walk the distance over the Esplanade enjoying the unique retrofuturistic atmosphere.
Do note that distances between your hotel and the entrance to the metro station can be significant, even when you are staying in a very central location, and the only way for you to get to the hotel is to walk through the uncovered Esplanade and walkways.
Budget
Ibis Paris La Défense Centre
Mid-range
Adagio La Défense EsplanadeAccor's mid-range aparthotel is right off the Esplanade, next door to Sofitel .

Citadines La DéfenseAparthotel within walking distance of Esplanade de la Défense metro station

Hotel Novotel Paris La Défense

phone: +33 1 41 45 23 23

address: 2 Boulevard de Neuilly

A rather generic, modern Novotel, with "executive rooms" providing global standards, and the regular rooms the standard French Novotel fare with toothpaste-inspired bathroom fit-outs. Some rooms (available at a small extra) provide views over the river Seine.
Splurge
Fraser Suites Harmonie Paris La DéfenseA higher-end apart-hotel close to the Esplanade de la Défense metro station

HiltonThe Hilton is part of the CNIT convention centre.

Hotel Pullman Paris La Défense

phone: +33 1 47 17 50 00

address: 11, av de l'Arche

Renovated in 2013 as a part of Accor's initiative to refurbish all five Pullmans in Paris. Less expensive rooms retain much of the 1990s-style furniture, while the more expensive ones conform better to the current Pullman corporate standards.

Renaissance Paris Hotel La Défense

phone: +33 1 41 97 50 50

address: 60 Jardin de Valmy

address: 33,voie des Sculpteurs, 92800 Puteaux

There is nothing truly exceptional about the Sofitel La Défense, and the views out of the windows are downright unspectacular compared to other La Défense hotels, but this hotel garners good reviews by providing solid standards and reliable service for a fraction of the prices of downtown Sofitels. The hotel was renovated after 2010, with all but the cheapest Classic rooms getting new furnishings and bathrooms (with showers rather than bathtubs, a Paris rarity).
Courbevoie
The area around
Place Charras
, in Courbevoie is a short bus ride or a 15-minute walk away from the metro.
Budget
Adagio Access La Défense - Leonard da VinciAccor's no frills aparthotel.

Adagio Access La Défense Place Charras

phone: +33 1 56 37 72 00

address: 1, rue de Bitche

It hosts foreign students from the Alliance Française in Paris.

ibis La Défense Courbevoie
==== Mid-range ====
Adagio La Défense ParcClose to Adagio Access Leonard Da Vinci, an aparthotel of higher standard.

Adagio La Défense KleberA more upmarket neighbour of Adagio Access Place Charras

Kyriad Paris Ouest - La Défense Courbevoie

Hotel Mercure Paris La Défense 5

address: 18-30 rue Baudin, Place Charras
Puteaux
Hotel Dauphin by Elegancia

Hotel Douglas

Hotel-Loft

Hotel Vivaldi

Kyriad Paris Ouest - Puteaux La Défense
Nanterre
Campanile Paris Nanterre

ibis Paris Nanterre

Mercure Paris La Défense Parc

Quality Inn Nanterre

Premiere Classe Paris Ouest - Nanterre - La DéfenseDespite the name, this cheap hotel is actually very far away northeast from La Défense (and Paris as well), although still within the administrative boundaries of Nanterre
Go next
Versailles can be conveniently reached by a Transilien line L from the La Défense station, the ride to Versailles - Rive Droite takes about 25 minutes.
The easiest route to the Château de Malmaison at Rueil-Malmaison from central Paris is to take bus 258 from La Défense.