Parkes
Parkes
is in town and service centre in
Central West NSW
. It's main claim to fame has traditionally been the large radio telescope located just outside the town. The telescope was featured in the 2000 movie
The Dish
. The town also hosts an annual Elvis Festival, attracting visitors and impersonators from a distance. Apart from these two features, the town is a somewhat sleepy and attractive country town. Well worth a stop off or a weekend away.
Understand
The town of Parkes was renamed from
Bushman's Lead
following visit by Sir Henry Parkes (known as the father of Australian Federation). The connection to Parkes is tenuous - he was born in
England
, and lived in
Sydney
, and delivered is most famous speech in
Tenterfield
. Still, you can find a statue of Henry (looking every bit like a founding father) surrounded by a pretty fountain in downtown Parkes.
Get in
Parkes is around 450km west of Sydney.
By car
By plane
Scheduled commercial flights from Sydney. Charter also available. Car hire facilities are available at the airport. Book ahead to make sure there is someone to meet you.
By train
Parkes is rather inconveniently accessible by train, with the Broken Hill train making a stop there weekly. NSW Trainlink Coaches connect from
Orange
on the
Dubbo
XPT train on other days.
Parkes gets it's own direct train services from Sydney for the Elvis Festival. But book well in advance for these. They are an experience in themselves.
See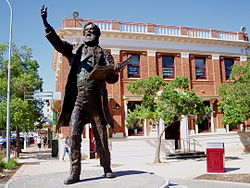 Radio TelescopeThe Radio Telescope is well worth a visit. There is a small museum with some stuff of interest to kids. There is a cafe with decent coffee and sandwiches. But the spot itself with the telescope and the wide-country and blue sky is quite special on a sunny day - even if you have no interest in space or telescopes.

Elvis MuseumThe Elvis Museum is located adjacent to the tourist information centre. It really is set up for those who are really into Elvis before they visit. It's a collection of memorabilia of the life of The King, but not a place to discover his music or start your learning about him.
Do