Pasargad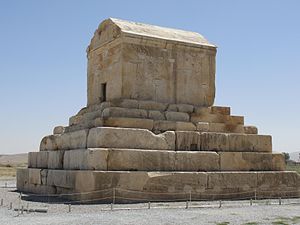 Pasargad
is a historical site near
Shiraz
, in
Fars
province. It is the site of the tomb of Cyrus the Great.
Get in

Bus to Saadatshahr, from there savari to Pasargad.

Get around
The sights are a few kilometers apart, so you might want transport in between.

See
Tomb of CyrusThe burial place of the ancient Cyrus the Great of Persia who founded of the Persian Empire under the Achaemenid dynasty. However it is unfortunately hidden under an ugly scaffolding and corrugated iron roof. It's an UNESCO World Heritage site, listed as Pasargadae.

Persian Gardens, one of nine world heritage listed Persian gardens in Iran.

Private palace

Gateway palaceVery little left of it.

Audience Palace

Irrigation of the royal garden, interesting to see how advanced they were then

Tall-i TakhtThrone of the Mother of Solomon, a ruin of a palace on a hill.

Prison of Solomon
Eat
There are no restaurants on site.

Drink
Buy your bottled water near the ticket office.

Go next