Pasig
Pasig
is a city on eastern
Metro Manila
, lending its name from the eponymous river of the same name. Once part of
Rizal
province (but remains the province's
de jure
capital), Pasig now part of Manila's ever-expanding sprawl. Its downtown area still maintain its characteristically Filipino charm, though overshadowed by the modernity of its central business district, Ortigas Center and swamped by uncontrolled development, slums, and pollution that Manila continues to experience.
Understand
Pasig is bordered to the west by heavily populated
Quezon
and rapidly urbanizing
Mandaluyong
, to the east by the municipality of
Cainta
in
Rizal
province, to the north by
Marikina
, and to the south by Philippine financial capital
Makati City
, middle-class residential district
Pateros
and
Taguig
.
Pasig City is home to the Ortigas Center, the country's fastest growing commercial and financial district. Home to many of the country's most important centers of commerce, business, government, and entertainment, Pasig City is emerging as a truly important city in the Philippines, and an ideal homebase from which to experience the Philippines at its finest and most real.
Get in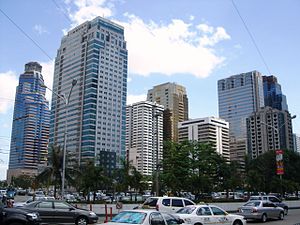 As Pasig is within Metro Manila itself, it is not far from the NAIA Airport in Pasay City and travel between cities will only take minutes.
By bus
Pasig is not well served by Metro Manila's city bus routes. The only city buses to Pasig run the
Quiapo-Taytay
route which ply Ortigas Avenue, the main east-west road through the city. Buses on these route are run by
G Liner
and
RRCG
, from Park N' Ride in Manila or the SM mall in Taytay.
From south or north the metro, a bus trip entails a transfer at the EDSA-Ortigas bus stop.
Get around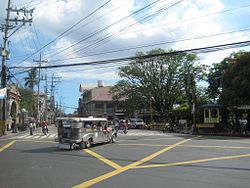 Jeepneys are available throughout the city, as well as tricycles and pedicabs in smaller residential areas. One can ride a jeepney from Shaw Boulevard in Mandaluyong City that leads all the way to the heart of Pasig, which is the Pasig City Hall and the Pasig Public Market (Pasig Palengke).
Taxis also service the city as well.
See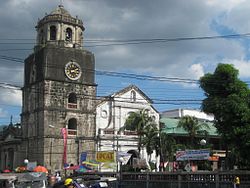 Pasig Cathedral
- In the city center, this stone church has been around since the early 1700s and serves as a religious city landmark.
Pasig City Museum
- Also found in the city center adjacent to Plaza Rizal, this former colonial mansion has been converted into a museum to showcase Pasig's rich history of culture and arts.
Lopez Memorial Museum
- This museum features many artworks of Filipino artists and sculptors. It is located near the Philippine Stock Exchange.
Bahay na Tisa
- Lit. "House of Stone". It is the only remaining "Bahay na Bato" in Pasig City, still owned by the Tech Family and not yet open to public. This house has also been used in many movies relating to Spanish times due to the house's authenticity and rustic appeal.
Do

Metrowalk - In Barangay Ugong, this is a complex of high-end nightclubs and restaurants in uptown Pasig where partygoers can go clubbing with a view of the city as well as its neighbors.

Buy
Tiendesitas - In Barangay Ugong, this unique shopping complex appears in the form of Philippine Native Houses. There are many bargain shops in this area, and the unique motif also offers a pleasant experience for tourists. People could get a calesa ride around the complex for a small price. The barbecue stalls here are great too.

Eat
The cuisine of Pasig tastes slightly different because of the many cultures that converged here. It still offers a unique culinary experience for restaurateurs.
Ado's Panciteria - In the heart of Pasig, this small panciteria has been in business for more than fifty years now, serving their pancit specialty. It has become a well-known favorite among locals.
Cafe Juanita - Found in Barangay Kapitolyo, this restaurant is for people who are looking for something with class but on a "coca-cola" budget. This restaurant is literally decorated with all sorts of antiques that are for sale, and the cozy ambiance, the food served are just worth the time. This restaurant specializes in Filipino and other Asian cuisines.
Dimas-alang Bakery - Established in 1919, Dimas-alang Bakery hasn't changed the way it bakes its bread through a unique stove. Found in Barangay Kapasigan, it offers all sorts of pastries and other unique delicacies such as pambonete and "di ko akalain".

Sleep
Pasig City is home to the Ortigas Center, where business and financial activities necessitate hotels of premier quality. As such, many four-star and five-star hotels are found here, several of which have official websites at which one can reserve rooms at lower rates than would be typically found using a travel agent.